The Apple Watch may come boxed with a charging cable, but it can easily, and annoyingly, slide off whatever desk, table or nightstand you decide to place it on. Which is why you may want to consider a separate accessory as a quick fix. A stand or dock not only keeps your watch safely in place; you'll also be able to see notifications and battery levels, or even use nightstand mode to mimic an alarm clock.
With thousands of options to choose from, including multi-device chargers and travel chargers with integrated battery packs, we've rounded up our favorite accessories that will help you keep your Apple Watch safe, sound and, most importantly, charged.
Use-your-own-cable Apple Watch stands
These stands let you simply use your own charging cable, though Apple Watch Series 7 will need to be paired with a USB-C 20W plug to enable fast charging.
Elago W3 Apple Watch Stand ($12.99; amazon.com)
A personal favorite of ours, just slip your watch charger through the back of this stand to instantly convert it into a mini retro iMac. Cute, fun and affordable. You can pick between aqua blue or a bright red.
Conido Charging Station ($14.35, originally $20.99; amazon.com)
This pick from Conido props up your watch so you can take advantage of nightstand mode. It's available in seven different colors, including white, black, blue, gold, gray, rose gold and silver, and it's height adjustable to perfectly fit your watch.
Macally Desktop Charging Stand for Apple Watch ($19.99; bhphotovideo.com)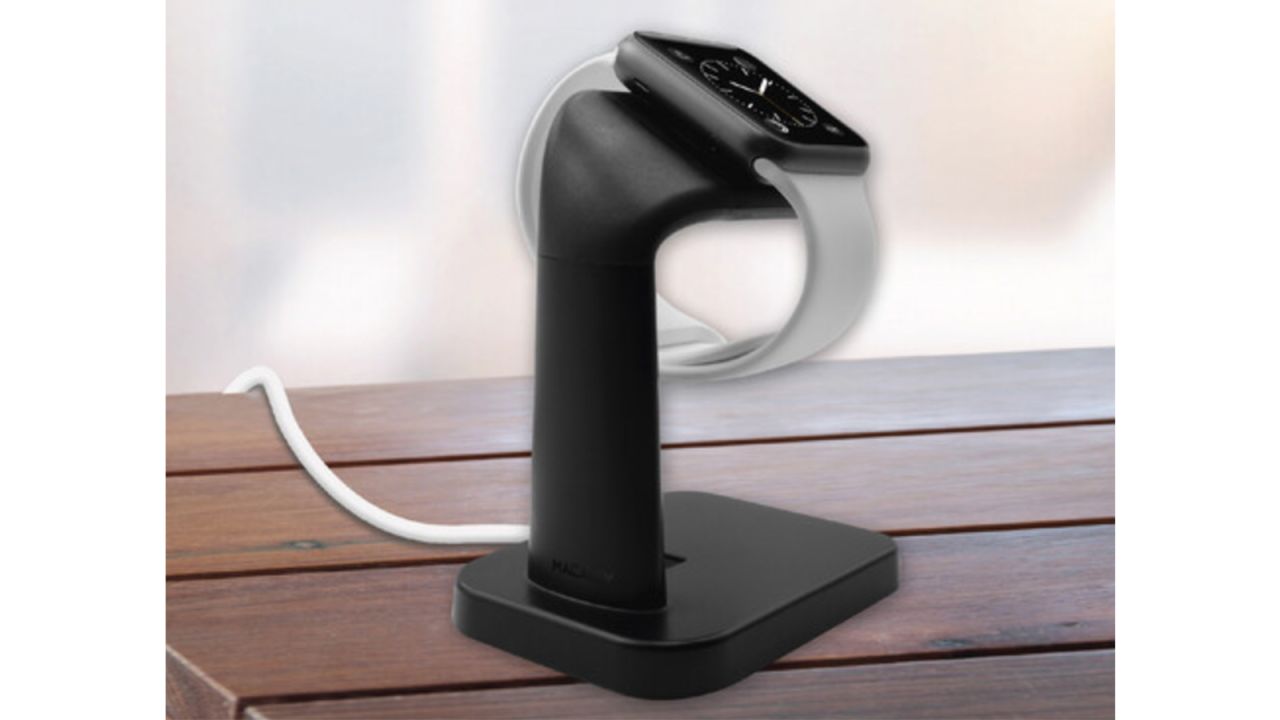 This sleek black charging stand offers a cable management system that helps eliminate dreaded cord clutter. It holds the Apple Watch in a tilted upright position while charging so you can see the time, and the polished black finish will look great on desktops and nightstands.
Belkin Travel Stand for Apple Watch ($19.99; bestbuy.com)
You can charge your watch propped up or lying flat with this charging stand from Belkin. The travel stand is lightweight, portable and easy to use, which also makes it super convenient to toss in a briefcase or purse. Plus, you can even hide excess cable in the base of the stand.
All-in-one Apple Watch stands
Satechi USB-C Magnetic Charging Dock for Apple Watch ($39.99; satechi.net)
We like this pick from Satechi because it's portable and cord-free, making it convenient to take with you. Simply plug it into any USB-C-compatible device (like your laptop) and lay your Apple Watch to charge.
Belkin Boost Charge Power Bank 2K for Apple Watch ($59.99; belkin.com)
This Boost Charge Power Bank has the Apple Watch puck built-in and provides up to 63 hours of battery life. The lightweight and compact design makes it easy to take anywhere.
Belkin Boost Up Wireless Charging Dock ($69.99, originally $159.99; belkin.com)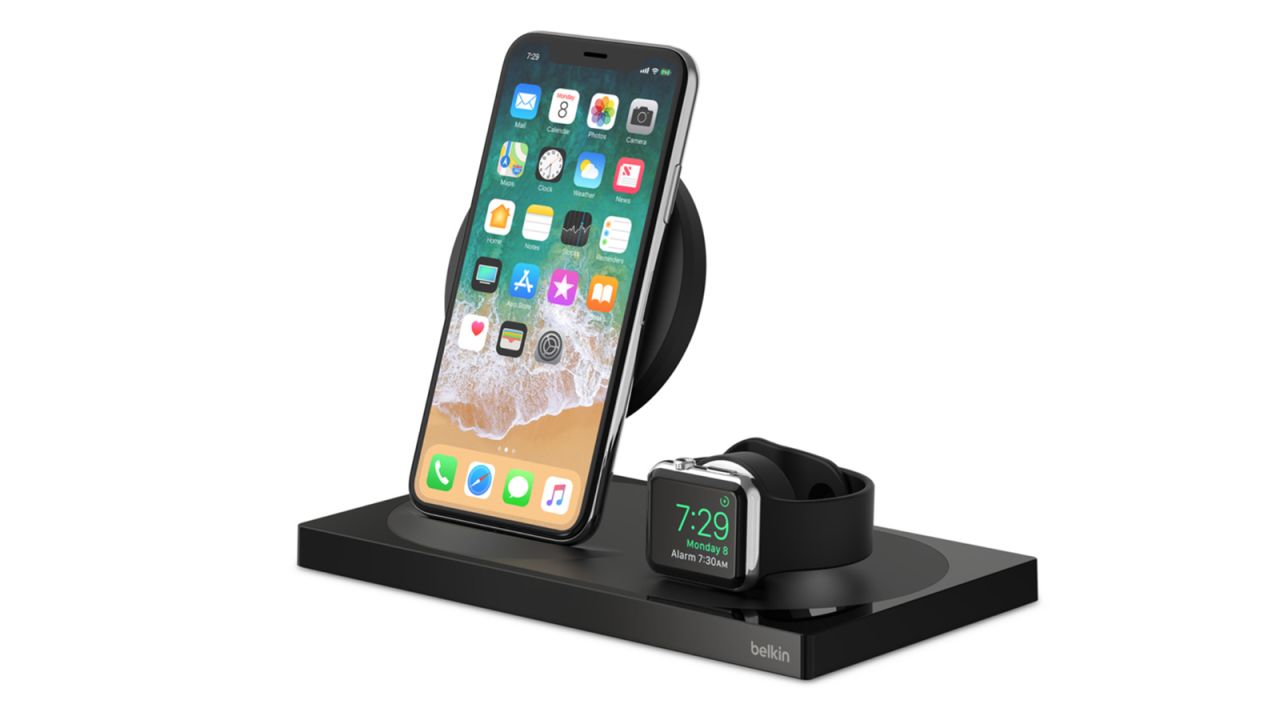 This charging dock not only wirelessly charges an Apple Watch and iPhone, but it comes with a bonus USB-A port to charge a third device. You'll be able to utilize nightstand mode with your Apple Watch propped up and easily access your iPhone while its charging.
Scosche BaseLynx Modular Charging Dock for Apple Watch ($69.99; bhphotovideo.com)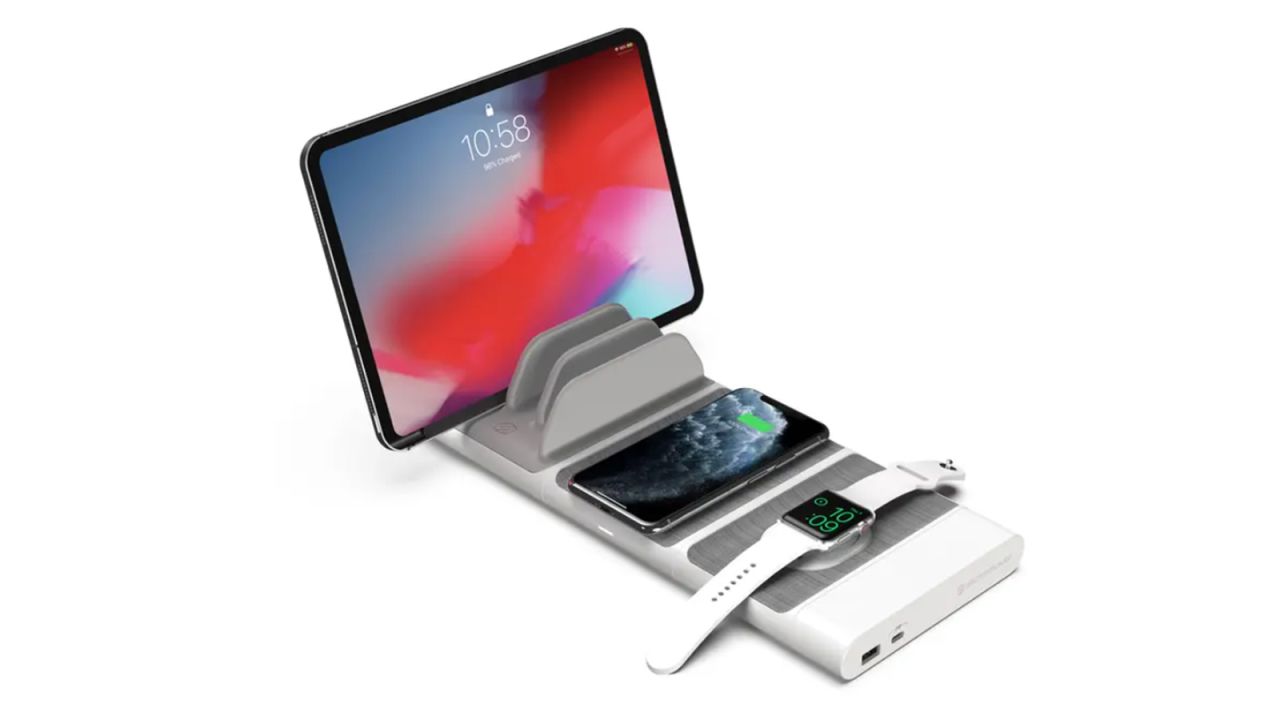 We were impressed with Scosche's BaseLynx modular charging dock (it's our pick for a modular wireless charger) and similarly appreciated this single charging dock for your watch, which allows the watch to be set in any orientation you'd like. It also comes with a 5-foot-long power cable for convenient charging.
Kanex GoPower Watch Portable Battery for Apple Watch ($99.95; bhphotovideo.com)
This pick from Kanex can charge your watch up to six times as quickly using the same magnetic inductive technology as a standard charger. It also has an extra standard USB-A charger so you can keep other devices powered while on the move.
Satechi Trio Wireless Charger With Magnetic Pad ($119.99; satechi.net)
This lavish wireless charging pad from Satechi has you covered when it comes to charging your watch, either propped up or lying flat, with room for two other devices. And though it has magnets built-in for proper alignment with an iPhone 12 or 13, this pad can charge any Qi-enabled device in the remaining spots.
Apple MagSafe Duo Charger ($129; apple.com)
This 2-in-1 charger can juice up your Apple Watch and any other Qi-enabled device. But because it folds up when not in use, it's also super convenient to take with you anywhere. You'll need to bring your own USB-C wall plug to use it, and we're big fans of the Anker Nano Pro. Just note that this plug will not fast charge a Series 7.
Belkin BoostCharge Pro 3-in-1 Wireless Charger With MagSafe ($139.95; apple.com)
You'll get a quick charge to your iPhone, Apple Watch and any other Qi-enabled device with this high-end solution from Belkin. The sleek white base is paired with a metallic frame for a great look in your home or office.
Belkin 3-in-1 Wireless Charging Pad ($149.99; belkin.com)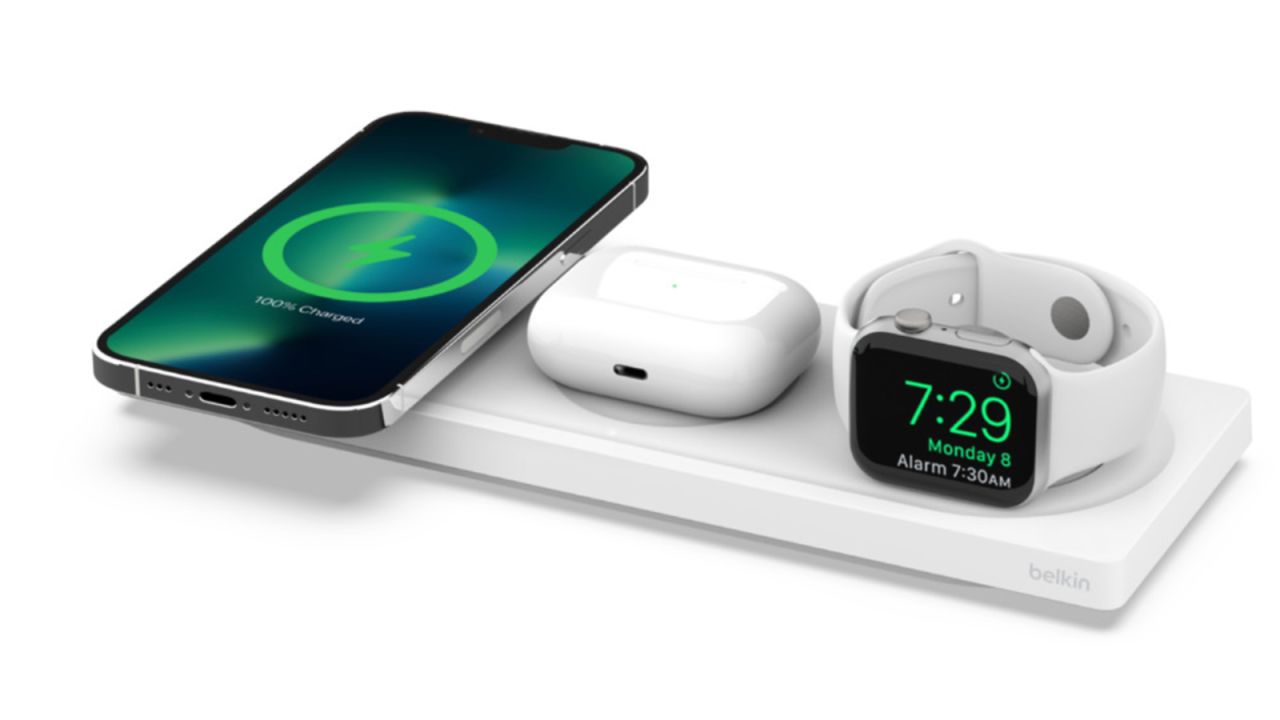 If you're after both multi-device charging and fast charging for your Series 7, this 3-in-1 from Bekin gets the job done. The minimalistic design comes with a spot for each device, and the Apple Watch puck is adjustable. It supports MagSafe to make charging your iPhone 12 or 13 a snap, and comes in two colors: classic black or chic white.