Sonos has never had more speaker options than it does now. Once known mainly for its multiroom audio system, Sonos has branched out into soundbars and portables so you can spread sound throughout your house and beyond.
But more choices means harder decisions to make when it comes to what Sonos speaker to buy. Which one should you start with if you're new to Sonos? Which should be the next addition to your existing system? We'll break it all down for you.
The best all-around Sonos speaker
The One is the best combination of sound quality, features and price in the Sonos lineup. With support for multiple voice assistants, it also can be a hub for your smart home.
The best portable Sonos speaker
The Roam produces a big sound from a small package, and it's easy to take outside your Sonos system, thanks to its 10-hour battery and Bluetooth connectivity.
The best Sonos soundbar
The Arc produces a wide sound, clear voices and booming bass without a subwoofer. And it supports Dolby Atmos, helping it deliver encompassing surround sound.
Best home speaker: Sonos One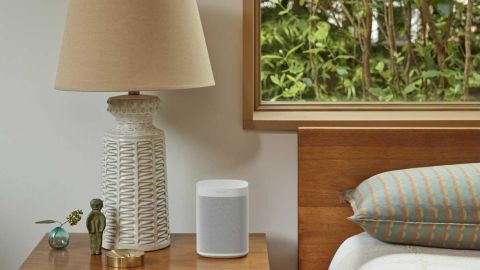 The $219 Sonos One is a great fit for first-time Sonos buyers or as an addition to an existing Sonos system because it can do so much. A single One delivers a wide sound with good bass and clear vocals, which is impressive for a device that's just over 6 inches tall.
But pair two Ones together and you'll be amazed by the width of the stereo sound they produce. You can even use Ones with a Sonos Arc or Beam soundbar to create true surround sound while watching your TV.
Beyond the sound quality, the One comes loaded with features. It comes with Amazon Alexa and Google Assistant inside (though you can activate only one at a time), so you can use your voice to play music and control your smart devices. If you don't want voice control, you can save a few dollars by getting the $199 Sonos One SL. The speaker also includes room correction software, called TruePlay, that gets the most from the speaker by adjusting its output to sound best in the space you're using it.
Best portable speaker: Sonos Roam
The $179 Sonos Roam, which is our upgrade pick for best Bluetooth speaker, delivers the sound quality you expect from Sonos with the benefits of an on-the-go package. It's waterproof and can handle bumps without breaking. Its 10-hour battery life isn't as good as some Bluetooth speakers, such as the Ultimate Ears Boom 3 (15 hours), but it should be enough to get you through the party.
The Roam's flexibility is what sets it apart. You can connect via Bluetooth or Wi-Fi, so when you're home it can be part of your larger Sonos system, but you're not limited when you want to venture out. Its ruggedness makes it a good fit as a bathroom or kitchen speaker, which you can then take with you when you hit the road.
Like the One, it works with Alexa or Google Assistant (Sonos recently released a version without voice control, the $159 Roam SL). And it has automatic TruePlay, so it adjusts the sound to its surroundings without you having to do anything.
The $899 Sonos Arc has been one of the best soundbars since it was released, and it's our top recommendation for folks willing to splurge. It delivers a big, wide sound that fills the room when you watch movies or shows, and it produces impressive low-end even though it doesn't come with a subwoofer (if you crave more rumble, you can add a wireless sub for $749). With support for Dolby Atmos, the Arc provides precise surround sound even without separate rear speakers. Or you can add two Ones and the Sub for true 5.1 sound.
The Arc sounds as good playing music as it does when you're watching TV, adding another option when you're playing tunes throughout the house.
But to achieve its big sound and house its 11 drivers, the Arc comes with a big footprint. At 45 inches by 4.5 inches by 3.4 inches, not everyone will have space for it. That's where the smaller Beam fits into the Sonos lineup (see other Sonos speakers to consider below).
What you need to know about Sonos speakers
Sonos speakers deliver excellent sound quality throughout the line, and they're easier to set up and use than most multiroom systems. But they aren't cheap — the $159 Roam SL is the least expensive Sonos model (Ikea makes the $119 Symfonisk in collaboration with Sonos, though).
You'll need the free Sonos app to set up and control the devices. The app allows you to create groups of speakers, playing the same music in different rooms, or you can play different songs on each unit. The app also lets you adjust the sound to best match what you like to hear. If you prefer, you can use Apple's AirPlay 2 or Spotify Connect to play tunes on the speakers instead of going through the Sonos app.
All the speakers we recommend here use Sonos S2 app. If you have older Sonos devices, they may only support Sonos S1, its original app. You can't mix S1 and S2 speakers in a group — a source of contention among longtime Sonos fans.
In addition to speakers, Sonos also offers the $449 Port, which can connect to a receiver to make it part of your Sonos system, and the $699 Amp, which you can use with unpowered speakers.
One hole in the Sonos lineup is the lack of an outdoor speaker, though it has partnered with Sonance to fill that gap.
Other Sonos speakers to consider
If the Arc is too large or pricey, the Sonos Beam soundbar delivers very good audio in a slimmer package. At 25.6 inches by 3.9 inches by 2.7 inches, it will fit with almost any size TV or room. The sound isn't as big as what you get from the Arc, but you may be surprised at what the small unit can put out. The latest version adds Atmos support to improve on an already impressive soundbar.
This is Sonos' first portable speaker focused on sound quality more than portability. The $399 Sonos Move is like a supersized One that you can take with you. At 9.4 inches by 6.3 inches by 5 inches, and 6.6 pounds, you won't want to tote the Move on a hike, but it offers the flexibility to go with you. It has an 11-hour battery and is water-resistant. Like the Roam, it has Bluetooth and auto TruePlay, but thanks to its size, the Move produces a more robust sound than its smaller sibling.
If you want a centerpiece speaker but don't want a soundbar, the $549 Sonos Five is the best option. It produces rich bass and wide sound, with crisp treble and rich vocals. It also has a 3.5mm input so you can connect a turntable or other wired source. However, it doesn't offer voice control.