CNN Underscored will be bringing you the best of CES 2023 all week. Be sure to check out our CES 2023 coverage hub for hands-on previews of the biggest tech this year straight from the show floor.
To many folks, Chromebooks are inexpensive, no-frills machines for web browsing and getting some work done. But they can be more than that. New, high-end Chromebooks blend the simplicity of ChromeOS with the power and looks of a premium laptop, and HP's new Dragonfly Pro Chromebook is one of the most compelling examples we've seen yet.
Launching this spring for a yet-to-be announced price (we expect it will be in line with current upscale Chromebooks, around $500 or more), the Dragonfly Pro Chromebook uses the same sleek design language as its Windows counterpart while throwing in a handful of neat touches, including slick RGB lighting that you'd typically only find on gaming laptops. We had a chance to go hands-on with this alluring new Chrome notebook ahead of its CES 2023 reveal, so here are some early impressions.
The rundown
• Product: HP Dragonfly Chromebook Pro
• Launch date: Spring 2023
• Pricing: To be announced in Spring (premium Chromebooks typically cost $500 or more)
• Why it's worth your attention: Chromebooks rarely look this good, nor do they usually offer high-end features like customizable RGB lighting. If you want the simplicity of ChromeOS but within a design that really stands out, the Dragonfly belongs on your radar.
The lowdown
Not since 2020's Samsung Chromebook 2 has a ChromeOS notebook grabbed my attention like the Dragonfly Pro. HP's latest premium Chromebook looks nearly identical to the standard Dragonfly Pro, which is to say that it's sleek enough to stand out in the office, lightweight enough for easy travel and attractive in both Ceramic White and Sparkling Black.
The Dragonfly Pro Chromebook felt great to use during my limited hands-on time, sporting a 3.3-pound frame that was a breeze to pick up and a satisfyingly bright and colorful 14-inch, 2560 x 1600 display that really popped when I fired up my favorite YouTube videos. I was immediately drawn to the laptop's keyboard, which, on top of feeling comfortably bouncy, offers customizable RGB lighting — a rarity in a Chromebook.
You can choose from a handful of preset colors and patterns in the ChromeOS settings menu, or have it automatically match up with the Dragonfly Pro's many colorful wallpaper options. The Dragonfly Pro Chromebook's RGB lighting might not be as robust or dynamic as what you'll find on a gaming laptop, but it's still a nice touch that perfectly complements the notebook's slick design and colorful display.
HP's latest Chromebook is powered by a 12th Gen Intel Core i5 processor with 16GB of RAM and 256GB of storage, which should get you fast everyday speeds for catching up on email, doing some work and playing Android games via the Google Play Store. HP promises "all-day battery life" (something we're looking forward to testing) as well as fast charge support that should get you a 50% charge in 30 minutes (ditto on that).
The Dragonfly Pro Chromebook is just one piece of HP's impressively large CES 2023 roster, which runs the gamut from affordable notebooks built with sustainability in mind to high-end Windows machines, including the standard Dragonfly Pro, which gives you the same sleek design but with the flexibility of Windows 11, as well as the power of AMD processors and a wider range of storage and memory options.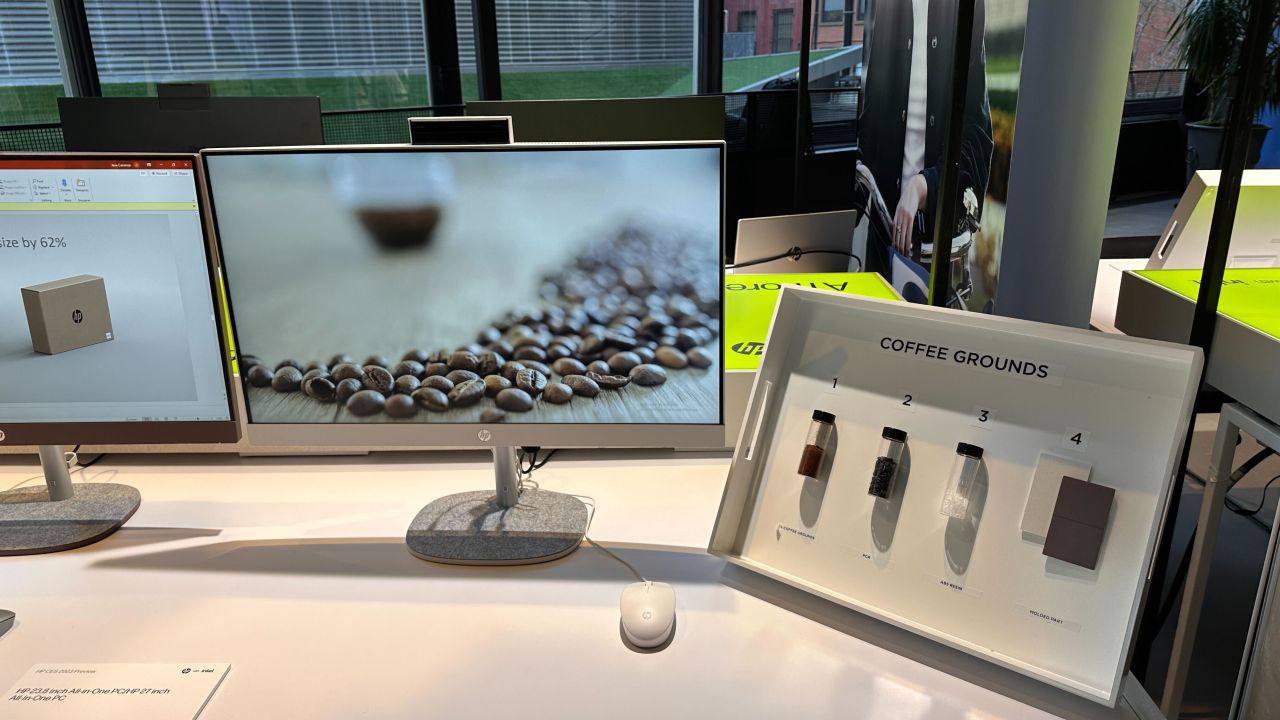 Staples like the HP Laptop 14-inch and HP Laptop 15.6-inch have been updated with newer components, with the former available in an especially intriguing "Eco Edition." According to HP, the new notebook is built with up to 25% of the product using post-consumer recycled plastics, with additional sourcing from materials including used cooking oil. It also comes in 100% sustainably sourced, recyclable packaging. It also looks gorgeous in person, sporting an attractive Waterfall Blue colorway.
HP's sustainability efforts also extend to its latest all-in-one desktop, which has an enclosure that the company tells us is made of at least 40% post-consumer recycled plastics, a stand that's 75% recycled aluminum and a base that's entirely made from reclaimed polyester. Recycled coffee grounds are used to produce the attractive speckled finish. Overall, it's great to see HP make such a big push towards environmentally friendly products, especially when they all look this great.
The takeaway
HP's lineup of consumer PCs is impressive this year, not just because the company's machines look sleek and promise great performance, but also because many of them are built with an eye toward preserving the planet. The Dragonfly Pro 14 looks like a serious best laptop contender, and its Chromebook counterpart is one of the most attractive we've seen yet. Factor in affordable, eco-conscious options like the HP Laptop 14-inch and 24-inch all-in-one, and HP should have something for just about everyone in 2023. We look forward to testing HP's new lineup as the PCs start rolling out throughout the year, so stay tuned for more.