CNN Underscored will be bringing you the best of CES 2023 all week. Be sure to check out our CES 2023 coverage hub for hands-on previews of the biggest tech this year straight from the show floor.
If you're an iPhone owner, you typically have to choose between having an extra-secure grip attachment or keeping the back of your phone clear for the myriad handy MagSafe accessories out there. But what if there were a case that could offer both in one? That's where OtterBox's new OtterGrip Symmetry Series comes in.
The rundown
• Product: OtterBox OtterGrip Symmetry Series
• Launch date: February 2023
• Price: $60
• Why it's worth your attention: The OtterGrip is the first iPhone 14 case we've seen that combines the extra grip of a PopSocket with seamless MagSafe accessory support, all within a flexible design that lets you switch between the two.
The lowdown
As its name suggests, the OtterGrip's big selling point is its built-in grip that ensures that even folks with the slipperiest hands won't drop their phone. You simply pull the grip out and stick your fingers through it, creating an extra-secure grip that will keep your device steady as you scroll away. And once you're done with it, you can simply pop the grip back in, where it lays flush with the case, making it easy to stick right in your pocket. The grip's soft silicone material felt comfortable on my fingers, and I had no problem sliding it down once it was time to take it off.
The OtterGrip is notable because you typically have to buy an extra accessory to enjoy this kind of added security and comfort. People love their PopSockets (which come in both suction-based and magnetic MagSafe variations), but you have to take them off before putting them in your pocket, and they can get lost easily. With OtterBox's case, you have an all-in-one solution, one that you won't have to snap anything off of once you need to attach a MagSafe accessory such as a charger or wallet. An OtterBox rep showed off the case's MagSafe functionality by attaching one of the company's wireless charging bricks, which fastened to the case quickly and securely.
I was also impressed by the sheer amount of colors and styles that the OtterGrip comes in, from fun tie-dye and floral patterns to simple solid hues like silver and black. OtterBox also claims that the cases feature antimicrobial technology for keeping germs at bay, as well as a 3x MIL STD drop rating just in case the added grip still isn't enough for your slippery fingers. It's worth noting that the OtterGrip is designed specifically for the iPhone 13 and iPhone 14 range, so you will need one of Apple's latest phones to take advantage of it.
The takeaway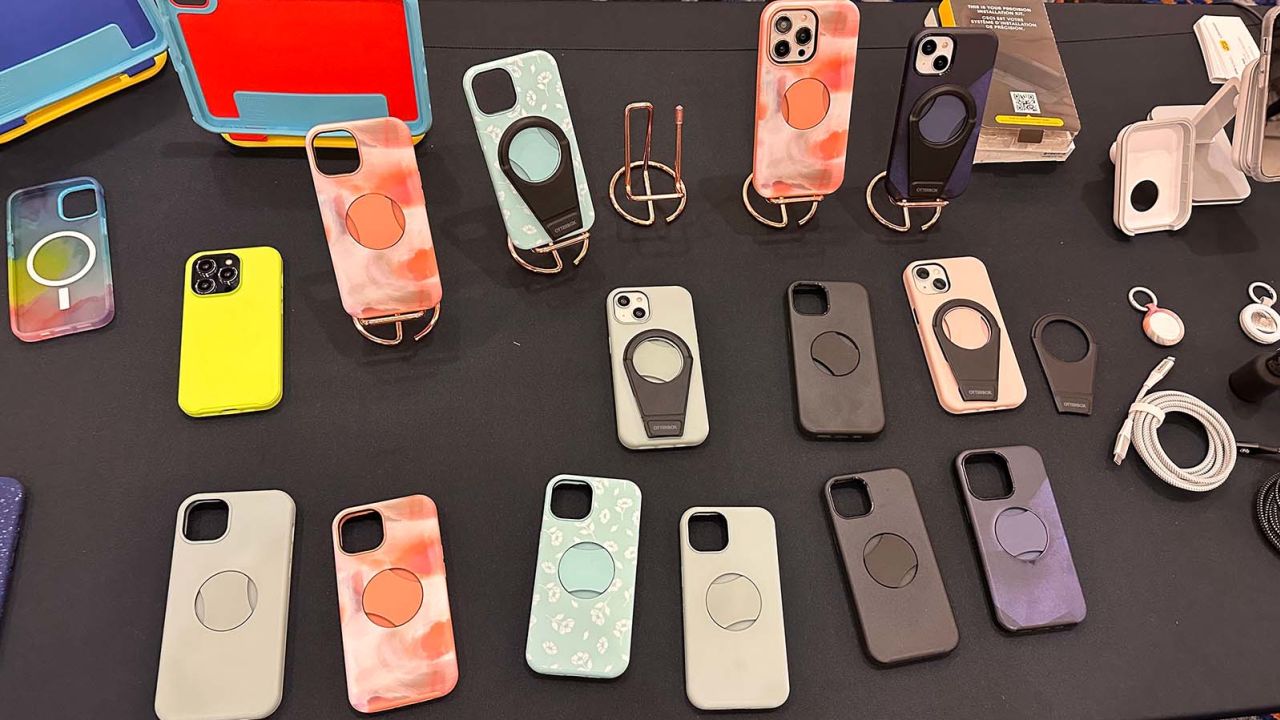 OtterBox already makes some of our favorite iPhone 14 cases, and the OtterGrip looks like a great addition to the lineup that adds something we haven't seen much of before: a built-in pop-up grip. If you're prone to dropping your phone, want an attractive soft case and care about being able to use MagSafe accessories, the OtterGrip looks like it'll check all those boxes in one.