Right in time for spring, Samsung has finally unveiled its newest TVs. In addition to 4K and 8K QLED TVs, two new soundbar lines and an 89-inch Micro-LED TV, the tech giant also announced its first OLED TV in nearly a decade.
Plus, if you're as fascinated as we are by Samsung's stunning lifestyle TV The Frame, its new anti-glare, low-reflection matte display is bound to blow you away.
We'll dig deeper into the new tech when we get some hands-on time, but here are some highlights we can share right now.
Welcome, Samsung OLED, we've missed you
It seems hard to believe, but Samsung hasn't offered an OLED TV in nine years. So we're excited to see this OLED 4K TV in 55 inches and 65 inches (available for preorder starting at $2,200). It will use the company's Tizen smart TV platform for easy streaming and the well-reviewed Neural Quantum Processor 4K to boost its image processing.
We look forward to seeing how this technology stacks up against the more tried-and-true OLED TVs from LG and Sony.
Neo QLED gets a boost with an upgraded processor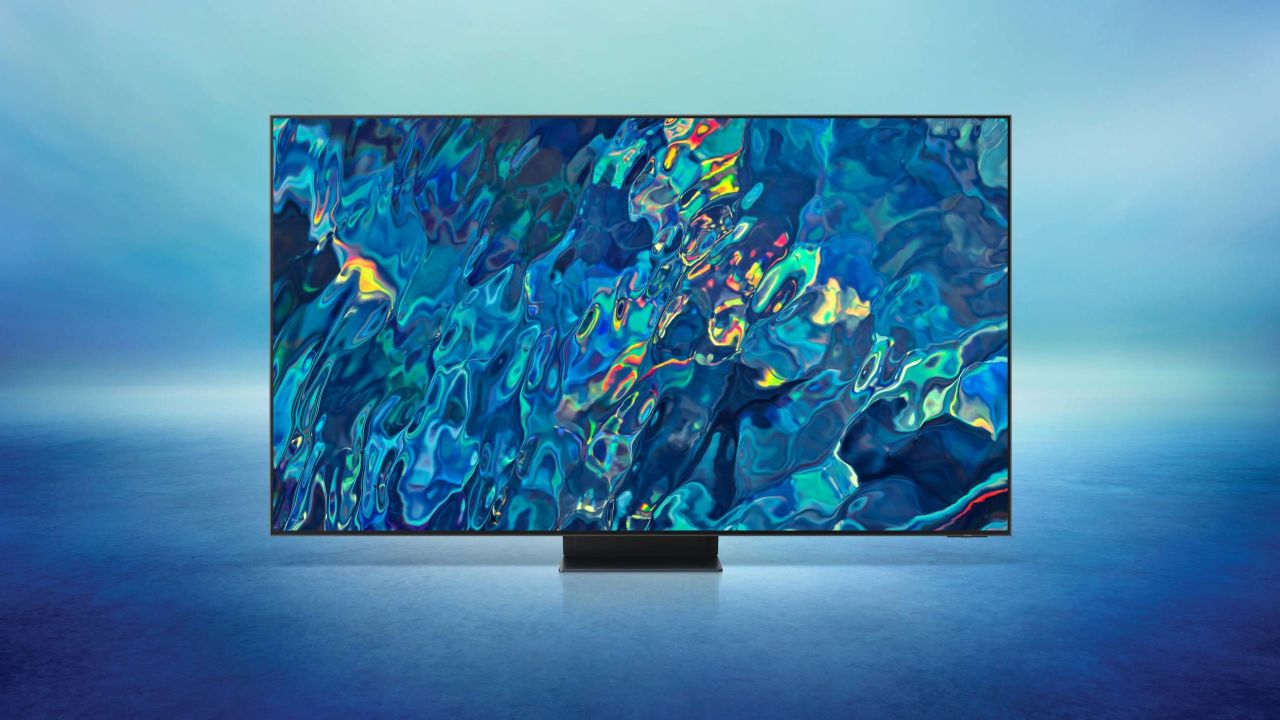 The updated version of Samsung's already powerful Neo Quantum processor, available in the new 4K and 8K QLED models, will offer software enhancements, support for speedier refresh rates, better color accuracy, increased brightness levels and better contrast.
Specifically, this includes a refresh rate bump up to 144Hz, an increased brightness level from 12-bit to 14-bit gradation and a neat new technology dubbed Shape Adaptive Light, which uses AI to analyze, control and then enhance essential shapes to stand out from the background, which should give viewers an even more realistic picture.
We also like the sound of a new EyeComfort mode, which Samsung says uses a built-in light sensor to automatically adjust the screen's brightness and tone depending on where and when you're watching it. For instance, it can adjust the blue light and apply warmer tones at night to help you sleep better.
The 2022 QLED 4K and 8K TVs will also feature top-channel speakers, which will deliver built-in Dolby Atmos and Object Tracking Sound. The latter works like a low-tech surround sound feature, directing sound through different speakers depending on what you're watching.
However, we'd guess that if you're spending the cash for one of these advanced TVs (which can be preordered now, with 8K starting at $4,999 and 4K starting at $1,499), you'll want to add a soundbar to your setup. And Samsung also unveiled the new Q Series and S Series Soundbars to accompany the TVs, which will come with the industry-first wireless Dolby Atmos. More on that as we see them.
Smart Hub and Apps should make Samsung's TVs even smarter
As the TV becomes an even bigger center of our home entertainment, Samsung strives to keep everything in the family with its newest Smart Hub. Here you can get all your favorite streaming apps, including Netflix, Amazon Prime, Hulu and HBO Max, but it also offers a Gaming Hub, with access to a variety of gaming services like Nvidia GeForce Now, Google Stadia and Utomik. And for those interested in non-fungible tokens (NFTs), Samsung now comes with a specific, integrated platform to purchase, trade and view your digital artwork right on the 2022 Micro LED, Neo QLED and The Frame TVs.
The takeaway
Though we'll have more to say about all of Samsung's new 2022 TVs and soundbars when we get a first look, this sneak peek piques our interest. These 8K TVs may not have much compatible content yet, but we've been impressed by the new technology so far. And, after such a long hiatus, the addition of an OLED TV to the lineup should offer an excellent reason to upgrade your Samsung TV this year.
We're also looking forward to seeing how the wireless soundbars fit into the home theater landscape and if that glare-free display makes a concerted difference on The Frame's art sensibilities. All in all, it's looking like a great start.