Gaming laptops may get more powerful every year, but is that a good enough reason to upgrade? Sure, you'll be able to run Cyberpunk 2077 at a few extra frames per second with every new iteration, but that hardly seems worth it if you're playing on the same boring black box. Fortunately, after what's felt like a stale past few years, gaming laptops are finally exciting again — in ways that go beyond a bunch of big numbers on a chart.
The swath of upcoming 2023 gaming laptops are adopting new sizes, colors and features that should make them a better value than the standard spec bumps we've seen of late. And if sheer power is your priority, the latest Nvidia and AMD graphics powering these machines promise the biggest generational performance leap we've seen in a while. After getting my hands on some of the hottest upcoming notebooks at CES 2023 — and consulting with several experts in the PC space — here's why I think this is the year to buy a new gaming laptop.
More screen (and more features) for your money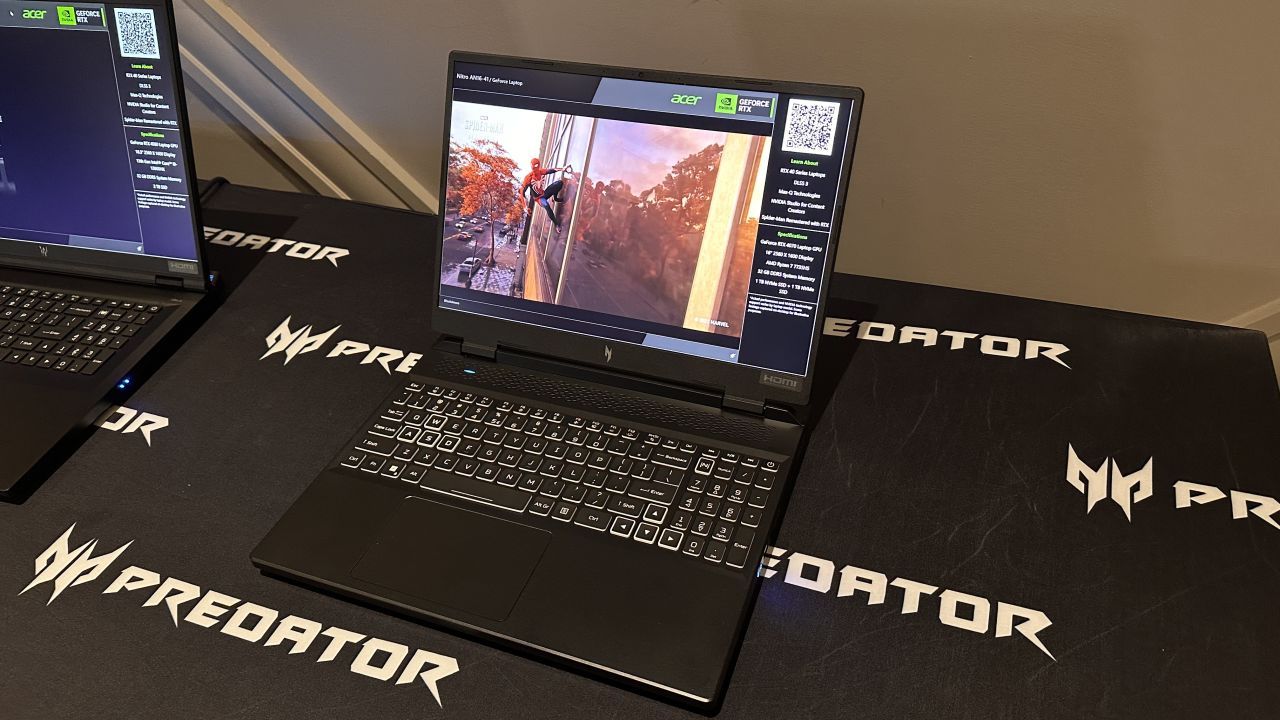 If there's one big takeaway I've noticed after meeting with just about every big laptop company, it's that gaming laptop screens are getting bigger and better across the board. Taller screens with a 16:10 aspect ratio are the new norm, and features like Mini LED and adjustable refresh rates promise a whole new level of immersion and personalization.
Many brands' 15-inch laptops are now becoming 16-inch laptops, getting you noticeably more screen space within virtually the same design — something made possible by much thinner display bezels. Notebooks like the Alienware m16, Acer Nitro 16 and Asus ROG Zephyrus M16 are great examples of big-screen notebooks that can still reasonably fit into your backpack, and upon seeing them up close, I could have easily mistaken them for 15-inch models.
In the same vein, there's a whole new crop of 18-inch behemoths that are replacing their 17-inch predecessors in order to give you a truly massive screen in a (somewhat) portable design. Laptops like the Razer Blade 18, Alienware m18 and Acer Predator Helios 18 have gained even bigger screens while staying relatively compact, bringing them closer to true desktop replacements that give you a high-end PC gaming experience — without forcing you to shell out for an expensive tower, monitor and keyboard separately.
"You can probably thank the MacBook Pro 16 for creating this trend, but as computing power and display technologies advance, we are likely to continue to see larger screens on devices that can be compacted down into portable form factors," says Jackie Thomas, senior editor at The Shortcut.
But gaming laptop screens aren't just getting bigger — they're also improving in meaningful ways. Brands like MSI, Acer and Razer are touting machines with Mini LED, a technology that allows for better contrast and brightness than a typical LED display, thanks to the sheer amount of additional backlights that can be crammed behind the screen. It's the same technology that's wowed us on everything from the stunning 12.9-inch iPad Pro to the latest Hisense TVs, and we're excited to see how it elevates our gaming sessions on this year's crop of notebooks.
But perhaps the most exciting display on the horizon is that of the Razer Blade 16, which sports what Razer is calling the world's first dual-mode Mini LED screen. This notebook's display can go from 4K at a 120Hz refresh rate (ideal for video editing and immersive gaming) to 1080p at 240Hz (which provides a smoother, ultra-responsive experience for competitive play), all with the press of a button. You typically have to prioritize either fidelity or smoothness when picking a gaming laptop display, but on the Razer Blade 16, you get the best of both in one machine — something especially noteworthy for folks who want one device for their gaming and work needs. The Razer Blade 15 is already our favorite high-end gaming laptop, so we're especially excited to try out this new model's bigger, brighter and more versatile panel.
The gaming laptops to watch
Here are a few highlights worth keeping your eyes on, based on our own early hands-on impressions.
A refreshing set of new designs
A big screen isn't as enticing if it's trapped in a boring body, and fortunately 2023's slate of gaming laptops are some of the most attractive I've seen yet. Gaming notebooks have a reputation for being big, chunky behemoths laced with gaudy RGB lighting, and while those still exist, they'll be joined by a refreshing wave of colorful and lifestyle-oriented designs that you won't be embarrassed to take outside of your gaming cave.
The new Dell G15 Gaming Laptop was one of my absolute highlights of CES, offering a fun suite of loud, '80s-esque color patterns that call back to a time when gaming meant going to the arcade and not retreating to your RGB-lit basement (not that I don't love doing the latter). Its splashes of purple, teal, orange and blue aren't subtle, but they're a nice change of pace if you want a laptop that stands out in a way that's more pleasant, less aggressive.
But what if you're trying to stay low-key about your Elden Ring obsession? You can always pick up something like the MSI Stealth 14 Studio, which grabbed my attention during a hands-on session by offering just the right mix of gaming and lifestyle aesthetics. Its compact design and gorgeous white and blue color schemes wouldn't look out of place in a coffee shop, while the RGB-lit "Stealth" logo on the rear vent helps set it apart from your average ultrabook. MSI has a reputation for making sleek laptops at every size (the 17-inch GS76 Stealth is our favorite big-screen machine), but we're happy to see the company embrace a wider range of color options for 2023.
When I asked the experts which gaming laptops they're most looking forward to, three common names popped up: Razer, Alienware and Asus. While Thomas had big praise for the large displays and improved internals of the Razer Blade 18 and Alienware m18, it's the new Asus ROG Flow X13 — essentially a Microsoft Surface for gamers — that has her most excited. Whereas notebooks like the Dell G15 and MSI Stealth 14 offer refreshing color palettes, the ROG Flow opens up an all-new way to play with its ability to transform into a tablet for easy on-the-go gaming.
"The Steam Deck really made handheld PC gaming viable, where it was always a niche case before — including the original Asus [ROG] Flow X13," says Thomas. "Now that Valve has kind of laid the groundwork for what a handheld PC gaming console should look like, I think tablets like the Flow are going to advance the industry and be an interesting space to watch."
And if you're not after loud colors or 2-in-1 functionality, traditional gaming laptop designs are continuing to get slimmer and sleeker without sacrificing power.
"The Alienware x16 really stands out to me, as does the Blade 18 and the Asus ROG Zephyrus G14," says Anshel Sag, principal analyst at Moor Insights & Strategy. "The x16 looks incredibly premium and high performance, while the Blade 18 is very sleek and powerful, and the Zephyrus G14 packs the most punch of any 14-inch notebook I've seen."
Having had a chance to test out the latter, I can't disagree.
A truly meaningful performance upgrade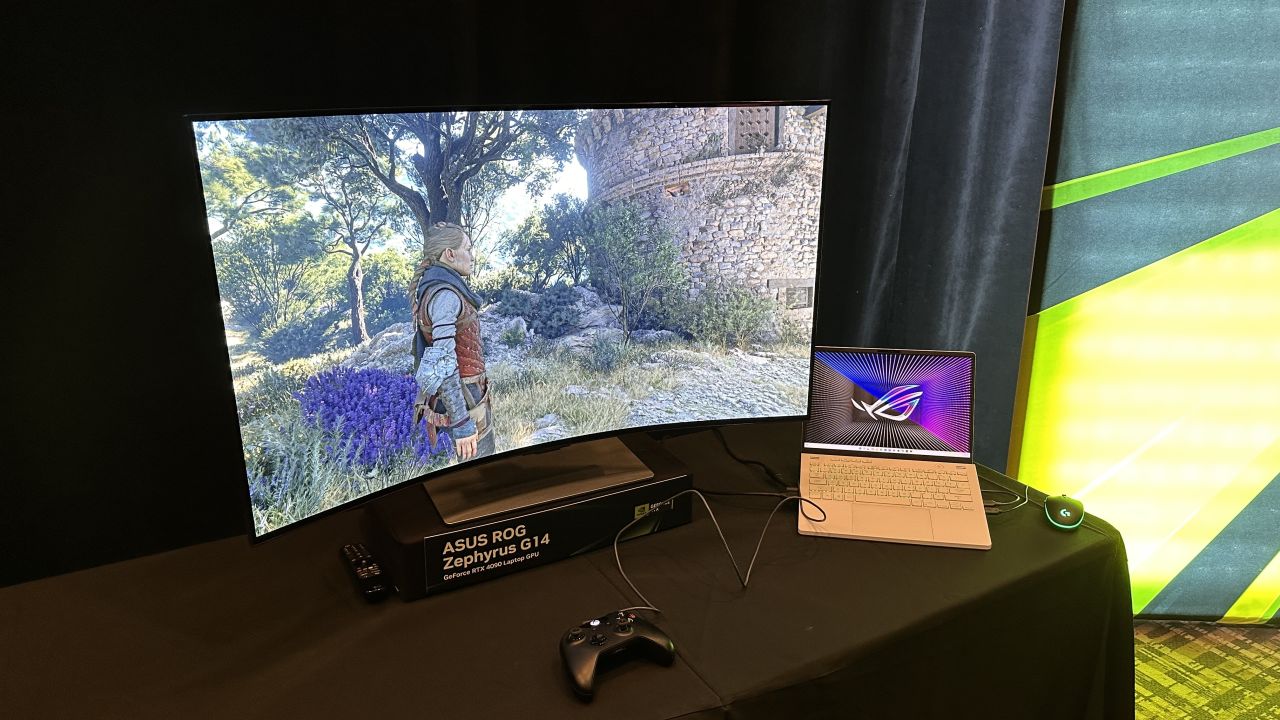 While revamped designs and displays are the star of the show this year, performance still matters — and if you care about cranking your favorite PC games up to their max settings, you're in for a treat. The Nvidia and AMD graphics powering 2023's slate of machines promise some of the biggest year-over-year improvements to date, and after getting my hands on some of these souped-up machines, I'd say it's not just a marketing gimmick.
If you're buying a gaming laptop this year, it should have either an Nvidia GeForce RTX 40 Series or AMD Radeon RX 6000M Series graphics processing unit (GPU). Both are designed to deliver the best graphics performance possible in a laptop — for gaming and visual content creation — all within the sleek, big-screen designs we outlined above.
Nvidia's new 40 Series (which consists of the high-end 4090 and 4080 as well as the mid-range 4070, 4060 and 4050) is being billed as the company's "greatest generational leap ever," capable of delivering gaming performance that's up to four times better than previous generations. On the AMD front, the company's new Radeon RX 6850M XT chip promises up to 7% faster performance and, perhaps more crucially, allows that performance to be packed into designs that are up to 20% thinner than before. We'll have to see how those claims hold up to our own real-world testing, but after getting to try a few 40 Series laptops at Nvidia's CES booth, I can understand the hype.
When I played A Plague Tale: Requiem at a cinematic 4K resolution and an ultra-smooth frame rate on a giant monitor, I couldn't believe the game was running on a tiny Asus ROG Zephyrus 14 laptop. Same goes for when I stepped into an immersive three-monitor racing rig to play some Assetto Corsa Competizione, which was being powered by a humble Razer Blade 16 (both machines featured Nvidia's new top-of-the-line RTX 4090). I could have easily been fooled into thinking both games were running on a full-on gaming PC, which no longer seems like a necessity for playing modern blockbusters at their best. That said, you might not want to disassemble your tower just yet.
"I think the continued performance and cooling improvements across the board do lend well to being desktop replacements, but I find it hard to believe that a 14-inch or even a 16-inch are enough to be a desktop replacement," says Sag, noting that the new crop of 18-inch laptops are your best bet when it comes to replacing a traditional PC. "Not to mention, there's a lot more room to cool in those bigger notebooks."
The takeaway
Whether you're buying your first gaming laptop, ready to upgrade after a few years or looking to downsize from your giant tower setup, 2023 is the best time to purchase something new. This year will bring the most significant leap in gaming notebooks we've seen in a while, with bigger displays, more exciting designs and a true boost in power. And based on their promising specs and features, some of these upcoming gaming laptops could be a legitimate alternative to a bulky desktop while serving as versatile all-in-one machines for people who do lots of visually intensive work.
"It's important to know that gaming laptops are not held to the same rigorous long-term testing and certifications that commercial laptops are," says Sag on the viability of gaming laptops for everyday work use. "But I regularly do photo and video editing on gaming notebooks and this year's notebooks without a doubt raise the bar even higher and will hopefully save creators even more time."
Thomas shared a similar sentiment, adding that "gaming laptops should be the de facto destination for creative pros who are editing photos or downloading large video files. They're cheaper and more feature-packed than dedicated workstations, and they look more sleek and stylish too."
This new wave of gaming laptops will start rolling out as soon as February and will run the gamut from attainable $999 machines to tricked-out powerhouses that will run you a few thousand dollars. We'll be putting these machines through our full review process to see if they live up to the hype, but based on our early impressions, the future of on-the-go gaming is looking bright.