Maybe you made a resolution to settle into a healthier lifestyle. Or you're taking part in "Dry January" for a post-holiday detox. Or you simply prefer your drinks alcohol-free. Whatever your reason, a mocktail — a cocktail-style beverage made with non-alcoholic ingredients — may just be your new BFF.
"Mocktails are a great way for individuals to reduce their intake of alcohol while still being able to enjoy the taste and experience of a cocktail," says Diana Licalzi Maldonado, a registered dietitian nutritionist and author of "Mocktail Party" and "Drinking for Two." "By removing the alcohol, you're taking out a compound that is toxic and that increases the risk of chronic disease."
She says she's also found that having a drink that looks and tastes like an alcoholic beverage is helpful for those trying to cut back on or even eliminate alcohol.
Amy Traynor, a photographer and cocktail designer whose blog Moody Mixologist offers recipes and resources, says her top tip for creating mocktails at home is to layer flavors.
"This creates non-alcoholic drinks that feel more like cocktails and less like juice or soda," she says. "There are many ways to layer flavors, but a really fun option is to create your own simple syrups. Mix equal parts water and sugar in a small saucepan on the stove and add one of your favorite fruits, herbs, spices, even teas."
Read on for more tips and tools from Licalzi Maldonado and Traynor to get your mocktail game started (and kiss those post-revelry headaches goodbye!).
Oxo Steel Angled Measuring Jigger ($7.99; amazon.com)
"This inexpensive tool is my no. 1 pick for anyone interested in mixing drinks of any kind at home," Traynor says. "The design and clear interior markings make measuring liquids quick, easy and precise. And unlike fancier-looking jiggers, this one has a pour spot so you never spill a drop." We would use it to measure ingredients for her Pineapple Chamomile Lemonade.
The Elan Collective Bartender's Choice 4-Piece French Cocktail Shaker Set ($32.99, originally $39.99; theelancollective.com)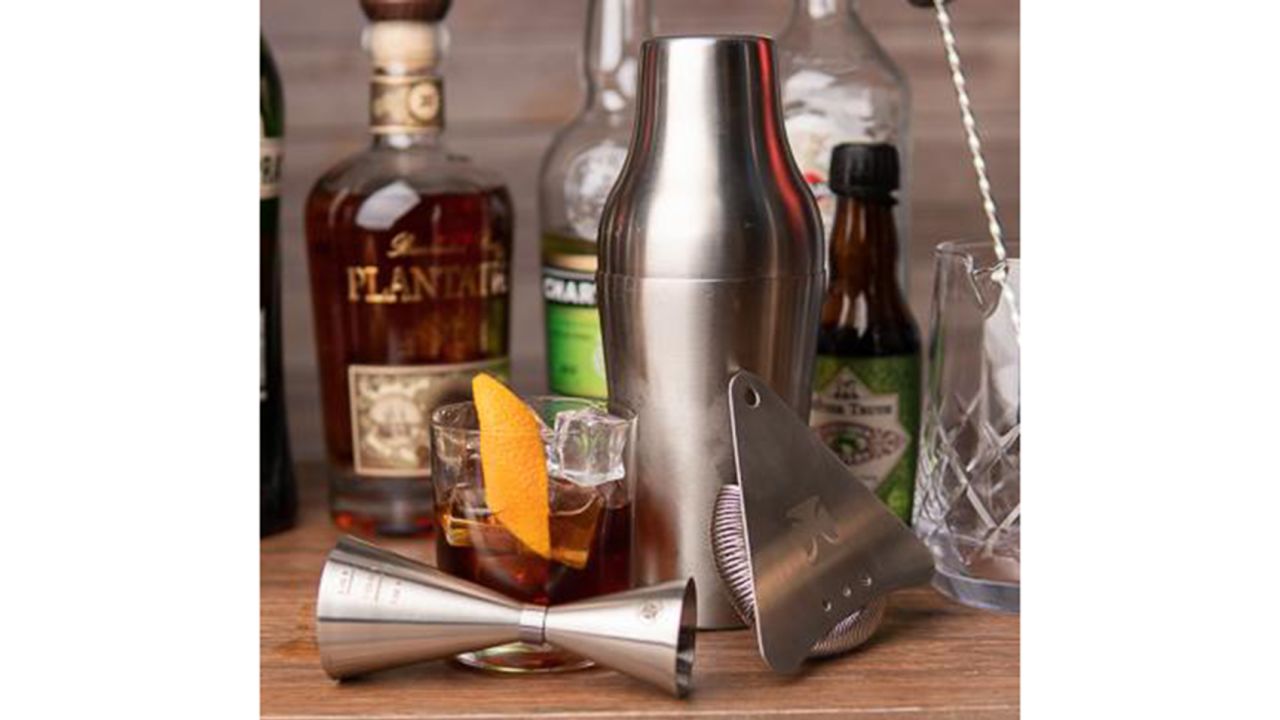 Traynor calls this her favorite shaker set. "This shaker is very easy to use and to hold, even if you have small hands," she says. "The French-style shaker looks great, is easy to clean and makes mixing up one or two drinks a breeze. It comes with the Elan Collective gorgeous Hawthorne strainer and a fancy Japanese-style jigger. What I love most about this kit is that it includes only the true essentials and each piece is very high quality."
Viski Parisian Gold Cocktail Shaker Set ($29.91; amazon.com)
Traynor also recommends this French-style shaker from Viski. We would use it to mix up her refreshing Basil Lime Smash Mocktail, a delicious blend of basil leaves, green grapes, lime juice, simple syrup and sparkling water.
Material Kitchen The Almost 4-Inch Knife ($50; materialkitchen.com)
"A quality knife is key for cutting citrus and making fancy garnishes," Traynor says. "I love The Almost 4-Inch Knife from Material Kitchen." Use it to slice limes for her Blackberry Paloma Mocktail.
Fferrone May Coupes, Set of 2 ($210; 2modern.com)
"This glass is fabulous and the design is exquisite," Traynor says. "It's definitely a home bar splurge but it's my all-time favorite glass for its blend of beauty and function." Pour her Blackberry Jamble Mocktail in this set for a truly spectacular presentation.
AntiqueVintageFind Vintage Martini Glasses, Set of 5 ($98; etsy.com)
Traynor loves the AntiqueVintageFind Etsy shop for gorgeous, vintage glassware. "They have the most unique and pretty glassware for fancy cocktails and mocktails and often in full sets, unlike thrift shops, where you'll find random individual glasses," she says. Channel your inner Don Draper with this set of five vintage platinum rim-striped martini glasses from the 1960s.
Hiyo Social Tonics Variety Pack ($44.99; drinkhiyo.com)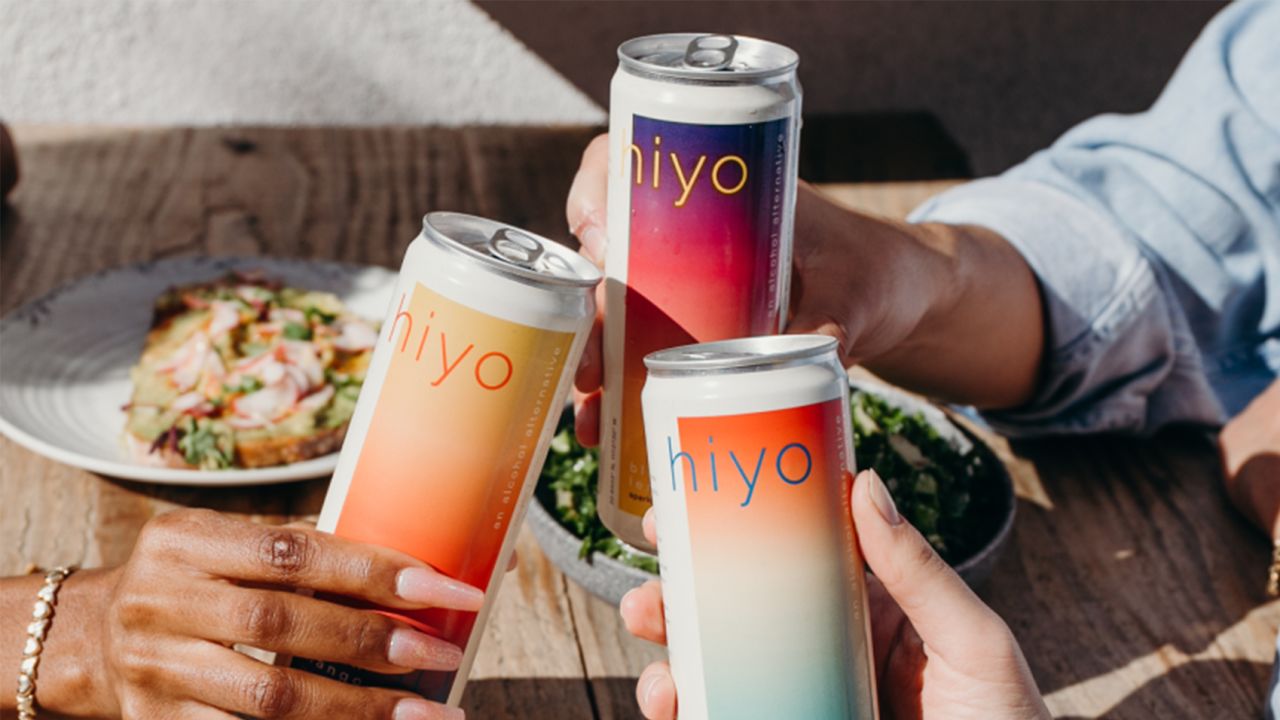 Take your mocktail on the go with a canned version. Traynor's favorite is from Hiyo. "The flavors are great and it really does make you feel good thanks to adaptogens and nootropics," she says. "They call the feeling 'the float' and it really does give you a noticeable boost to mood and mental clarity while being very calming and relaxing." This variety pack includes a four-pack of peach mango, watermelon lime and blackberry lemon.
Shaker & Spoon Subscription (starting at $50/month; shakerandspoon.com)
While this Shaker & Spoon subscription, which sends three recipes and all the ingredients to make incredible cocktails minus the alcohol, was originally created for alcohol drinkers, who says you can't mix their offerings with seltzer or soda?
Stirrings Pure Cane Simple Syrup Cocktail Mixer ($9.79; amazon.com)
Use this simple syrup made with natural cane sugar and pure, filtered water to sweeten up your mocktails. Or whip up your own version at home. Syrups, Traynor says, are incredibly easy to make and add concentrated flavors to drinks of all kinds. "Make a quick, refreshing mocktail by adding an ounce of a flavored simple syrup — think hibiscus, vanilla bean, blackberry, rosemary, mint, etc. — and an ounce of lemon or lime juice to a glass filled with ice. Top with sparkling water and enjoy."
'Drinking for Two: Nutritious Mocktails for the Mom-To-Be' by Diana Licalzi and Kerry Benson (starting at $11.99; amazon.com)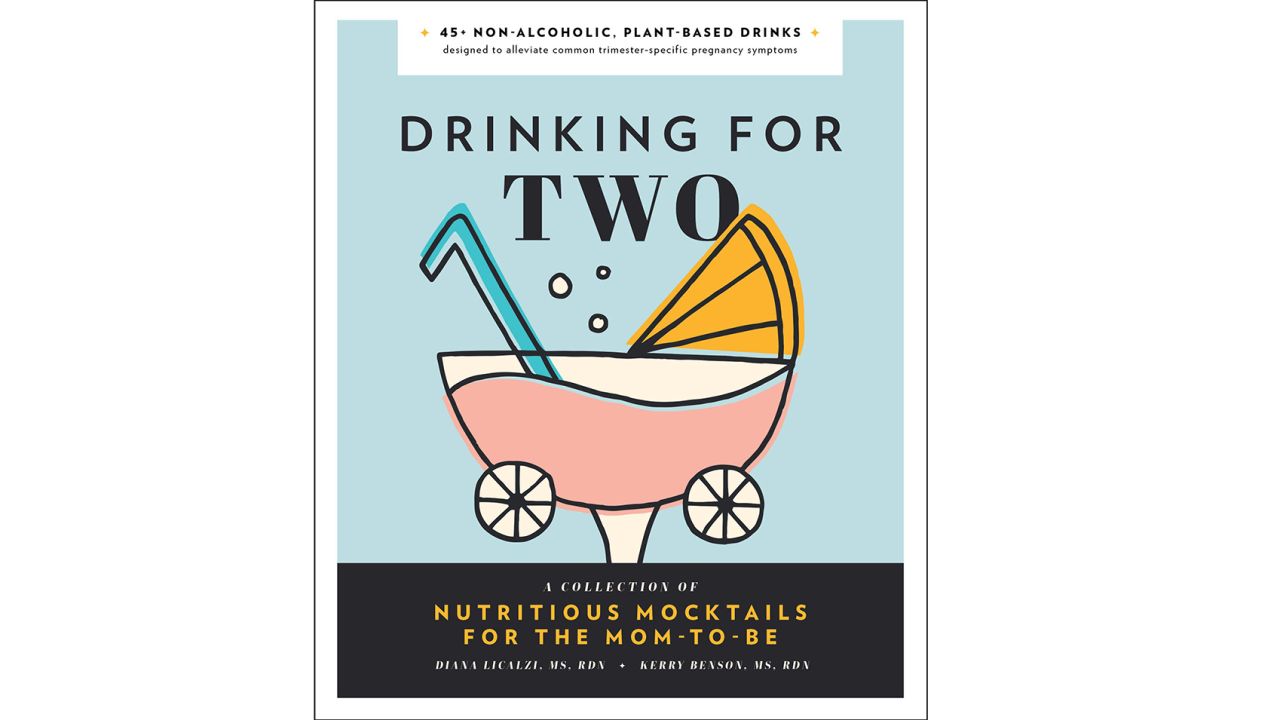 "My co-author, Kerry Benson, and I wrote this mocktail book as a way to offer expecting moms healthy non-alcoholic drink alternatives," Licalzi Maldonado says. "It contains over 45 nutritious, plant-based mocktail recipes carefully crafted with purpose to maximize flavor, deliver essential nutrients and antioxidants, and target common pregnancy symptoms, all leading to a healthy pregnancy."
'Mocktail Party' by Diana Licalzi and Kerry Benson (starting at $11.99; amazon.com)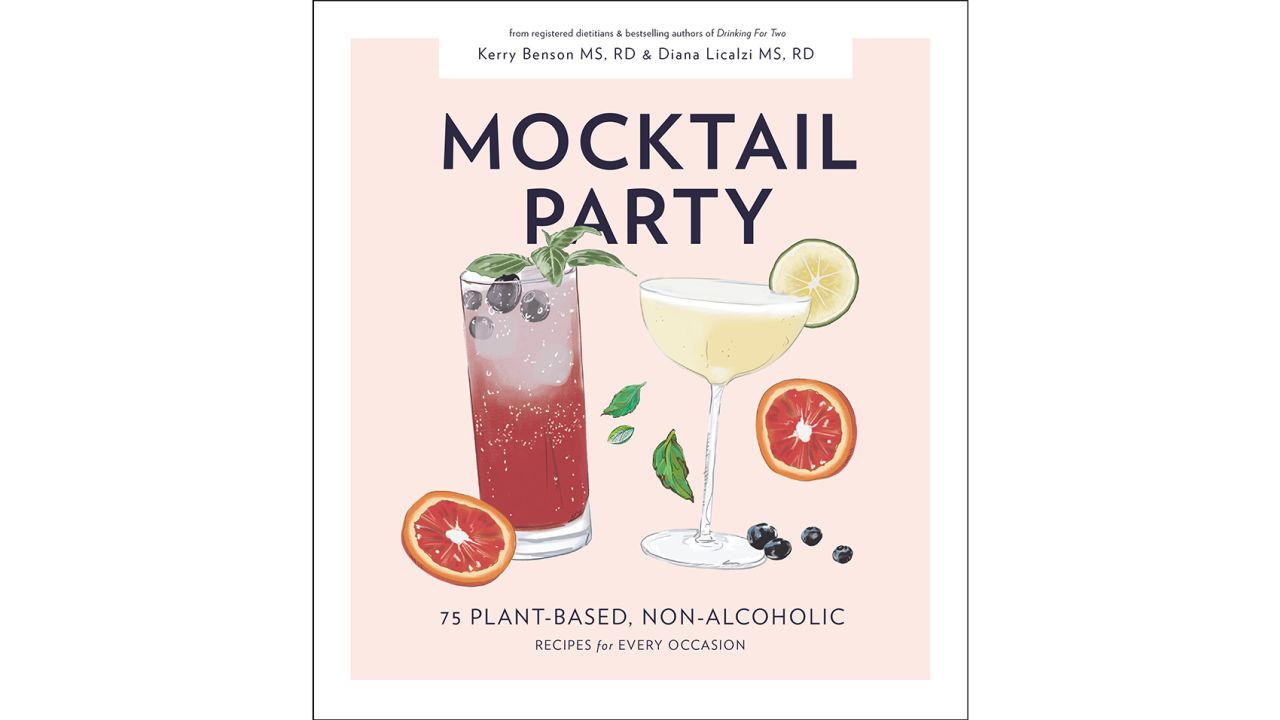 "This book makes a great display on a bar cart," Licalzi Maldonado says of her book that contains 75 plant-based non-alcohol recipes for every occasion. "'Mocktail Party' is the perfect book for anyone looking to cut back on alcohol, who identifies as 'sober curious' or who doesn't drink."
Aloono 11-Piece Boston Cocktail Shaker Set ($27.95, originally $32.95; amazon.com)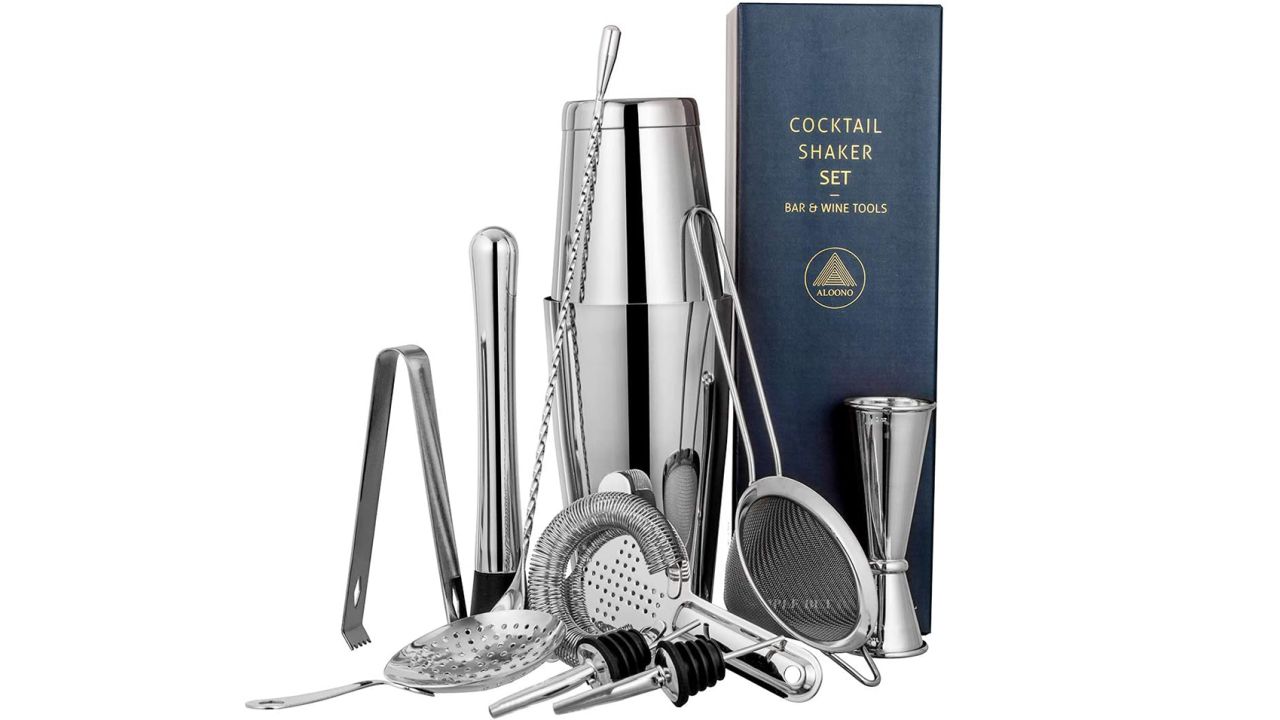 "This is the perfect set for anyone looking to get serious about making mocktails," Licalzi Maldonado says of this collection that includes 11 different pieces, including a martini shaker, strainer, jigger, muddler, spoon and more.
Godinger Dublin Cocktail Shaker ($24.95; amazon.com)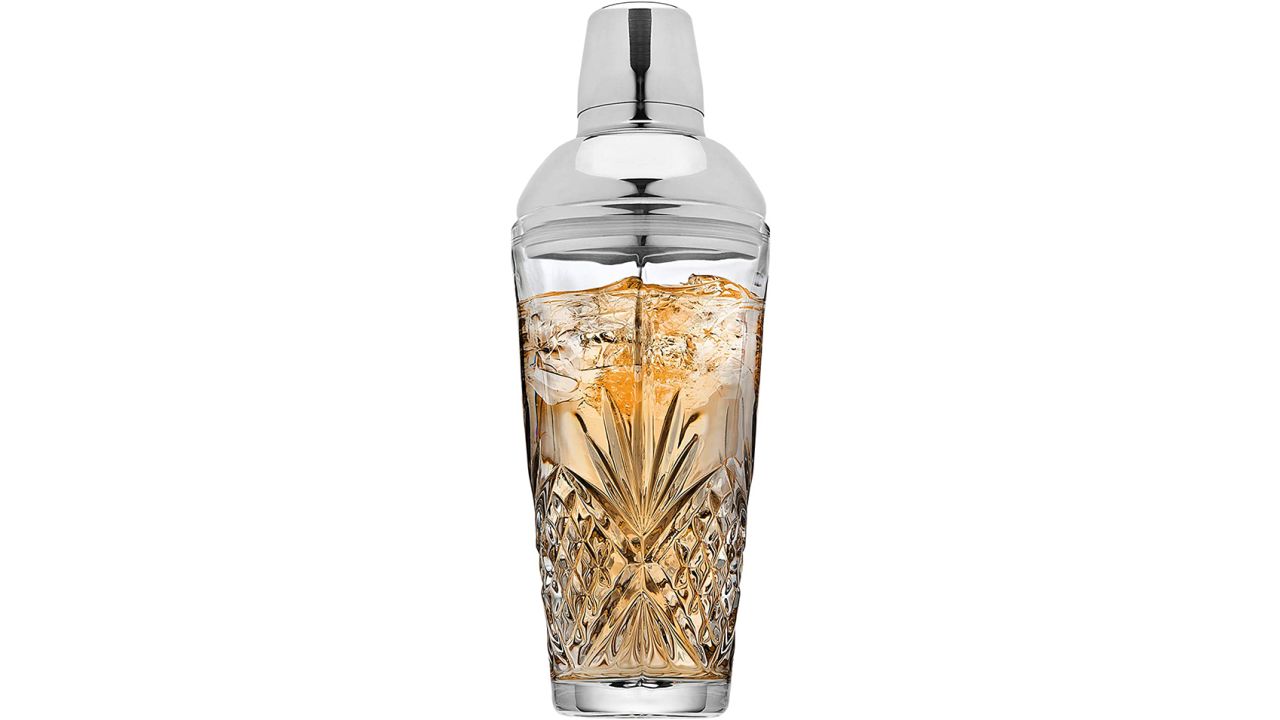 "For those looking to show off their mocktail-making skills, especially on social media, this fancy shaker is a must," says Licalzi Maldonado. "It's glass so you can see all the ingredients as you make your mocktails."
Food52 Vintage French Champagne Coupe Glasses (starting at $60; food52.com)
"Serving mocktails in proper glassware is key," Licalzi Maldonado says. "I find that this really adds to the experience of a mocktail." She says coupe glasses, such as this elegant version from Food52, add just the right amount of fancy to your drink.
Ramona Coupe Glasses, Set of 4 ($56; anthropologie.com)
Want some more color in your life? We're equally huge fans of this multicolored coupe set from Anthropologie.
Hiware Stainless Steel Cocktail Muddler and Mixing Spoon ($8.99, originally $12; amazon.com)
"For those who don't want to purchase a full bartending kit, a muddler and mixing spoon are great tools to have on hand for making mocktails," Licalzi Maldonado says. When using whole fruits to add flavor, she says to simply muddle it to extract the juice. "If you do not strain your drink, you will reap the benefits of the fiber in the fruit as well. Or, you can make blended cocktails using frozen fruit and dates for added sweetness."
Ganz Pineapple Measuring Spoons ($15.27, originally $23.95; amazon.com)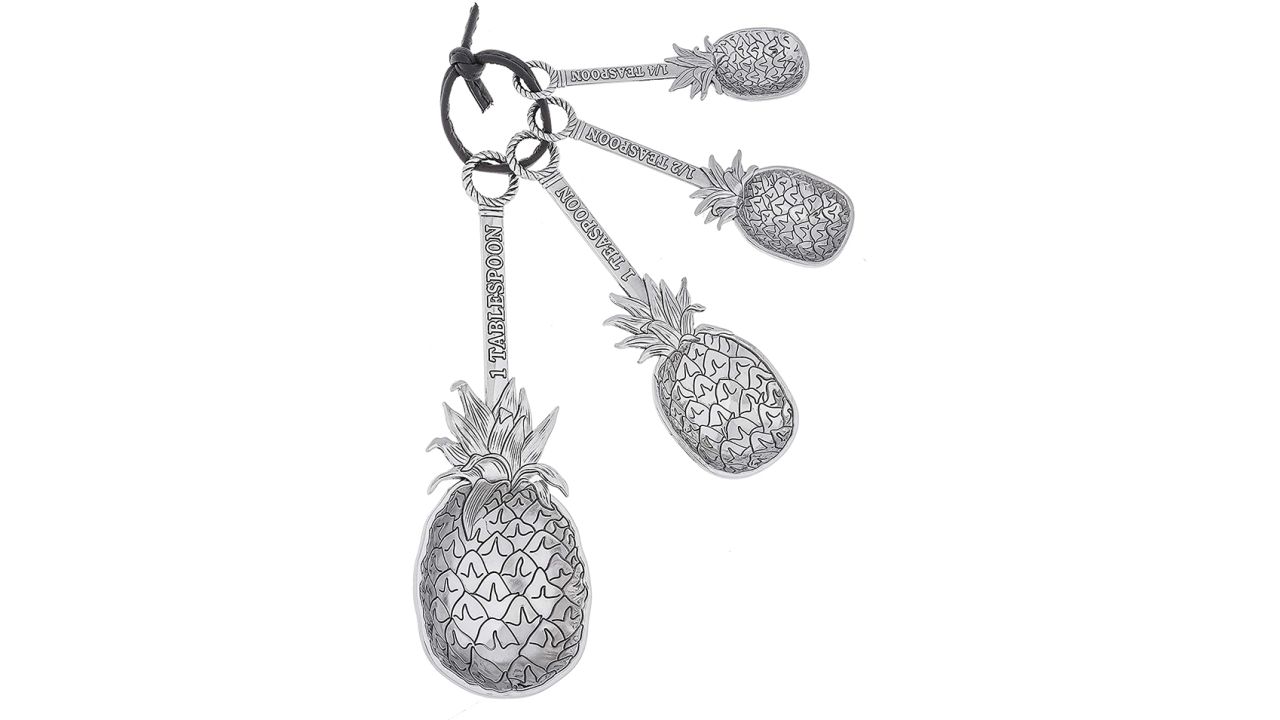 "If you want cute measuring spoons for making mocktails, these are a must-have," Licalzi Maldonado says.
Hamilton Beach Wave Crusher Blender ($39.99; amazon.com)
For frozen mocktails, a blender is a must and this model gets rave reviews for its ice-crushing power. It'd be perfect for whipping up a batch of Licalzi Maldonado's Sweet Wine-Not Slushie.
To serve four, blend the following ingredients on high until well combined:
- 4 cups frozen green grapes (store fresh grapes in the freezer for at least four hours)
- 2 cups coconut water
- 1/4 cup and 2 tablespoons lemon juice
- 2 teaspoons apple cider vinegar
- 2 cups of ice
Divide among four chilled stemless wine glasses and enjoy.
PG Moscow Mule Mugs, Set of 4 ($23.79, originally $27.99; amazon.com)
Recreate an iconic Moscow Mule at home with this highly rated set of four hammered copper mugs. Licalzi Maldonado's Mocktail Mule swaps ginger-flavored kombucha for ginger beer. "Instead of a sugar-laden drink, you'll be sipping on one brimming with probiotics," she says. To make her mocktail, which serves four, combine 2 2/3 cups ginger-flavored kombucha, 1/4 cup lime juice and 2 cups seltzer in a pitcher and stir. Fill mugs with ice and divide the mixture between the glasses, garnishing with lime wedges.
Ticent Silicone Ice Cube Trays, Set of 2 ($16.99; amazon.com)
Mocktails get an instant upgrade with fancy ice cubes (consider infusing them with mint or fruit to really kick things up a notch). This highly-rated set of two silicone molds — one square, one sphere — is easy to clean and dishwasher-safe.
MyDrinkBomb Cocktail Drink Bomb, 6-Pack ($39.50; etsy.com)
Take the guesswork out of mocktail mixing with this set of six drink bombs (flavors include margarita/peacharita, pina colada/passion fruit, cosmo, lavender, prosecco rose/mimosa and "Hangover"). Yes, they can be mixed with vodka, gin or champagne, but they're also terrific with club soda or sparkling water. Just drop the bomb in a shaker with your favorite carbonated drink or blend with ice and say, "Cheers!"
KingSeal Parasol Cocktail Picks ($9.79; amazon.com)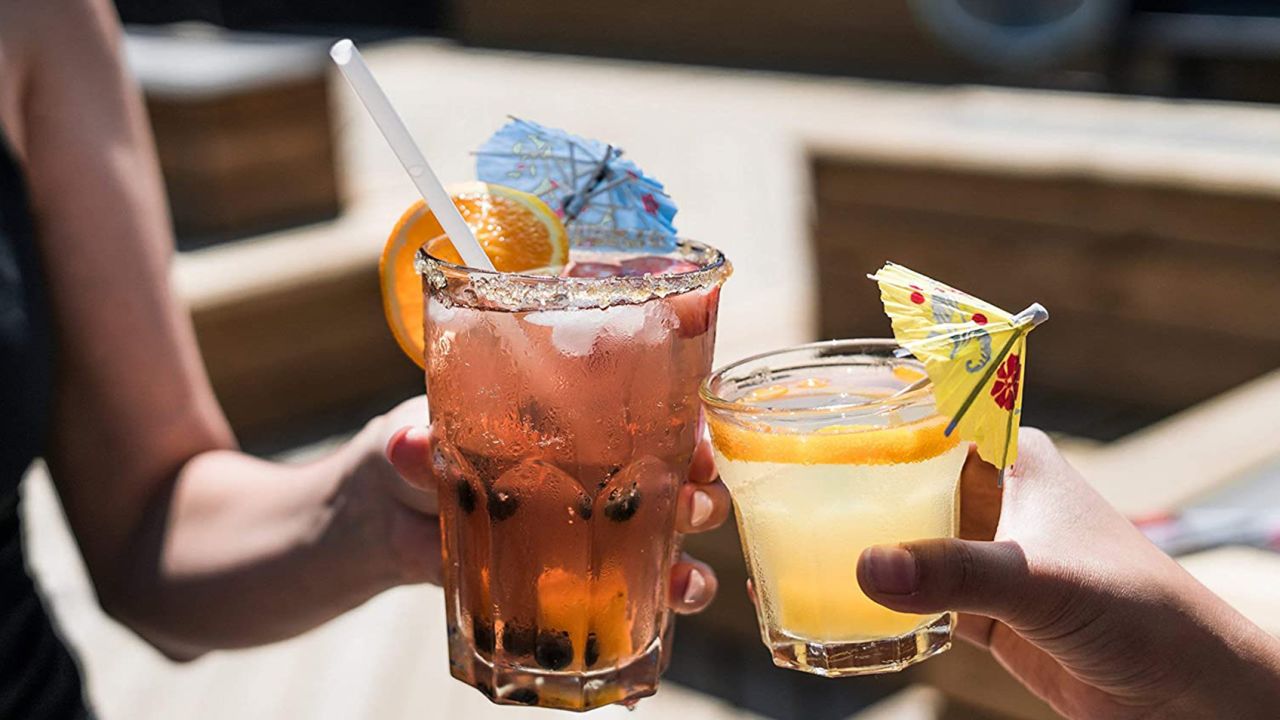 You don't need booze to make it a party. Add colorful drink umbrellas to your mocktails for some festive flair. This set includes 144 picks in assorted colors, so you'll have plenty on hand for the year ahead.