This article is part of our series Battle of the Brands, in which we compare category-leading products to their counterparts to determine which are actually worth your money.
A robot vacuum with a self-emptying base is the perfect way to make vacuuming easier. Meaning, this smart gadget will help clean your floors — so you don't have to.
To get a better idea of which robot vacuum lets you more easily go nearly hands-free, we put two popular brands to the test in an approximately 1,500-square-foot home with two cats, hardwood floors and some area rugs. The iRobot Roomba j7+ and the Shark IQ RV1001AE XL both have strong suction power, handle pet hair well and are smart enough to create a map of your home, but the ($600) iRobot Roomba j7+ offered an extra level of smarts with its mapping, virtual boundaries and ability to detect and avoid obstacles.
As you might expect, those high-end smart features won't come cheap, so expect to pay about $200 more for the Roomba j7+ than the Shark IQ RV1001AE XL. And while some of the Shark's features come close to measuring up, there are compromises you'll have to make if you want to save money.
Want a heads up before you plunk down the cash for one of these hard-working robot vacuums? Here's everything you need to know about the Roomba j7+ versus the lower-cost Shark IQ RV1001AE XL.
iRobot Roomba j7+ vs. Shark IQ Robot
| | | |
| --- | --- | --- |
| Dock size | 13 x 12 x 14 inches | 16.5 x 19.4 x 16.6 inches |
| Vacuum size | 13.3 x 13.3 x 3.4 inches | 12.9 x 12.6 x 3.5 |
| Self-emptying base | Yes, with bags | Yes, bagless |
| Scheduled cleaning | Yes | Yes |
| Schedule individual rooms | Yes | No |
| Virtual walls | Yes | Yes, manual control only |
| Physical boundary strips | No | Yes |
| Obstacle recognition | Yes | No |
| Suction power | Strong | Strong |
| Cleaning modes | Power Boost | Manual Set |
| Voice commands | Google and Alexa | Google and Alexa |
| Recharge and resume | Yes | Yes |
| Price | $800 | $600 |
Bases match up, but Shark bags will cost you
One of the most important features of these robot vacuums is the self-emptying feature. Here's how it works: Each time the robots finish their cleaning run, they return to their respective base and empty the contents of the robot's dustbin into the base for longer-term storage. Though obviously super helpful, it's important to note that this feature can get loud, so take note if you work from home or have napping kids.
Each robot can hold at least a month's worth of dirt inside their respective self-emptying bases — maybe even longer, depending on how often you clean and how much pet hair lives in your house.
But the real difference between these two robot vacuums is how they store the dirt. Inside the j7+ you'll find a spot for iRobot's Dirt Disposal Bag as well as a cleverly hidden storage area where you can stash your extra bags. Once this disposal bag is full, you simply take it out and throw it in your trash, replacing it with a new one. Simple, yes, but you will pay for this convenience. Once you use up the included two bags, the company's replacement bags go for about $17 for a three-pack. Though not overly expensive, costs will add up.
The Shark IQ XL goes a different route, transferring its contents into the base, which is bagless. A small clear window on the side of the base lets you monitor the level of dirt in case you've had a particularly dirty few weeks. Once it's full, just detach the bin and empty it over the trash.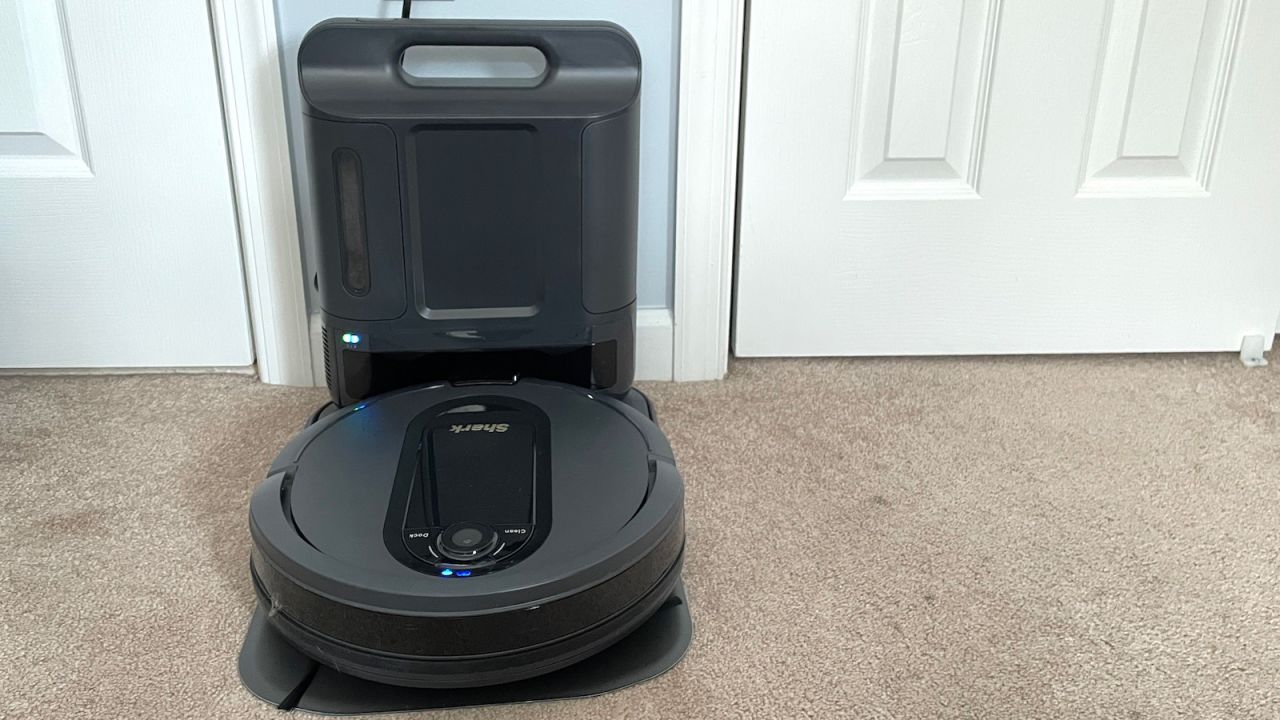 I like that the IQ XL has a handle at the top of the bin so you can easily carry it through the house. The downside is that it can get messy, with dust easily escaping and getting all over your hands and clothing — which is especially worrying if, like me, you have allergies. However, it may be worth it to save the cash on those bags.
TL;DR: iRobot's Clean Base makes disposing of dirt a truly hands-free experience. However, if you're looking to save cash on replacement bags, be prepared to get your hands dirty with the Shark IQ XL.
Similar design and features, but iRobot is more compact
If you're going to spend a good chunk of change on a robot vacuum cleaner, it should fit under your furniture and keep moving without constant upkeep.
For me, the iRobot j7+ came closest to that, with its two multi-surface rubber brushes on the underside of the vacuum as well as one side brush to sweep edges, which did a great job pulling up dirt from carpeting while not getting too tangled with pet hair. Of course, nothing's perfect, so I did have to manually pull out the strands once in a while.
I had the same tangling issue with the Shark IQ XL, which has just one brush consisting of fins and bristles, but overall, it did well picking up the hair and dirt from the carpets and floor.
The iRobot vacuum itself is 3.4 inches high, allowing it to go under almost all the furniture in my home, and I especially appreciate that it can vacuum the carpeting under the bed as well as the hardwood under the couch. The Shark, on the other hand, is 3.5 inches high, not that much taller, but it had difficulty getting under my smaller love seat.
When it comes to the cleaning base, iRobot measures just 13 inches wide and 13.5 inches tall. Shark's base, on the other hand, stands about 2 inches taller, and ends up looking bulkier.
TL;DR: The iRobot j7+'s single side brush did a better job at pushing the dirt into the path of the vacuum. And though the robots look similar, the Shark base measures about 2 inches taller.
iRobot's smart sensors allow it to clean better
I ran both robots on a mixture of hardwood floors, tile floors and low-pile area rugs, along with one higher-pile rug. And while they did an equally thorough job of picking up dust, cat litter and dirt (though neither of them excelled on the high-pile rug), the iRobot's superior smarts make this a more compelling option, especially when we're talking about less hands-on intervention.
The Shark IQ XL has cleaning modes (eco, normal and max) that you set each time you run the robot, while the j7+ cleans based on the amount of dirt it detects. When the iRobot comes across a higher concentration of dirt, it automatically amps up its cleaning level to focus more effort.
To test this, I spilled cat litter on the hardwood floor. When the j7+ got to the end of the mess, it reversed itself back to the beginning of the spill area and took another pass. And, because of its advanced smart features, it will consistently go over any mess until the entire thing is picked up. In addition, when it senses carpeting, it will automatically increase its suction power, so I never need to think about which room might need more attention.
While the Shark IQ XL does a capable job on carpeting and floors, it lacks the ability to spot clean. So, if you know there's a lot of crumbs in the kitchen or dirt by the back door, you'll have to set it to the max mode in the app — which also increases the sound level and decreases the battery level. There is an eco mode if there are no big spills around, though I found that it tends not to be as thorough.
TL;DR: The superior smarts of the iRobot allow it to clean more thoroughly, making it the clear winner here. 
iRobot steers clear of obstacles and pet poop
Because it's guided by a light and a camera sensor on its front panel, the j7+ did a superb job maneuvering around the house, steering clear of furniture and things like headphones and lamp cords. The light allows the robot to see the obstacles in its path, while the camera allows it to identify them — including, well, poop. Yes, it's trained to detect solid pet waste, among other things. The camera also helps the robot continue to improve its database of recognizable objects. I even added my cat to the list.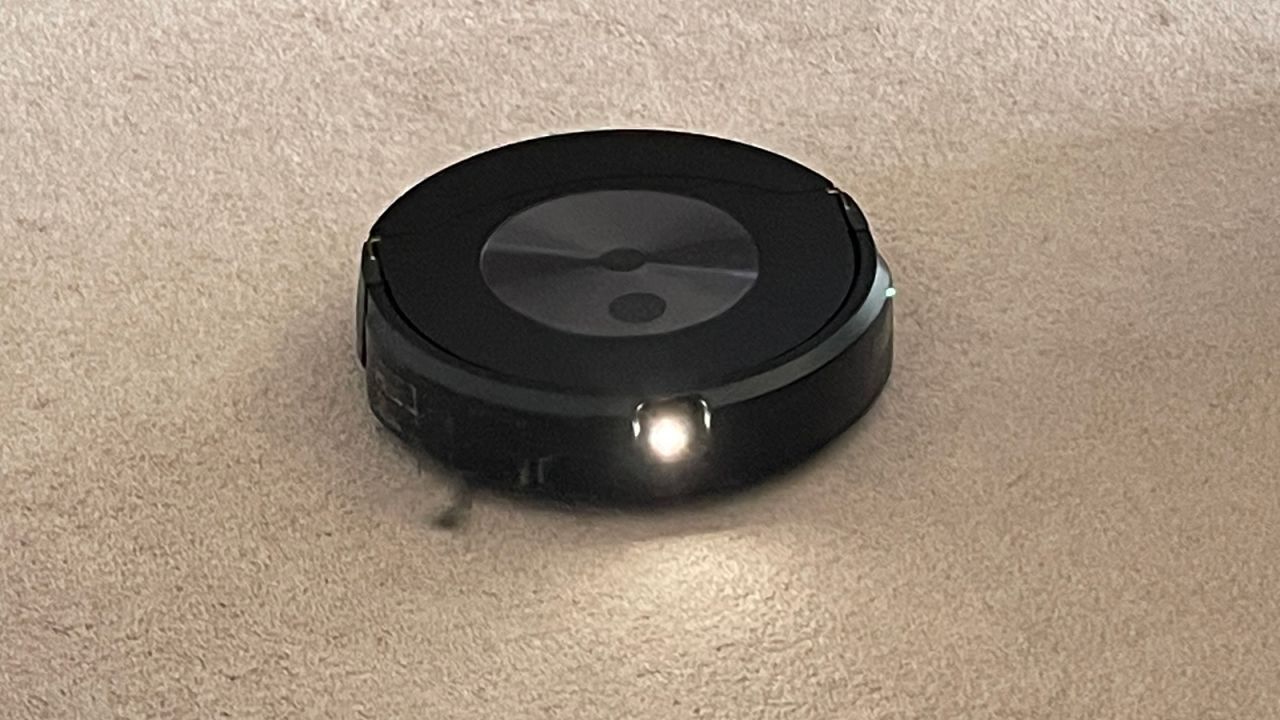 Though the Shark IQ XL moves around efficiently, it can't detect those obstacles in its path. This means you have to pre-clean before you clean, picking up anything littering the floors like cords, shoes and toys.
If this doesn't bother you, the Shark IQ XL does an excellent and efficient job cleaning and does avoid bumping into furniture. It also managed to maneuver around my kitchen bar stools, which the j7+ could not do.
TL;DR: For hands-off cleaning, iRobot's j7+ sweeps the category. But if you don't mind picking up the house before you run the robot, the Shark IQ XL holds its own in the navigation space for a lot less money.
iRobot sweeps it on mapping and app controls
Both robots require an initial mapping run of the house so you can name specific rooms and areas. The respective apps (for both Android and iOS devices) are used to control where and when the robot cleans and set schedules. And because a lot can go wrong with this process (some robot vacuums I tested were never able to complete a map), it can make or break the way the robot cleans your home. In my testing, the Shark app simply couldn't compete with the iRobot's superior mapping features and functionality.
Once the j7+ completed the mapping run, I was able to name rooms, create dividers in open spaces (I have an open floor plan) and set up virtual boundaries or no-go zones if needed.
In my testing of the Shark IQ XL, it was much more difficult to edit the map and create virtual dividers for each room. Twice, while editing, the room names simply disappeared, and I had to start all over again.
Another annoyance I couldn't get over was the Shark app's inability to schedule cleaning for a specific room. It's the whole house or nothing.
And lastly, the Shark will only allow you to stay away from areas like a pet bowl or exercise equipment if you manually start it. The app won't allow any permanent no-go zones and you'll have to use the included physical boundary strips to place on the floor around those restricted areas. For the price of this robot vacuum, I expected more.
TL;DR: Advanced mapping and app features as well as virtual no-go zones make the iRobot the winner.
Bottom line
It's no surprise that the iRobot Roomba j7+ wins out in almost every category. This "set it and forget it" vacuum delivers the most hands-off cleaning experience with advanced obstacle avoidance, dirt sensors and a cleaner base you don't need to empty for weeks at a time.
Yes, it's a splurge, but if you want to schedule specific rooms for cleaning and, literally, don't want to get your hands dirty, you'll have to pay for it.
However, for a lower price tag, the Shark IQ XL holds about the same amount of dirt in its bagless base and cleans well, though you'll be giving up some of that worthy smart functionality. If you don't mind picking up the house before you run the vacuum, you might find it's the right mix of smarts, convenience and price.