CNN —
CNN Underscored reviews financial products such as credit cards and bank accounts based on their overall value.
With people staying at home as much as possible, credit card issuers are seeing fewer folks dining out and more orders for food delivery. So, in an effort to encourage customers to use their credit cards, both Chase and American Express are temporarily adding bonus rewards to some cards for select food delivery purchases.
On the Chase side, from now through May 31, people who hold one of several eligible Chase credit cards can earn a total of 5 points or 5% cash back — depending on the card — for every dollar spent on DoorDash and Tock orders, up to a maximum of $500 in combined purchases.
Chase credit cards that are eligible for this promotion include the Chase Sapphire Preferred Card, the Chase Sapphire Reserve, the Chase Freedom and the Chase Freedom Unlimited. The two Sapphire cards earn Chase Ultimate Rewards points, while the two Freedom cards earn cash back.
Related: Get the classic Chase Sapphire Preferred travel credit card.
However, the secret of Chase cards is that you can pair either Freedom card with any of the Chase premium cards — including both the Sapphire Preferred and Sapphire Reserve — to convert any cash back earned from the Freedom cards into Ultimate Rewards points.
You can then get more value for those points when you redeem them for travel, whether it's by using your points to book through the Chase travel portal, or transferring them to partner airlines and hotels. And while you likely aren't traveling right now, you can save your points to use down the line when airlines resume flights and hotels reopen.
The other bit of good news is that the $500 maximum is per account, not per customer. This means if you have more than one of these Chase cards, you can earn even more rewards. For example, you can earn extra points or cash back on up to $1,000 in purchases if you have two cards, $1,500 with three cards, and so on.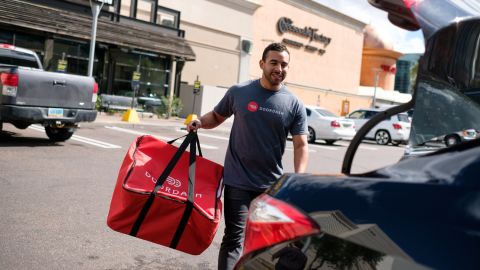 This bonus offer comes on top of the DoorDash perks that are already available on all four cards. Chase Sapphire Reserve card holders get up to $60 in annual DoorDash credits in both 2020 and 2021, plus a complimentary DashPass subscription for a minimum of one year as long as you activate it by Dec. 31, 2021.
Related: How to take advantage of your expensive travel credit card when you can't travel.
Chase Sapphire Preferred card holders also get a complimentary DashPass subscription for at least one year, but not the $60 credits. Freedom and Freedom Unlimited card holders get the subscription for just three months, and then are automatically enrolled in DashPass at half off for the next nine months (which you can cancel anytime).
DashPass offers unlimited restaurant deliveries for a $0 delivery fee and reduced service fees on eligible orders over $12. Not every restaurant on DoorDash participates in DashPass, but in our experience, a good number of them do. DashPass normally costs $9.99 per month as of this writing.
Related: Chase Sapphire Preferred vs. Chase Sapphire Reserve: Which credit card is best for you?
Meanwhile, American Express is adding bonus points for two other food delivery services. Starting April 15, card members enrolled in Membership Rewards can earn 2 points for every dollar you spend with Grubhub and Seamless, with no cap through the rest of 2020.
Only Amex cards that earn Membership Rewards are included in this promotion, meaning you won't get any extra rewards if you have a Delta, Marriott or Hilton credit card, or a cash back card. However, it does include all US card members enrolled in Membership Rewards, and doesn't require any sort of registration — any Grubhub or Seamless purchases made by Dec. 31 should automatically earn bonus points.
Amex is also currently running a terrific promotion with Amazon where targeted American Express card members receive a 20% discount on many Amazon purchases, including third-party gift cards. Amazon sells both UberEats and DoorDash gift cards, meaning you can purchase a $250 gift card for either of these food delivery services and receive a $50 discount.
If you haven't already registered for the Amex/Amazon promotion, read CNN Underscored's guide with all the details on how to check to see if you're eligible.
Not sure which credit card to use on your food delivery order? Check out our guide on the best credit cards to use for food delivery services.