Our kitties keep us company on the couch, crack us up and nuzzle away our tears. If you share your home with a cat (or three), you know firsthand how much joy feline friends bring. They bring something else as well: the inescapable need to buy cat litter.
Those of you who are still aspiring cat parents may be thinking, "So? Litter's litter." We'll try to break it to you gently, then. Litter is not just litter. Scrolling through the options on any of the major online pet retailers isn't very different from searching for "just cat food" or "cat litter boxes."
In fact, the sheer variety can be so confusing, we called in the experts to help us sort it all out. Here, we run down the picks of vets and cat behaviorists from among the most popular types of cat litter. As great as their advice is, though, in the end, your cat is calling the shots. Follow their lead on what litter they like or don't. Otherwise, they may leave a surprise to be discovered as you step out of bed.
Cat litter for odor control
Arm & Hammer Super Scoop Clumping Cat Litter ($15.99, originally $18.99; chewy.com)
Veterinarian Ginger Benham of Northeast Animal Hospital in St. Petersburg, Florida, shares that the consensus for favorite cat litter among the vets at Northeast is this unscented clay litter. "It combats odors without overpowering perfumes that can bother cats," Benham explains. "It also clumps well."
World's Best Lavender Scented Multi Cat Litter ($34.99; petco.com)
Lead veterinary advisor at Pawp, Laura Robinson, points to World's Best as her top pick. She applauds the eco-friendliness of this whole-kernel corn litter. (Yep. Corn.) And it's infused with natural lavender oil that both squashes stink and is soothing to kitties.
Tuft + Paw Really Great Cat Litter (starting at $29; tuftandpaw.com)
After trying this particular litter for months now, one Underscored editor says there's no going back to her past brands. Made of soybean byproduct, this litter is soft on the paws, practically dust-free and doesn't come flying out of the litter box like all the other litters she's tried. The best part though is how instantly it eliminates the natural smells that come from her cat's litter box.
Non-clumping cat litter
Arm & Hammer Feline Pine Platinum Cat Litter ($13.99; chewy.com)
"Curious kittens may decide to taste their litter. Clumping litter can cause intestinal blockages," explains Nicole Van Andel, cat behaviorist at Tuft + Paw. "And geriatric cats have a more difficult time cleaning themselves. They'll especially benefit from a litter that doesn't stick to their paws."
Litter made of pine has a naturally pleasant scent that blocks eau de feline toilet without the need of artificial fragrances. Pine litter doesn't clump, yet it still gets the enthusiastic vote of many cat parents and vets. Jeff Smith, veterinarian at Danville Family Vet in Danville, Virginia, especially likes Feline Pine, which he has found to be "naturally odor absorbent" and "attractive to most cats."
Unscented cat litter
Fresh Step Simply Unscented Cat Litter ($21.99; petsmart.com)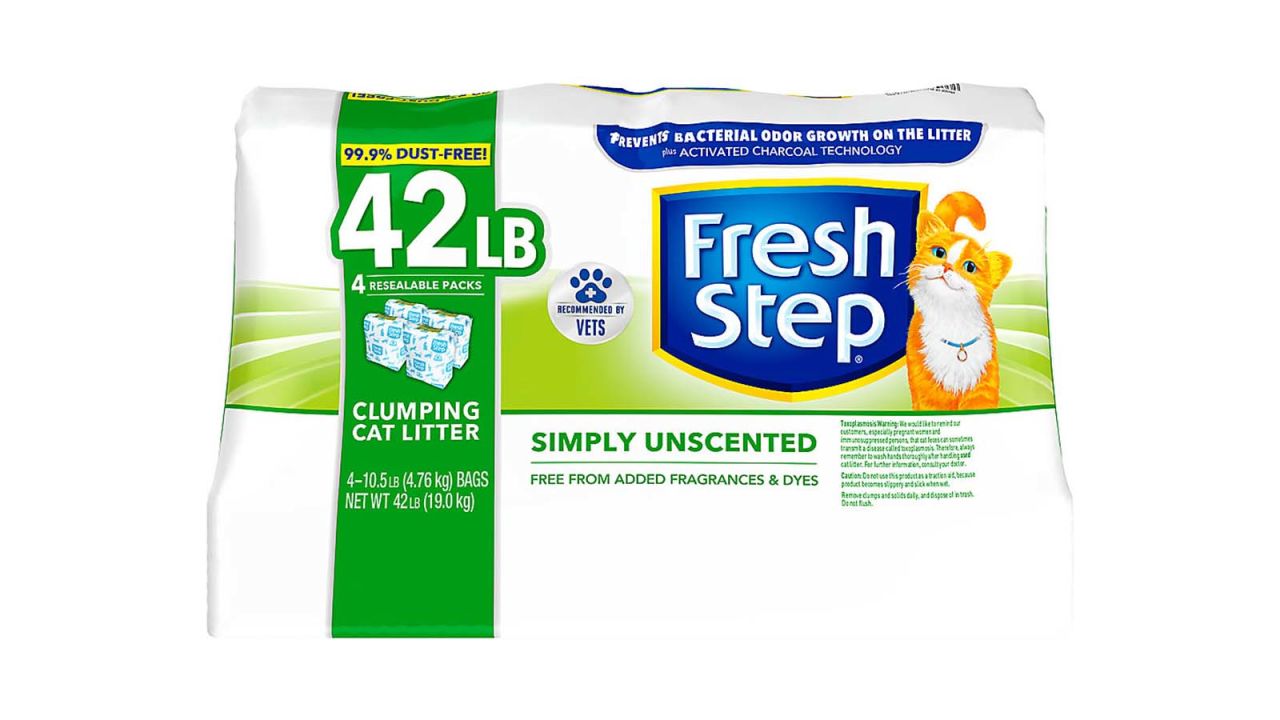 "Fresh Step is my go-to brand," shares Sarah Wooten, a veterinarian who works with Pumpkin Pet Insurance. "Cats have moderately sensitive noses. While the research is mixed as to what cats prefer, my recommendation for unscented is also based on hygiene. A person may not clean a litter box as often as needed if there is perfume covering up the smell."
Frisco Multi Cat Unscented Clumping Clay Cat Litter ($15.99; chewy.com)
"My favorite brand for my own cat, Clarabelle, is Frisco Unscented Clumping Clay Cat Litter," says Mikel Delgado, a certified cat behavior consultant at Rover. It forms extra hard clumps for easy-peasy scooping, plus it's hypoallergenic, made without many common cat allergens.
Lightweight cat litter
Purina Tidy Cats Lightweight Free & Clean Cat Litter ($14.99; petco.com)
This featherweight litter gives you the same volume as regular litter, but only about half the heft. Plus, it has an ammonia blocker and activated charcoal to keep urine smells at bay. JustAnswer veterinarian Dwight Alleyne is a fan. "I've been a cat owner for almost 20 years — as well as a veterinarian — and so far, my all-time favorite brand has been Tidy Cat because it seems to have the best odor control," he says.
Cat's Pride Unscented Complete Care Litter ($22.40; walmart.com)
This is a super-fine clumping clay litter, both lightweight and easy for cats to dig in. A win-win! Christine Sellers, the veterinary advisor at Cat Person, agrees. "My go-to litter for my five cats at home and my top recommendation for my clients is Cat's Pride Complete Control. The clumps are not too sticky and don't adhere to the box when scooped daily. And it's lightweight."
Dust-free cat litter
Purina Yesterday's News Original Paper Cat Litter ($11.99; chewy.com)
Fluffballs, rejoice! Long-haired cats will appreciate the large pellets of this recycled paper litter, which won't catch their fur. You'll appreciate the noticeable lack of dust. "Also, for cats who have recently undergone surgery, I recommend Yesterday's News, which won't stick into the surgical site," says Brian Evans, veterinarian and medical director at Dutch.
Dr. Elsey's Precious Cat Ultra Litter ($19.99; amazon.com)
Dr. Emily Wilson, a veterinarian for digital pet care company Fuzzy, notes that the low dust of this litter is especially beneficial to cats with respiratory issues. "As a cat mom to four kitties, I find that fragrance-free litters are better accepted, so I picked Dr Elsey's Cat Ultra litter," she explains. "This litter works best for our household as it clumps consistently, which makes litter box cleanliness much more successful."
Best value cat litter
ExquisiCat Clumping Clay Premium Litter ($16.99; petsmart.com)
TB Thompson, veterinarian with Natural Pets HQ in Phoenix, Arizona, tipped us off to this under-the-radar smart pick. "A top bargain choice is ExquisiCat clumping clay litter. It's less messy than non-clumping varieties, very affordable and many cats accept it just fine."