After gaming and working on the Alienware 34 Curved QD-OLED for a few days, I'm not sure I can go back to my crummy old flatscreen monitor. This behemoth packs pretty much everything you could want from a display, including the bold colors and deep blacks of an OLED screen, a high refresh rate for smooth gameplay and a stunning ultrawide resolution that makes it easy to get lost in just about any title. Better yet, all of this tech is wrapped into a gorgeous (albeit huge) design that makes an especially nice complement to an Alienware PC.
Still, Alienware's latest monitor is a big investment at $1,299, especially when you can get a decent ultrawide display for considerably cheaper. The QD-OLED wowed me when I first saw it for CES 2022, but is it actually worth the premium? Here's what I think after many, many hours sitting in front of its massive, engrossing screen.
An extra-immersive gaming monitor
The Alienware AW3423DW offers gorgeous picture quality and lots of great features for immersive PC gaming.
The who, what and how
Who it's for: The $1,299 Alienware 34 Curved QD-OLED (AW3423DW) is ideal for PC gamers who are willing to invest in an immersive high-end screen with lots of good features. It also doubles as a good work monitor, thanks to plenty of real estate for multitasking. Just note that this display demands a lot of desk space.
What you need to know: Alienware's curved monitor ticks a lot of important boxes for a modern gaming display, including a quantum dot OLED panel that allows for high brightness, rich colors and deep blacks. Other key features include a 175Hz refresh rate and Nvidia G-Sync Ultimate for extra-smooth gaming as well as customizable RGB backlighting.
How it compares: The QD-OLED is a very expensive for a gaming monitor, but a pretty good value for a big ultrawide display with lots of useful features. There are more affordable 34-inch curved displays like this popular $429 Viotek model or the $689 Samsung J791 (our overall large monitor pick), but they lack features such as OLED panel, a 175Hz refresh rate and Nvidia G-Sync. The $1,399 Samsung 49-inch Odyssey G9 provides a wider, more engrossing display (and a higher refresh rate) for a similar price, though you'll need even more desk space than the Alienware demands.
A futuristic (and desk-devouring) design
If you're going to have a giant ultrawide monitor dominate most of your desk, it better look good. Fortunately, the Alienware 34 QD-OLED does just that, featuring the same clean white design language and customizable RGB lighting that adorns the company's laptops and desktops.
The monitor was easy to set up, and after a few minutes of snapping together the base, stand and screen without fussing with any tools, I was good to go. Just note that you'll need a desk with an especially good amount of depth for this monitor — its A-shaped base takes up about 17 inches by 12 inches of real estate and just barely left room for my small wireless keyboard.
The QD-OLED offers a good amount of adjustment options for a massive curved screen, and it didn't take me long to find a comfortable viewing angle. You can tilt the display more than 20 degrees back, swivel it 20 degrees to either side and raise it a few inches up or down. I just wish you could slant the screen more than a measly 5 degrees diagonally, which would make it a little easier to access the monitor's ports without having to reach around the back.
I'm a big fan of the five-way control hub located just under the screen, which made it easy to navigate the QD-OLED's menus whenever I wanted to change picture modes, tweak the brightness or adjust the lighting. It's a much more convenient solution than the oftentimes stiff and unwieldy navigation buttons found on even some of the best monitors, including my own Dell 24 Gaming display.
Alienware's display has four RGB lighting zones — two on the back, one at the bottom and one on the power button — each of which can be individually customized via the monitor's on-screen menu to glow their own unique hue or cycle through the entire rainbow in sync. You get a nice amount of colors and effects to choose from, but unless you're sitting in complete darkness or checking out the monitor from behind, you probably won't notice the lighting at all.
Even the downward-facing light up front (which some monitors use to illuminate your keyboard) was barely visible in a dark room, and the most prominent zone — the ring around the back — isn't something you'll be able to see while gaming. I personally don't mind the QD-OLED's subtle lighting, and the whole look nicely matches the Alienware Aurora desktop I've been testing alongside the monitor. Just don't expect a massive light show every time you hit the power button.
Plenty of ports for high-end gaming — but best for PC
The QD-OLED has a bevy of ports, starting with two HDMI 2.0 ports and a DisplayPort that give you the flexibility to connect multiple computers and consoles. You won't be getting the latest HDMI 2.1 standard — which means no extra-high frame rates on the PlayStation 5 or Xbox Series X — but both consoles will work just fine on the monitor, albeit at a standard 16:9 aspect ratio. This monitor is primarily built for high-end gaming PCs, and you'll want to connect via DisplayPort to get the full 175Hz refresh rate that the QD-OLED is capable of pumping out for super-smooth gaming.
You'll also get two USB Type-A ports, a USB Type-B port and a line-out audio port in the back as well as an additional two USB-A ports and a headphone jack conveniently located at the bottom of the monitor for easily connecting accessories and headsets. I appreciate that Alienware makes it so easy to manage and conceal whatever mess of cables you attach to the monitor, with a rear cover that obscures most of the ports and a handy opening in the stand for neatly looping all of your wires through one place.
Truly immersive gaming performance — and it's good for working too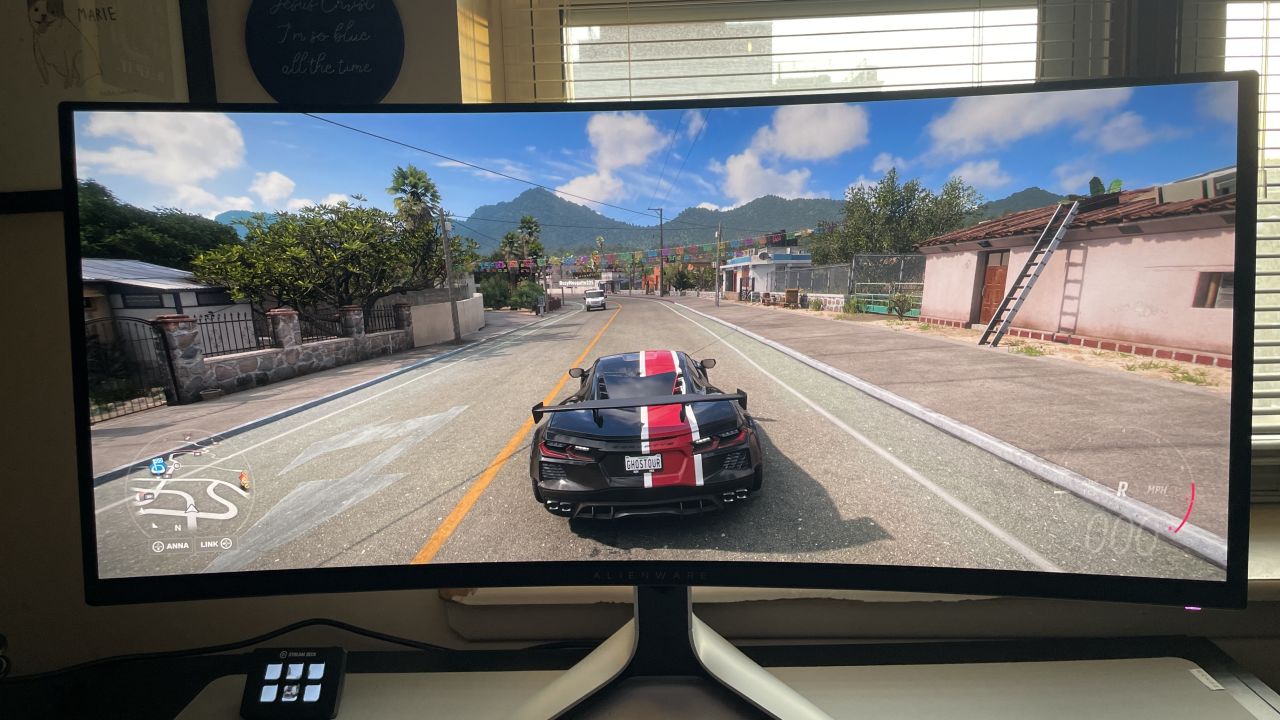 The Alienware 34 QD-OLED is an absolute joy to play games on, with rich colors, sharp contrast and an engrossing 34-inch ultrawide viewing experience that gave me a brand-new perspective on some of my favorite PC games. As someone who typically games on a standard 16:9 display, I'm going to have a hard time going back.
I got fully immersed in the open roads of Mexico when playing Forza Horizon 5 on the QD-OLED, which gave me plenty of real estate to gawk at the gorgeous blue skies and vibrant greenery in the distance as I recklessly drifted around. The much darker action of Batman: Arkham Knight looked just as great on Alienware's monitor, which provided deep blacks that allowed the neon lights and rain-soaked reflections of Gotham to really pop.
Having a huge ultrawide display like the QD-OLED doesn't just make games nice to look at — it can also give you a tactical advantage. I had a much wider field of view than usual when playing shooters like Doom Eternal and Halo Infinite, which made it easier than usual to keep tabs on deadly demons and real-life multiplayer opponents alike. The blood-soaked action of Mortal Kombat 11 looked colorful and detailed, but more importantly, I didn't notice any latency when performing intricate attack combinations.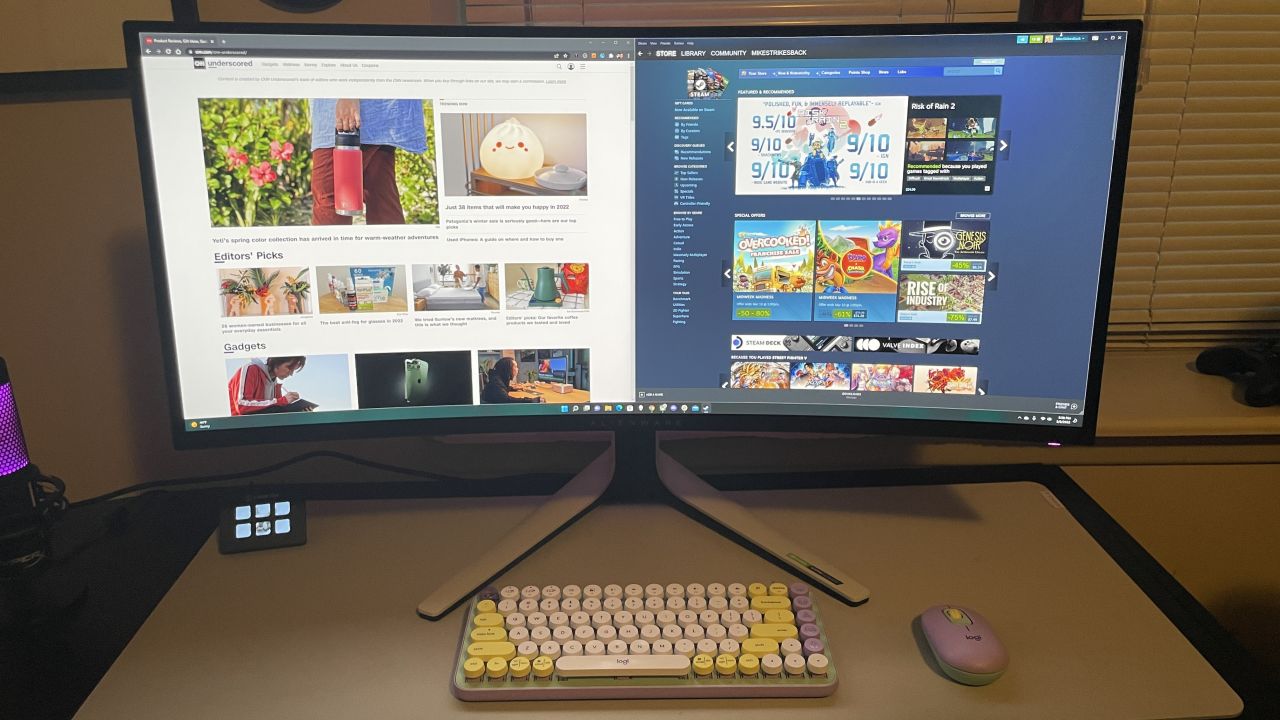 When I finally managed to pull myself away from my games, the QD-OLED proved to be a great daily work monitor. The display's huge 34-inch, 3440 x 1440 canvas gave me plenty of space to comfortably split the screen between upward of four apps at once, to the point where I didn't really miss my usual dual-monitor setup at all. The monitor's deep blacks again stood out here, making it very easy to doomscroll through Twitter or catch up on Slack messages in dark mode without straining my eyes.
Quantum dot quality and good gaming features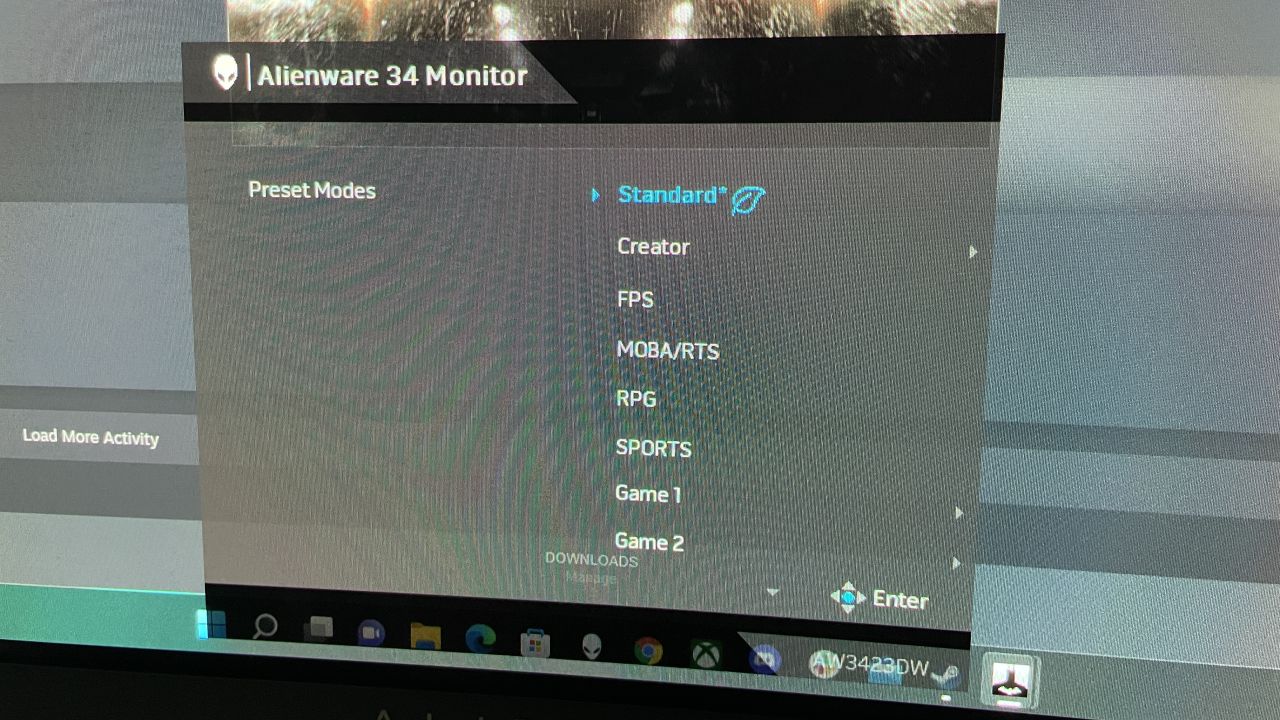 This great viewing experience can be chalked up in part to the QD-OLED's quantum dot technology, which uses tiny dots to create an image that's generally brighter and more colorful than a typical OLED screen — and within fairly slim designs. Alienware's monitor pulls all of this off while still providing the usual benefits of OLED that we've loved on many of the best TVs, including vibrant hues and deep blacks that allow games, shows and movies to really shine.
The QD-OLED's impressive brightness and pretty colors are joined by a handful of gaming-specific benefits as well. The monitor sports Nvidia's G-Sync Ultimate technology, which is designed to keep games smooth when using an Nvidia graphics card and helped reduce screen tearing when playing games at extra-high frame rates. Speaking of which, this display packs up to a 175Hz refresh rate, which means that your games can run at up to a silky 175 frames per second — that's very good for a huge, high-res monitor, and is especially ideal for competitive titles like Fortnite and Apex Legends.
There are a handful of color presets in the monitor's options menu, including a first-person shooter mode that ups the brightness and warmth and a real-time strategy mode that goes big on contrast and saturation to help you see your enemies in each respective genre. There are also three slots for making your own custom profiles.
These are all handy features, though I found myself pretty happy with the QD-OLED's default settings, and didn't find many massive differences between the various presets available. You also get an integrated  "Dark Stabilizer" feature that ups the display's brightness without blowing things out, which did a nice job illuminating a Mortal Kombat 11 battle while still preserving each character's bold, colorful ninja outfits.
Bottom line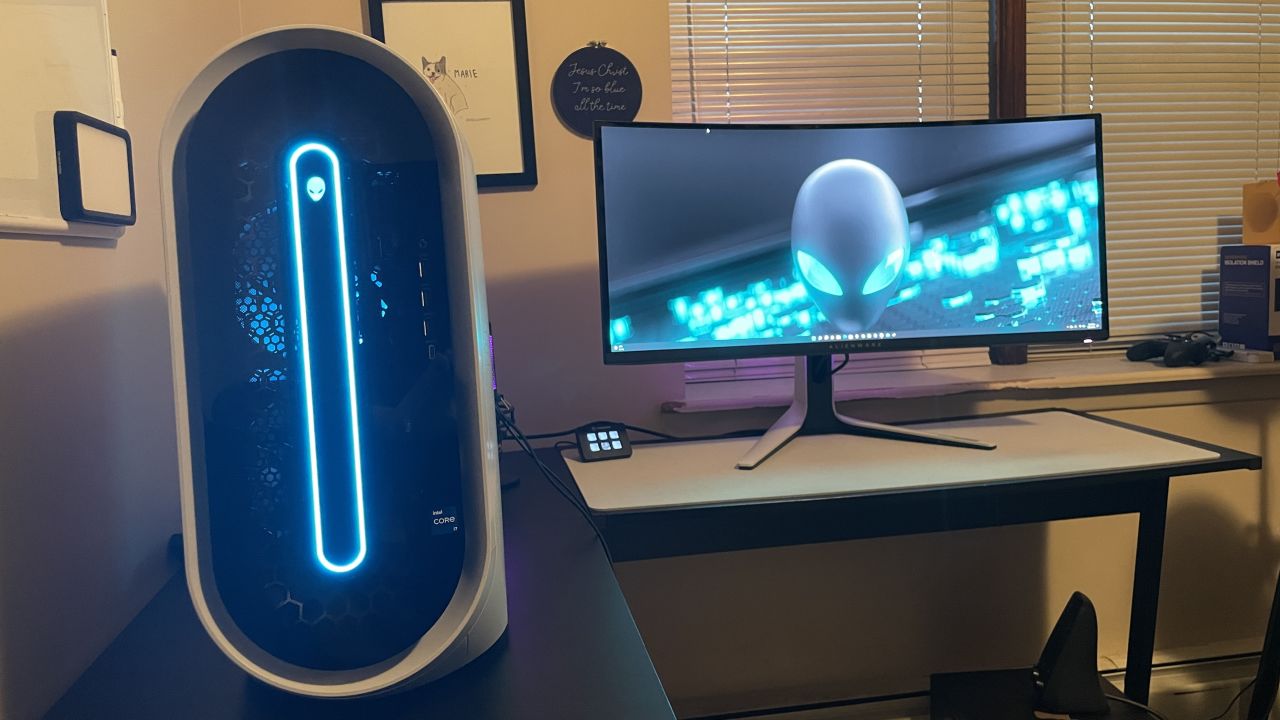 The Alienware 34 Curved QD-OLED is a true kitchen sink gaming monitor, providing an exhaustive list of great features — and excellent picture quality — for those willing to cough up $1,299. Its vibrant colors and deep blacks make just about every genre of game look great, and it gives you plenty of options for tinkering with picture quality. Those immersive visuals are paired with a ton of ports, a high refresh rate and a truly attractive design with handy navigation controls and easy cable management. It all combines for a package that may be worth the investment for many.
If you just want a decent ultrawide display and aren't concerned with having an OLED screen or a super-high refresh rate, cheaper options like the $429 Viotek GNV34DBE and the $529 AOC CU34G2X will likely suit you just fine.
And if you have the space and cash to go all out, Samsung's larger 49 Odyssey Neo G9 — which comes in a $2,499 Mini LED variation for an even better picture — may be worth a look. Still, if you want a middle ground that will make your favorite PC games look great for years to come, Alienware's extra-large display will give you a whole lot for the money.