The Alienware Aurora has long been a favorite in the world of gaming PCs, and for good reason. It sports an attractive design laden with RGB lighting, offers plenty of high-end gaming muscle and, most notably, is a breeze to upgrade with new components over time. The latest Aurora R13 doesn't mess too much with this formula, but it offers some noteworthy upgrades — particularly in the form of Intel's new 12th-gen processors for even speedier everyday performance.
So, is it worth the splurge, and can it hold up to the best gaming PCs out there? The Aurora R13 is definitely a big investment — especially if you trick it out with a top-end graphics card and processor — and it demands an equally large amount of space in your gaming area. Here are my thoughts after weeks of gaming and working on this futuristic behemoth.
A great all-around gaming desktop
The Alienware Aurora R13 is an attractive, powerful and easy-to-upgrade gaming PC with lots of configuration options for different types of gamers.
The who, what and how
Who it's for: The Aurora R13 is for PC gamers who want lots of configuration options — and the flexibility to upgrade components without dealing with a ton of tools. It's also ideal for folks who have a decent amount of space under or above their desks, because this thing is big.
What you need to know: The Alienware Aurora R13 is Dell's latest flagship gaming PC, packing a stylish design with customizable RGB lighting and support for the latest Intel processors and Nvidia and AMD graphics cards. Its big standout feature is upgradability, as you can easily pop open the system and swap out most parts without any tools.
How it compares: The Aurora is largely the most powerful gaming PC we've tested yet, offering a big leap over previous-generation machines and even outpacing similarly configured rivals like the MSI Aegis RS on gaming tests. It's also one of the easiest to upgrade, thanks to its intuitive tool-free design. Alienware's system is among the more attractive and understated we've tested, but it's also one of the biggest and won't fit into your setup quite as easily as a compact option like the Corsair One.
A design that's both futuristic and understated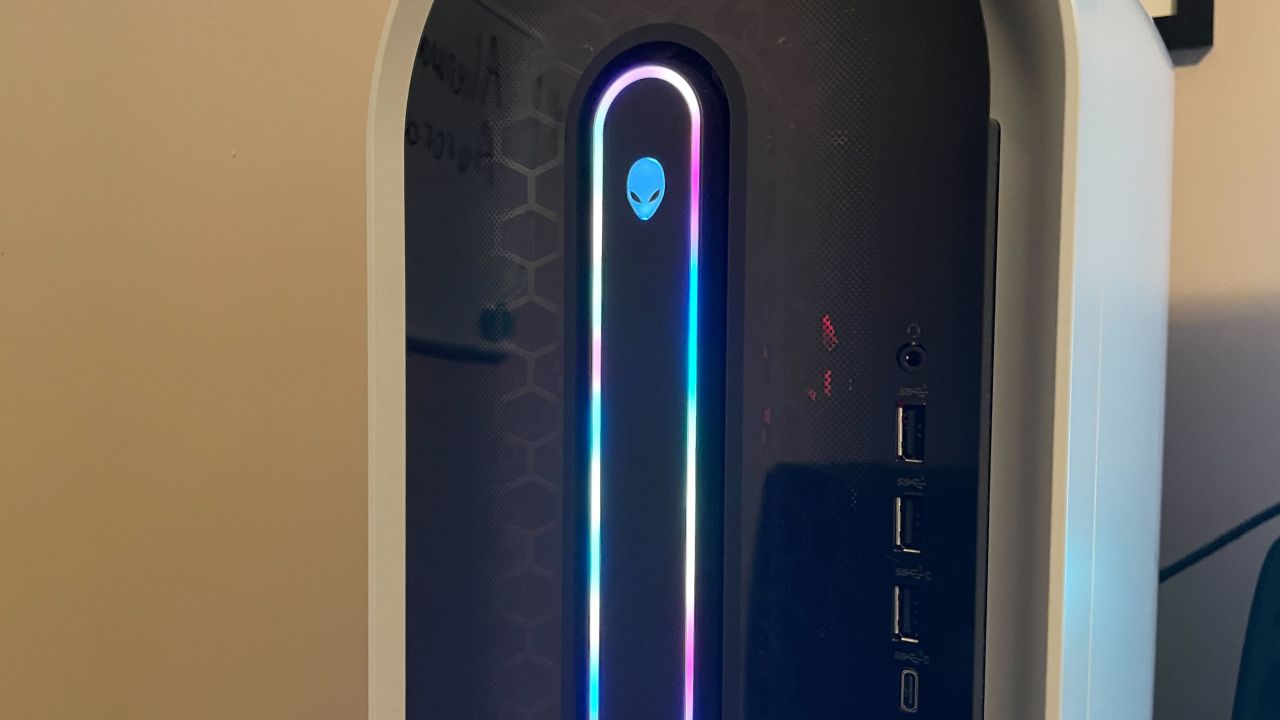 The Alienware Aurora R13's design is understated for a gaming PC, but that doesn't mean it won't turn heads. The desktop's sleek white ovular design looks like a mysterious pod that dropped out of a spaceship, just waiting to unleash something dangerous inside. Fortunately, all you'll find in there are some pretty powerful computer components.
The Aurora demands a good amount of space at 20 inches tall and 9 inches wide, but it looks good doing so. My eyes were immediately drawn to the thin strip of RGB lighting up front, which is backed up by the subtle but mesmerizing whir of the backlit fan visible just behind it. You can opt for a translucent side window option that lets you see even more of the PC's glowing insides, but I found the clean, white solid panels on our review unit to be an especially nice fit for my home office.
Regardless of how much RGB lighting you actually want to see, you'll have plenty of ways to customize it, thanks to the excellent Alienware Command Center app. The system's power button, front-facing ring and fan can be customized individually or as a group, whether you want to have them all glow a solid color or toggle a number of cool effects that allow them to pulsate in and out in different hues. I was especially drawn to the Rainbow Wave effect, which pumps out an Easter basket's worth of color that attractively cycles around the system's front strip. Despite the sheer amount of options on hand, I found Command Center easy to use, and I was setting up my own custom color profiles within minutes.
Plenty of ports and easy upgradability
Of course, looks are just one part of the equation, and the latest Aurora delivers just as big when it comes to connectivity and expandability. You get a healthy amount of ports for connecting accessories, starting with three USB-A ports, a USB-C port and a headphone jack up front. Considering that my current crop of keyboards, mice, webcams and headsets still use a mix of the two USB standards, I appreciate having easy access to both.
You'll find a much wider array of connections around the back, including a total of four USB-A ports (two of which are the newer, faster USB 3.2 standard), two USB-C ports, an Ethernet jack for wired internet and a full array of audio jacks for connecting your speakers of choice. The system's Nvidia GeForce RTX 3080 graphics card has its usual three DisplayPorts and lone HDMI ports, giving you plenty of freedom to connect to multiple monitors.
The Aurora line has long been known for its easy upgradability, and that remains the case on the R13 model. After quickly removing a hand screw, I was able to pull a lever on the back of the machine and easily slide off the side panel, gaining instant access to the PC's internal components — no tools required. You can swap out and upgrade the system's graphics card, memory and storage without lifting a screwdriver, though you will have to take some tools out if you want to mess with the processor and power supply. This is a big benefit for folks who want the flexibility to upgrade their desktop over time but are intimidated by the idea of taking apart a computer.
Some of the best gaming PC performance out there
The newest Alienware Aurora can be outfitted with the latest and best gaming components. As such, it's no surprise that our souped-up review unit — which includes a 12th Gen Intel Core i7 processor, 32GB of memory and an Nvidia RTX 3080 graphics card — is one of the most powerful gaming PCs I've tested.
This combination of processing and graphics muscle allowed me to play my favorite PC games at their absolute best without compromising between a smooth frame rate and being immersed in the absolute highest visual settings. The frenetic demon-slaying action of Doom Eternal ran at a blistering 146 frames per second (fps) at 1440p resolution with all graphics settings maxed out (for reference, we consider at least 60 fps ideal), letting me fluidly jump and dash around the battlefield while seeing every gory detail of my enemies. The decidedly more peaceful driving action of Forza Horizon 5 was likewise excellent on Alienware's PC, as I was able to recklessly drift my way around Mexico at upward of 100 fps under similar graphics settings.
| | Processor | Graphics | Geekbench 5 multi-core performance | Shadow of the Tomb Raider (1080p, max settings) | Dirt 5 (1080p, max settings) |
| --- | --- | --- | --- | --- | --- |
| Alienware Aurora R13 | Intel Core i7-12700KF | Nvidia RTX 3080 | 15272 | 185 fps | 114 fps |
| MSI Aegis RS | Intel Core i7-11700K | Nvidia RTX 3080 | 10348 | 170 fps | 160 fps |
| Corsair One a200 | AMD Ryzen 9 5900x | Nvidia RTX 3080 | 11869 | 176 fps | 157 fps |
| Origin Chronos | AMD Ryzen 7 5800x | Nvidia RTX 3070 | 9809 | 154 fps | 121 fps |
The Aurora's superb real-world gaming performance was reflected in our benchmark tests, where it outperformed just about every gaming PC we've ever tested in most categories. The system turned in a very high 185 fps on our Shadow of the Tomb Raider 1080p test, outpacing other RTX 3080-powered rivals such as the Corsair One a200 and the MSI Aegis RS (our current best gaming PC pick). The Aurora only fell behind on the Dirt 5 benchmark with a score of 114 fps — that's still more than high enough for reliably smooth gaming, but it does trail the MSI Aegis by a decent amount.
However, in terms of raw processing power, the Aurora R13 was in a class of its own. Alienware's desktop is the first we've tested with Intel's new 12th Gen processors, and the benefits of getting a system with the newer chip immediately became apparent on our tests. For example, the Aurora scored 15,272 on the Geekbench 5 general performance test — that's about 32% better than the MSI Aegis we tested with an 11th Gen Core i7 processor. Unsurprisingly, all that power came in handy during everyday use, and the Aurora stayed quiet whether I was juggling lots of apps and Chrome tabs for work or tearing through PC games.
Which Aurora specs are right for you?
As with most gaming desktops, the Alienware Aurora offers a ton of configuration options, and its cost and performance are highly dependent on how you set yours up.
The system currently starts at $1,371, which gets you a 12th Gen Intel Core i5 processor, 8GB of RAM, a 256GB solid-state drive (SSD), a 1TB hard drive and Nvidia GeForce GTX 1650 Super graphics. That's a decent configuration for playing modern games at 1080p at medium to high settings, and you'll still have the room to add more powerful components when you're ready.
You can step up to a $1,959 option if you want a Core i7 processor, 16GB of RAM, a 512GB SSD and an Nvidia RTX 3060 Ti, the latter of which gets you the benefits of Nvidia's RTX series (including immersive ray-traced lighting and some AI-powered performance perks) at a reasonable price. You can also get a similar configuration with a more powerful RTX 3070 (ideal for gaming at 1440p, and in some cases, 4K) for $2,302.
For those looking to go all out, the highest-end $4,360 option gets you a super-powerful Core i9 processor, 64GB of RAM, a 1TB SSD, a 1TB hard drive and an Nvidia RTX 3090. This is ideal for folks willing to splurge for the best 4K gaming performance and lots of storage for games.
There are a few other configurations in the middle, and all of them can be customized at the point of purchase. Our $3,450 unit is a good example of how you can trick the system out on the higher end, packing a Core i7 processor, a 2TB SSD, a 2TB hard drive and Nvidia RTX 3080 graphics. This gets you more than enough power for reliable 4K gaming, plus enough storage space to handle even the heaviest Steam libraries.
Other optional upgrades on the lower-end configurations include a clear side panel, which starts at $150, and liquid cooling, which starts at $100. New to the Aurora R13 is a Cryo-Tech liquid cooling option, which Alienware says offers even better thermal performance while sporting exclusive RGB lighting features. And if AMD is more your thing, the Aurora offers a wealth of AMD Radeon graphics card options, from the entry-level Radeon RX 6500 XT to the high-end RX 6900 XT.
Bottom line
The Alienware Aurora R13 ticks just about every box for a great gaming PC. It has an attractive and customizable design, and it supports the latest high-end components for playing modern games at their absolute best. It's also a good long-term investment, with a design that even novice PC gamers can easily open up to swap in a more modern graphics card or increased storage.
If you're looking to save some cash, the $1,199 Lenovo Legion 5i — our favorite budget gaming PC — starts at a few hundred bucks less than the starting Aurora configuration while packing similar specs. And if space is an issue, the Corsair One a200 and Origin Chronos are both great compact (but pricey) alternatives. But the Aurora's value and flexibility make it a great choice for most PC gamers, whether you want to trick it out for immersive 4K gaming from the beginning or start small and work your way up over time.