The Amazon Basics Laptop Stand (from $19) is a super-low-cost way to improve your posture while simultaneously prolonging the life of your laptop. Plus, it makes it so much more comfortable to work from home.
The Amazon Basics Laptop Stand is a portable, foldable aluminum stand for laptops up to 13 inches that raises your device 2.95 inches off the desk, allowing for better posture and air ventilation.
How I found the Amazon Basics laptop stand
Since Covid-19 struck, bringing your work home is more common than ever. And with many of us regularly balancing commuting with remote work, laptops have become all the rage for their simple networking prowess combined with easy toteability. But throw back the curtain and you'll find that constantly looking down at your laptop can cause long-term neck pain as well as headaches and creaky shoulder joints, according to Dr. K. Daniel Riew, director of cervical spine surgery and co-director of spine surgery at the New York-Presbyterian Och Spine Hospital.
Using a laptop stand to raise your device 3 to 6 inches off the desk can improve your posture and reduce neck strain, in addition to helping to keep your laptop cooler. And you don't need to spend a lot of money to reap the benefits. Case in point, Amazon has a product for well under $25, and Prime Members can get it delivered in two days or less. I've been using the Amazon Basics Laptop Stand for a few weeks and found it both useful and affordable.
Like with most items branded with the Amazon Basics label, from batteries to ibuprofen to paper towels, you're getting a simple, in-house branded product for less. So I was interested in seeing how this laptop stand stacked up against other name brands I've used.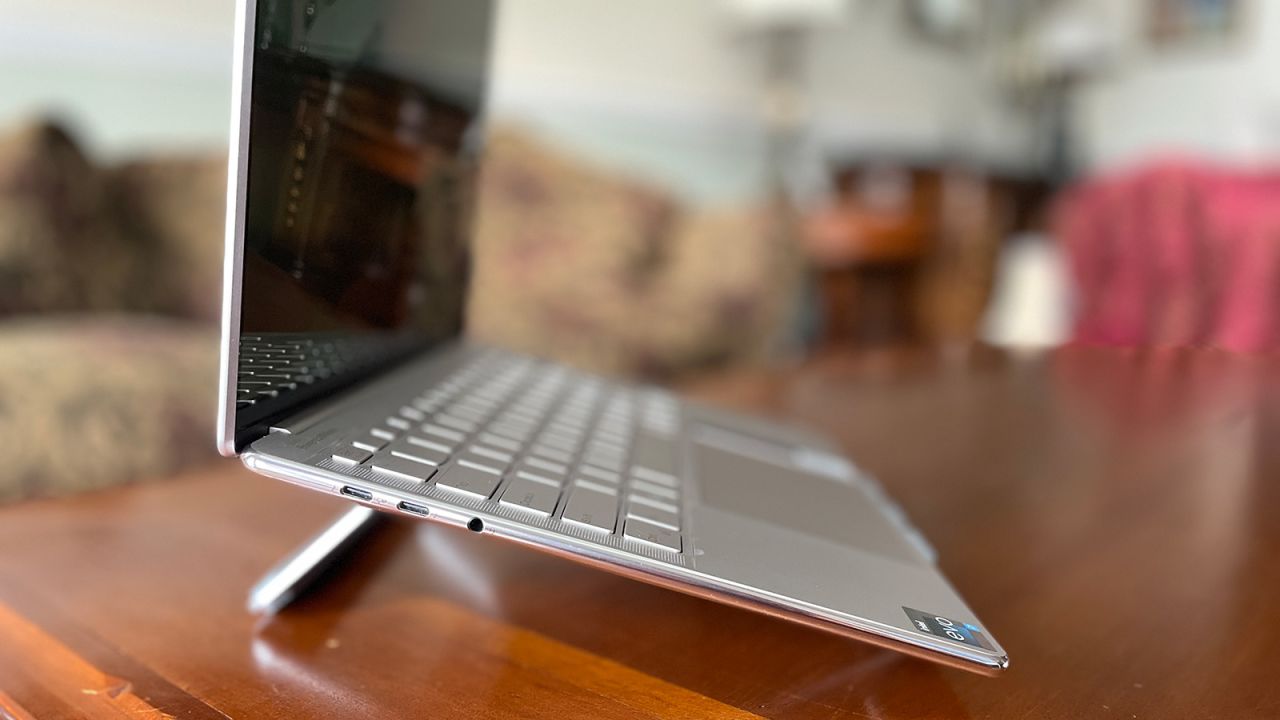 Previously, my stand of choice was the $60 Twelve South Curve laptop stand, which is both taller and wider than the Amazon Basic stand. Of course, it makes sense that more expensive stands will offer extra features and added stability, and I chose it because it provides a taller height of 6 inches for the display, which I especially like when I'm using the camera for video calls.
Switching to the downright cheap Amazon Basics Laptop Stand may have cut down the height of my laptop in half, to just below 3 inches, but typing on the laptop keyboard was extremely comfortable and it didn't take up much room on my crowded desk, which is a huge win.
Why it's a score
As its name suggests, this small, adjustable stand is definitely basic, with a rear kickstand that folds flat for easy storage and transport if you feel like taking it with you — perfect for those heading to the office a few days a week. I also liked that its sleek, silver body blended well with my other tech devices (it also comes in black). In addition, its slight "arms" keep your laptop from sliding off the front, and a rubberized, grippy bottom keeps the stand from slipping while sitting on a desk.
In terms of measurements, it is 9.5 inches at its widest and 7.91 inches deep, so it did a fine job of holding my 12 x 8 1/2-inch laptop steady while I typed. While my laptop generally fit on the stand, there is an overhang of about two inches on either side. That's because the Amazon Basics laptop stand is widest in the middle, and tapers to become narrower in the front.
In its most "open" position, the laptop stand raised the top of my screen by almost three inches, with an 18-degree tilt, which felt comfortable to type on. While it's not technically adjustable, I found you can jury rig it to get a bit more height, to nearly 4 inches, if you slide the kickstand in slightly so the angle is more perpendicular. Of course, this also makes the stand slightly less stable, so if you are a fast, heavy typist, you'll want to keep the stand in the position it was meant for. Keep in mind this stand is designed to accommodate laptops up to 13 inches. Using a larger laptop is bound to make it unstable.
As mentioned, using a laptop stand offers physical benefits, like better posture while you sit and a more comfortable angle for your wrists as you type. So yes, I most definitely appreciate having the screen at eye level and not having to bend my neck to look down at it. It also benefits your laptop's health. Raising the laptop off the desk, even slightly, allows for more air circulation, which can help prevent it from overheating and shutting down.
There are a few things the Amazon Basics stand can't do. It isn't as wide or as tall as my Twelve South Curve stand, and it's not (formally) adjustable like some others that I've used. If height and eye positioning are a priority for you, an adjustable stand that lets you raise it between 3 to 6 inches is the way to go, but it'll cost you more.
However, if you're looking for a basic stand that gets your device off the desk to help improve ergonomics and air circulation, and is portable enough to take with you to the office or the coffee shop, this solid, stable and oh-so-economical Amazon Basics stand most definitely rises to the challenge in more ways than one.