In a world of screens and Instagram, there is still magic in printing your photos. A great print brings your photography to life. It's great to have access to a huge library of photos all the time from any device, but it's nice to have the option to frame the images that really count, whether you plan to give them as gifts or just hang them on the wall.
Whether you're a serious photographer looking to make prints at home or you've just picked up a new point-and-shoot digital camera and want to make quality prints occasionally, there's a great photo printer out there that can complete your digital darkroom. To help navigate the options, we spent time with some of the best photo printers on the market to help guide you towards the right printer for you.
The best photo printer overall
In our tests the Pro 200 turned out prints comparable in quality to much more expensive models, and running costs are relatively low. Straightforward setup and impressive results made it the best value among the photo printers we tested.
The best photo printer for serious photographers
Using professional pigment-based inks suitable for archiving, the Pro 300 made prints that looked just as good as the Pro 200's, but it can use a wider range of media — it's great for serious photographers or professionals looking for an at-home photo printer.
The best all-in-one printer for photo printing
No all-in-one printer we tested did as good a job as the dedicated models, but in our testing, the Pixma TR8620a came closest, turning out satisfying prints with good contrast courtesy of a dedicate photo black ink cartridge.
$600 $550 at Amazon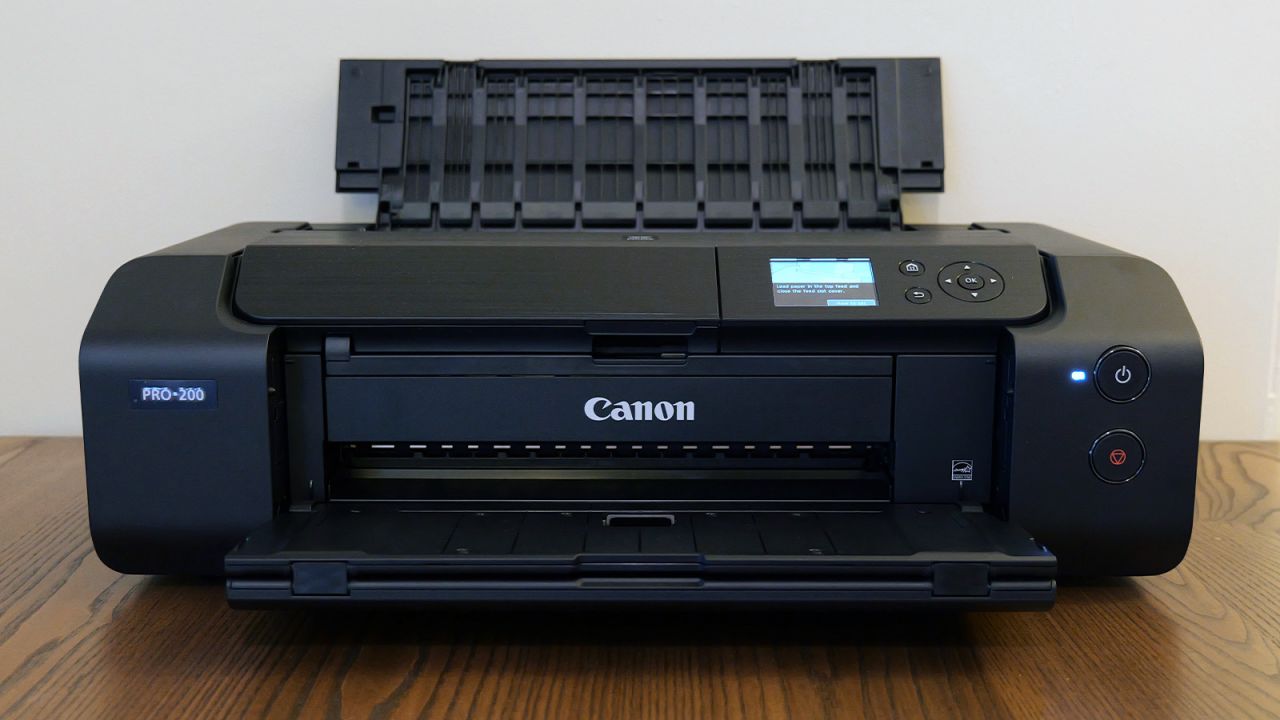 The Canon Pixma Pro-200 is a serious machine for people who want the very best results. With minimal adjustments from us, the Pro 200 produced the most natural skin tones and the richest black and white tonalities. The print quality is comparable to Canon's more expensive Pro 300 model and, in our test, a bit better than the Epson P700.
This model uses an eight-color, dye-based ink system. Dye-based printing offers vibrant colors and deep blacks. This will be a drawback for some, as the prints are not as durable as pigment-based inks. However, the inks are less expensive and contribute to lower running costs overall. Right out of the box, prints from the Pro 200 were color consistent, with strong contrast and vivid color reproduction. The Pro 200 can handle paper up to 13 inches wide, so it can print images up to 13 by 19 inches, or 13 inches by 39 inches in panorama mode.
The Pro 200 is a large machine (25 inches by 15 inches) that will take up considerable room in your workspace. Setup was relatively straightforward, though Canon's instructions tend to be a bit more cumbersome than other brands'. The 3-inch color screen is not touch-sensitive, but menus weren't too difficult to navigate once we got the hang of it. The printer connects via Wi-Fi, USB or Ethernet, so you can interface directly with your PC or use it on your network.
The Pro 200's running costs — an eight-tank package of ink runs just over $100 — are lower than the Pro 300 or the Epson P700, which makes this model an excellent choice for enthusiasts and professionals alike. At the current price, the Pro 200 gives a lot of value compared to its peers.
$900 $850 at Amazon
The Pro 300 is a big sibling to the Pro 200, and gave us similarly good prints, with impressive, consistent color and solid contrast.
So why does it cost almost double the price? There are some major differences under the hood. Most significantly, the Canon Pro 300 (like the similarly priced Epson P700) uses more durable pigment-based inks, compared to the dye-based inks of the Pro 200, meaning the prints it makes will be better for long-term archiving.
Dye-based ink — in which a liquid color is dissolved in a liquid carrier — is less expensive, and is standard in most inkjet printers, but many professionals prefer pigment-based inks, in which the color is a fine powder suspended in a liquid carrier.
The pigment-based system has some advantages over the dye-based ink used by the Canon Pro 200. The prints have a longer archival life, better dynamic range (especially for black-and-white prints) and the colors won't run if they get wet.
The Pro 300 can print on a wider variety of materials than the Pro 200, including thicker paper and even canvas, making it more useful for professionals and serious hobbyists. On the downside, it is considerably more expensive to purchase and run (a set of 10 tanks costs around $120).
Professional photographers may be able to justify the cost (and will want the archival quality prints and slightly superior black-and-white images), but we think most people will be better off with the Pro 200, which produces great results for a lot less money.
The best all-in-one printer for photo printing: Canon Pixma TR8620a
$200 $150 at Amazon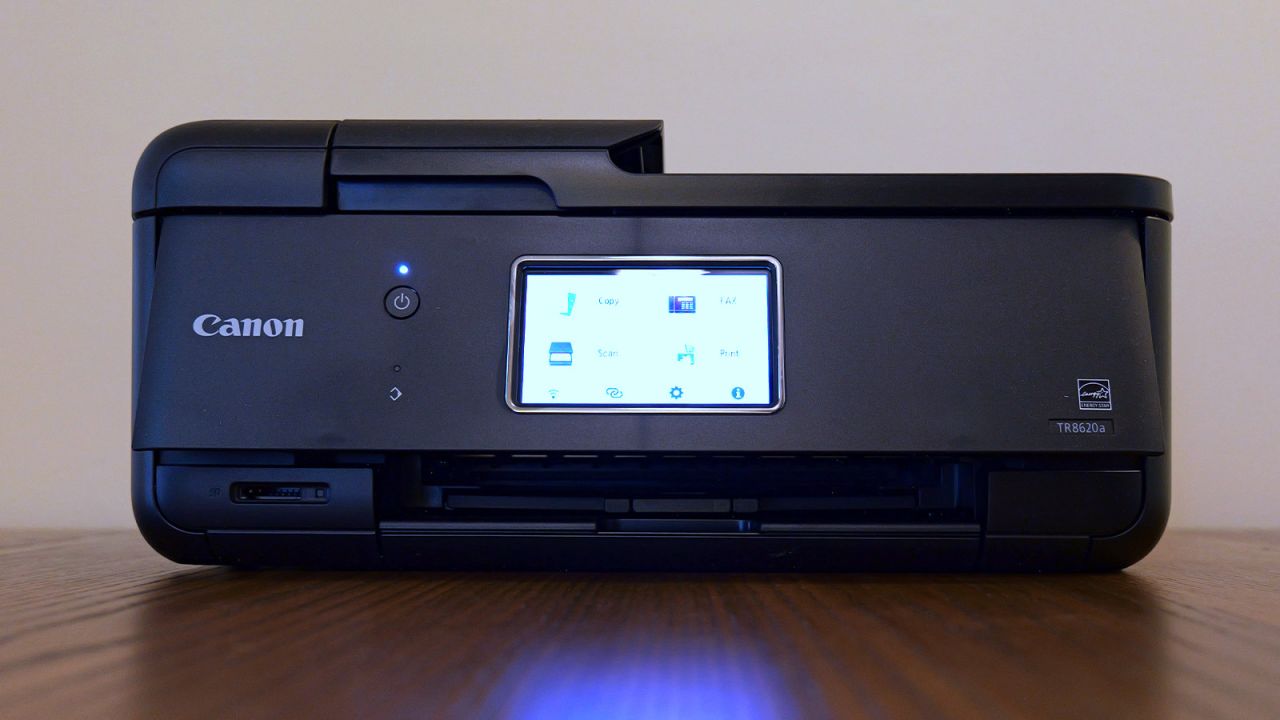 Perhaps you often need to print documents and just want one of the best printers overall — but you need to print quality photos now and then too and don't have the space to dedicate to a dedicated photo printer. The surprisingly inexpensive Canon Pixma TR8620a is a compact workhorse that can be the cornerstone of a home office and give you satisfactory — if not gallery-ready — photo prints when you need them.
Considering the price difference between this model and the top dedicated machines (ink is less expensive as well, typically in the $60 to $70 range), the results are better than expected. The TR8620a package includes a dedicated photo-black cartridge to improve contrast. Though color accuracy is not excellent, the results are pleasing and engaging. The prints it produced were crisp and clean, with slightly exaggerated colors that will be satisfactory for many applications.
Ease of use is the priority with this machine. The TR8620a was easy to set up, with a useful printed manual and clear instructions from its 4.3-inch color LCD. It's also not as bulky as the Pixma Pro 200.
The printer offers multiple ways to connect, including Ethernet, Wi-Fi, Bluetooth, and USB. Canon also has a useful app for editing and printing directly from your phone and supports Amazon Alexa and Google Voice Assistant.
Who should get a photo printer
Are you a professional photographer or serious amateur looking to make gallery-worthy prints at home? Expensive, but excellent, machines like the Canon Pixma Pro 200 (or for even more dedicated photographers, the Canon imagePROGRAF Pro 300) are best for those who want to experiment to get the very best results, and are willing to invest the time and money. If you want to get professional-quality results without visiting a lab, a dedicated photo printer is a must — the prints you'll get are superior to anything you'll get from even the best all-in-one device.
A dedicated photo printer will not save you money. These are expensive devices to own and maintain, especially with the ongoing investment in ink. The main advantage of the dedicated machines, besides their superior output, is that they allow you to experiment with a wide variety of techniques and media, finding the combinations that work best for your images.
If you are only looking to make occasional prints, then you might be best served by an online printing service. These services vary in price and quality, but they are capable of producing excellent prints without the cost and hassle of maintaining your own machine.
How to choose a photo printer
We found a stark difference in performance between dedicated photo printers and the best all-in-one printers: One feels like holding an original piece of art in your hands while the other feels like a copy. That doesn't mean the all-in-ones don't have attractive features and uses, or that the dedicated machines don't have their drawbacks.
If your goal is to make professional-looking products and you are willing to learn the intricacies of printmaking, then the top dedicated machines — such as the Canon imagePROGRAF Pro 300 — will give you plenty of room to grow and create.
The all-in-one machines are capable of good-enough prints for both business and home use, from casual family photos to colorful presentations. They generally have scanning, copy and other useful features. None of them can match the output of our top choice, but for many people they will be more useful as part of a home-office setup.
Dedicated models like our top pick, the Canon Pixma Pro 200, are capable of delivering professional results. To really get the most out of them, though, you need to commit to a high-end workflow. If you are printing directly from your phone, for example, you probably won't end up with a gallery-worthy print. Here are a few things you will need to consider.
Start with high-resolution images. Most cameras on the market today—from DSLRs to point-and shoots—are capable of producing RAW files that can be edited and perfected in Photoshop, Lightroom, or other editing software. The quality of your input will be the biggest factor determining your output.
Color management tools are a must. The top machines are capable of remarkable color accuracy, but if you want your final prints to match what you see on screen, there are a few extra steps required. A color-calibrated monitor is necessary for color-critical work. You will also need to make sure you have the correct ICC profiles downloaded on your machine and selected in your software of choice.
Be prepared to invest time and money. If you are simply looking to make occasional prints, you are probably better off sending your images to an online printing service. If you are ready to dedicate time and money to learning the intricacies of printmaking, having your own machine can open up a world of creative possibilities.
Also, you may not need a dedicated photo printer if you aren't interested in putting in that sort of effort. If your primary goal is to occasionally make decent prints at your own convenience and you still want your machine to perform basic home office functions like copy and scan, we think you will probably be satisfied with an all-in-one machine. The output from the best photo-capable general purpose printers (so long as you're using appropriate paper) is pretty competitive with the specialist devices.
How we tested
Our testing focused on ease of setup, color accuracy and overall print performance for photographs. A series of test images, both color and black and white, were printed on each machine. While we experimented with a variety of papers, our comparative tests were printed on Epson Ultra Premium Photo Paper Luster. The photos included a variety of file types, from Raw to JPEGs, prepared in Photoshop. Color and profile management were handled by the printers, with drivers installed as necessary.
Besides comparing against other models, we compared the results of our top picks to an online printing service; in this case we chose Mpix.com. While printing online is a great option for most people because of ease and affordability, we preferred our prints from the Canon Pro 200 and Pro 300 and the Epson P700.
Other photo printers we tested
From $879 at Amazon
The Epson SureColor P700 is another favorite among photographers, with some features that eclipse the offerings of our top choice. It uses a ten-color, pigment-based ink system. The P700 offers excellent color accuracy, which is why it is prized by many printmakers. In our initial tests, blacks were a little dull, but we were able to improve our results with time.
In general, we found that the Epson had a steeper learning curve than the Canon Pro 300 or the more consumer-oriented Canon models. On the other hand, setup was relatively easy and the documentation was clear. It boasts a 4.3-inch touchscreen with clear menus, instructions and status reports. The P700 takes up less desktop real estate than Pro 200, though it is also a large machine.
Frustratingly, the P700 ships with only a starter supply of ink; even worse, much of the supplied ink will be used up in the setup process. That means that, practically, you need to buy another ink set at the same time you buy the machine. A full set of inks (each color will set you back about $38) costs about $380, so we are talking about a major additional expense.
$700 $613 at Amazon
With the EcoTank line, Epson offers a novel solution to the problem of expensive ink cartridges. Forgoing cartridges, ink is poured directly into the printer's internal tanks. Epson gets major points for reducing waste and supplying generous amounts of ink with the printer. Unfortunately, the bottled ink is still expensive, and prints were bland, with colors that were unpredictable compared to the conventional printers. Given the high cost of the machine itself, however, it is hard to recommend a machine with such limited photo performance.
$270 $200 at Amazon
The EP Envy Inspire 7955e is a reasonably priced photo capable, all-in-one that uses HP's Instant Ink subscription service (you get six months included with the purchase of the printer; plans are available based on usage starting at $1/month ). If you sign up for the free HP+ program (this is distinct from Instant Ink) you get advanced features like HP's Smart App. For some people, the program will add value and convenience, while others might balk at the idea of adding more subscription services to their lives (and the printer only works with HP's ink; no third-party pigments allowed).
The TR150 is a travel printer capable of making decent prints on the go. The printer is compact and lightweight and prints docs and photos up to 8.5 by 11 inches. Setup was relatively easy, though it struggled to find our Wi-Fi connection on the first try, which might mean frustration on the road. An optional battery pack offers maximum portability; it's available separately or you can save $20 or so if you get the Pixma TR150 and battery pack in a bundle.