CNN —
If you've ever found yourself slouching while you sit at the computer or the dinner table, you're not alone. We all know bad posture is harmful for your back, even potentially interfering with the alignment of your spine's natural curves. But while knowing is half the battle, the other half is actually doing something about it. That's where BetterBack, the posture improving strap, comes in. It's even on sale right now ($49.99, originally $59; getbetterback.io).
How it's constructed
BetterBack is a device that wraps around your lower back and knees to help you maintain better sitting posture. It has a primary back strap and two knee pads. These are attached by adjustable strips that resemble seatbelts. The strap that rests on your back is made of a comfortable memory foam, while the knee pads are composed of a slip-resistant material. On the outside of all three main components is a water-resistant outer cloth shell.
The producers of BetterBack say the materials are high quality, and we can't argue. Every material, from the belts to the straps and pads, felt solid and long-lasting. And the device is lightweight and easy to fold up and toss in a bag.
How to use it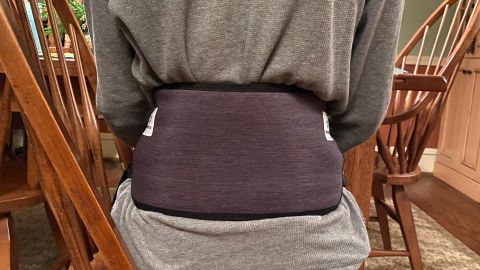 BetterBack focuses on the position of your pelvis. In targeting this area, it's designed to provide lumbar support.
It's easy to use. First, place the back strap on your back. "Up" is written, along with arrows on either side, to show which edge should point upward. From there, place both feet flat on the floor, keep your legs close together and extend the knee pads to both of your knees, placing them below your kneecaps. You may need to sit on the edge of your seat to do so. The sides that should be in contact with your legs look like solid gray cushions with no seams. You will likely need to adjust the belt length for the pads to reach your knees. Once you've got the knee pads on, tighten or loosen the belt until you feel the back strap is firmly but gently holding your back in an upright position.
According to BetterBack, there's no right or wrong way to wear this product. It may take adjustments by an individual user to figure out what feels best. You can even wear it cross-legged. Whatever way you do it, BetterBack recommends you use the strap 15 minutes each day to improve your default posture. In a sense, the BetterBack reeducates your muscles to maintain better posture when sitting and standing.
The experience
The BetterBack is a unique device, and can be confusing at first. With so many belts and straps, it definitely appears more complicated than it actually is. Fortunately, the pamphlet provides pretty solid visual instructions, portraying a person putting it on in three separate steps. If it's still unclear, you can watch a how-to video on the instructions page of the BetterBack website.
When you first strap it on, it may be difficult to get a feel for how to properly wear it. But with a little experimenting, you should be able to find the sweet spot and feel the difference. When the BetterBack is strapped on right, your back will feel well supported. You can feel the difference in your spine, compared to when you're putting in effort to sit up straight unassisted. And the difference is even more noticeable when compared to slouching.
While we can't attest to the long-term benefits of the BetterBack, the short-term effects were evident, both sitting down and standing up. Specifically, the posture adjustment seems to last even after you stop using the strap and stand up — and that makes the long-term benefits promised by BetterBack seem more likely.
Bottom line
Overall, BetterBack is a unique and effective tool. It only takes a few tries and adjustments to find a great position for the strap on your back. and when you do, the difference will feel striking.
If you could use a posture boost (and many of us could), give BetterBack a try ($49.99, originally $59; getbetterback.io). It certainly feels good while you're using it, and it could very well lead to lasting posture improvements.
Note: The prices above reflect the retailer's listed price at the time of publication.