If you're planning an outdoor adventure in the middle of winter, it's important to come fully prepared. That means picking out the best layers for the most warmth, like fleece-lined leggings and sweaters, and choosing a reliable down jacket to fend off chilly temperatures. It also means finding the best gloves or mittens to keep your hands warm to prevent unexpected injuries like frostbite or frostnip.
With average daily highs in the low 30s, Minnesotans have figured out what gear works best to keep you warm — and the team behind Frost River, a locally owned outdoor gear company based in Duluth, are no strangers to staying warm in winter weather. One of my favorite pieces of winter gear by the brand is the Frost River Northern Pacific mittens. They're made with a buckskin deer hide leather outer and polar fleece inner liner; I've had them for four years and they've kept my hands extremely warm in all sorts of situations.
Frost River's Northern Pacific mittens are perfect for everyone, whether you're a cold weather sports enthusiast or simply need a pair to wear around town in the winter. Handmade by a small business based in Duluth, Minnesota, these gloves are insulated with a thick polar fleece inner lining and covered in genuine buckskin leather. These durable and comfortable mittens will keep your hands warm all winter long — even in subzero temperatures. 
What we liked about them
Frost River's Northern Pacific mittens come in three colors: buckskin (brown), palomino (golden yellow) and black. They're lined with soft polar fleece and have a premium buckskin leather outer that's soft and flexible yet durable. Whether I'm hiking in the backcountry or wearing them while running an errand in the city, the Northern Pacifics have been my go-to winter mittens for years now since they keep me so warm during all types of cold weather activities.
Super warm, even in extreme temperatures
Mittens tend to provide more warmth in frigid temperatures than gloves with separate finger compartments. That's because they better conserve heat (with less surface area for the heat to escape) and allow your fingers to share and distribute warmth inside the mitten.
I've used the Frost River Northern Pacific mittens for the past four winters and rarely grab another pair of mittens or gloves from my gear stash. Reason being: They've managed to keep my hands warm no matter how extreme the winter conditions. The Northern Pacific mittens are lined with a 300-gram polar fleece inner and have a genuine buckskin outer. Polar fleece, which is much thicker than microfleece, provides more warmth in winter conditions. The deer hide covering these mitts also has a super-soft and buttery texture, making them extra cozy and pliable.
On a trip to Lapland, Finland, which sits north of the Arctic Circle, these mittens kept my fingers warm while riding on the back of a dogsled through subzero temperatures. My hands managed to stay completely warm and dry on the sled as we cruised around 10 miles per hour through minus 4-degree Fahrenheit temperatures and light snowfall. Even on less intense outings, like walking around my neighborhood in Chicago in 10- to 0-degree Fahrenheit weather or while taking a hike at a local forest preserve in 20- to 30-degree Fahrenheit weather, my hands have always stayed warm inside these mittens. And if your hands run cold or you're planning on going into even more extreme environments, the Northern Pacific mittens do have enough room to fit a thin pair of merino wool or polyester glove liners inside.
While I absolutely love how warm these mittens are, when exercising outside I often find my hands get so warm that I need to take them out to cool down a little. This happened on a recent snowshoe hike after working up a sweat around the 2-mile mark on the trail.
Handmade and locally sourced
I love buying products from local and homegrown brands. But with so many amazing global brands across the outdoor market, it's hard to always shop local when buying gear. However, as a Midwesterner and lover of all kinds of winter activities, I was so excited to discover Frost River.
The brand crafts leather and waxed canvas soft goods, made completely from scratch and with premium raw materials. It's known for its day packs and canoe packs inspired by adventures throughout the Boundary Waters Canoe Area Wilderness, and it also makes outdoor and travel gear, including luggage, wallets and leather accessories. Every stitch, buckle, snap and seam is cut, sewn and hammered by hand in Frost River's production facility in downtown Duluth.
Frost River sources local materials from the United States and manufactures the final products in its on-site production facility. It uses local and premium raw products, and all of the brand's leather gear — including the Northern Pacific mitten line, padded shoulder straps and wallets — are sourced from wild deerhides hunted in season. Most hides come directly from the Midwest. Frost River also prides itself on making goods that are built to last. That's because it bases its craftsmanship on age-old techniques inspired by hunters, miners and trappers from generations past.
What we didn't like about them
Not waterproof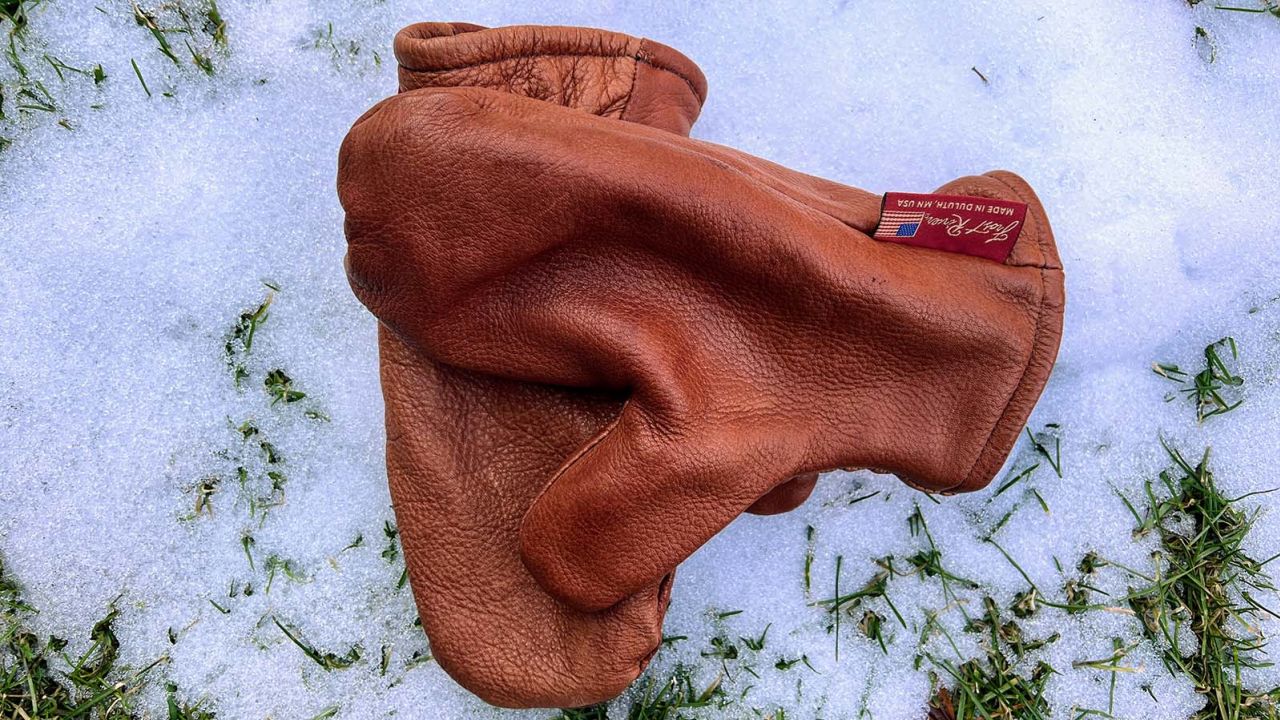 If you're looking for waterproof winter gloves, I would not recommend the Northern Pacific mittens. While great for dry conditions, these mittens are not ideal for outdoor sports like skiing, snowboarding or other winter activities that require direct contact with snow and water. Genuine leather is porous and will seep in water over time. Water also draws oils out of the leather, which eventually leads to drying and cracking.
When snowshoeing last winter my gloves got wet while putting on my snowshoes and tightening up the straps along the trail. Because I wasn't fully submerging my Northern Pacific mittens into the snow, my hands did not get wet. However, the leather definitely showed water stains and felt wet to the touch. I keep my Northern Pacific mittens lubricated by applying Frost River's leather cream at the end of each winter season. The leather cream helps to restore, waterproof and protect the leather, especially after long-term use or exposure to water. Bonus: The cream is also made in the US. Generic shoe polish also works for conditioning leather without over-softening.
If you're new to applying leather cream or conditioner, it's important to wipe off excess conditioner after applying and remember that a little goes a long way.
A bit roomy
Frost River designed these mittens with extra room in mind. However, if you're not a fan of having extra wiggle room in your mittens, or don't plan to add a pair of glove liners inside, they might be a bit too roomy for you.
Grabbing and handling items while wearing these mittens can be a challenge. Whenever I try to cinch a drawstring on my bag, unzip my pocket to grab my phone or pick up a dropped piece of gear while on an adventure, I typically need to remove one of my mittens to do so. If you're planning to purchase the Northern Pacifics, I'd recommend going down one size. I usually wear medium gloves, but in these mittens, I wear size small and still have plenty of room inside.
The Northern Pacific mittens are the smaller cousin to Frost River's Great Northern Choppers.  The Great Northern Choppers, an even heartier winter glove, are wrapped in 10.10-ounce waxed canvas that helps shed water and a buckskin leather palm for added durability. They also feature a 5-inch gauntlet to protect wrists and cover up jacket or shirt sleeves from the elements. The inside is lined with the same polar fleece lining as the Northern Pacifics.
How they compare
There's no question you'll find other leather winter mittens on the market. That said, Frost River's biggest differentiator is its local and handmade mission. Brands like Jackson Hole, Wyoming-based Give'r and outdoor behemoth Smartwool make similar leather mittens at a cheaper price. Smartwool's goat leather Ridgeway Mittens are lined with a blended 70% wool and 30% nylon inner lining. The two-toned colored gloves offer a slimmer cut, so if you're looking for gloves with a more fitted look and feel, these are a great option. Smartwool's mittens are also screen-compatible. They're coated in polyester on the fingertips, allowing you to text and type without needing to take them off to use your phone.
The Classic Give'r Mittens ($68) are made with a cowhide leather exterior and 100-gram Thinsulate interior insulation, they're coated in a layer of natural beeswax for added weatherproofing. It also makes a 100% waterproof version of its mittens called the Frontier Mittens ($139). Give'r outsources production of its products to Pakistan but oven bakes and hand waxes its mittens at the brand's headquarters in Jackson Hole. As an added bonus, you can opt to brand your initials onto the mitten cuff for an extra $8. The company also prides itself on its give-back business model. Give'r pledges 1% of its yearly sales to 1% for the Tetons, a subsidiary organization of 1% for the Planet. It has also fundraised and donated thousands of dollars to other local and national nonprofit organizations — from cancer research to conservation.
Bottom line
These premium handcrafted mittens were made to keep your hands warm in the most frigid winter temperatures. From the middle of the backwoods to your own backyard, the Frost River Northern Pacific mittens are a great choice for avid adventurers and casual outdoor enthusiasts alike. Frost River's locally sourced raw materials and craftsperson-built products are made in-house and by hand. Made with buckskin deer hide and a polar fleece inner lining, these mittens are extremely warm and comfortable. They're also long-lasting as long as you keep them oiled, especially after use in wet conditions. Consider buying a pair of these mittens if you're tired of cold hands in the wintertime and want to support a local and homegrown Midwestern brand.