Compared to rival virtual reality headset manufacturers, HTC's Vive brand has perhaps the most diverse range of devices out there. From the mobile phone-powered Vive Flow to the stand-alone Vive Focus, the company's line of VR headsets offers a bit of something for everyone. However, the core of HTC's VR offering is the original tethered HTC Vive. After co-creating the Vive with Valve to push SteamVR before the Half-Life maker eventually went solo with the Valve Index, HTC pushed forward with the Vive Pro in 2018. Three years later, the Vive Pro 2 launched with notable improvements over its predecessor that justifies its high price tag.
Available for $999 by itself, or $1,599 for the starter pack with everything you need to operate the device, the HTC Vive Pro 2 is one of the most flexible tethered VR headsets on the market — and also one of the priciest. Beyond its compatibility with the large Steam and Oculus libraries, HTC's Viveport serves as the VR equivalent to Xbox Game Pass, giving access to dozens of games for a flat monthly rate. Potential buyers with deep enough pockets looking for a particular way to enjoy VR should definitely look the way of the Vive Pro 2.
The most versatile PC VR headset
Offering the highest resolution and customization options of any model we tested, the HTC Vive Pro 2 is a good fit for serious VR enthusiasts who are willing to invest in a headset that can do it all.
What we liked about it
Intelligent design meets phenomenal comfort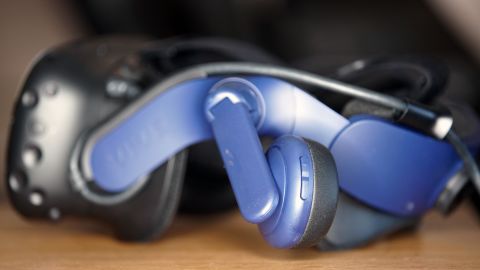 Extreme comfort and functionality make the HTC Vive Pro 2 the best headset to actually wear on your head. There's so much soft padding on everything from the faceplate to the headphone speakers that it feels like a cool hybrid of a face mask and a pillow. That's pretty amazing when you consider that it weighs more than all its rivals, including the Meta Quest 2, HP Reverb G2 and Valve Index. Most importantly, there's something cool yet quirky about the dark blue and black colorway.
Adjustment options are everywhere, including tightening dials on the rear, a button to pull lens distance forward or backward and a focal distance slider. There are also three functionality buttons on the headset. One on the right side does everything from opening overlays for SteamVR or Viveport to letting you respond to passthrough prompts. The headphone on the same side features a volume rocker, while there's a mute switch on the left headphone. Speaking of audio, the headphones are fairly posable. Between the padding, posability and volume controls, the Vive Pro 2 has the best headphones available on a VR headset, and that extends to the audio quality that we'll touch on in the next section.
High-resolution screen and audio are best in class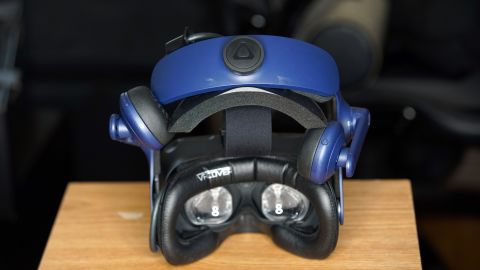 The Vive Pro 2 has the highest resolution per eye of any major VR headset at 2448 x 2448, and it can provide up to a 120Hz refresh rate. Visually, this provides the best image quality in our comparison chart — something that was also backed up by our real-time testing. High-fidelity games like Half-Life: Alyx and Asgard's Wrath look and perform remarkably on the Vive Pro 2 from a clarity perspective. Colors pop vividly, and brightness is just perfect.
Despite having all that padding on the headset, there isn't any exterior light bleeding, and the field of view is 120 degrees. This means that users are able to retain a proper amount of visual information without outside distraction. VR experiences like Microsoft Flight Simulator exemplified this better than any other headset as the first-person and behind-the-plane visuals were flat-out beautiful to witness. Beyond gaming, the higher resolution worked wonders for the Virtual Desktop app, as details in the chosen environment looked as good as the simulated desktop screen.
Like we mentioned above, comfort isn't the only reason why the Vive Pro 2 has the best headset speakers out there. Though technically on par with the Valve Index, something about the extra padding helps with the acoustics for a richer sound experience. It's a good thing the audio quality is great, because the Vive Pro 2 doesn't have a headphone jack. Technically, the audio input can be switched from the headset to your headphones of choice via your Windows settings, but it would have been nice to have the option to connect an audio device directly.
Versatility that allows for a personalized experience
One of the biggest things the Vive Pro 2 has going for it is its customization options. It makes sense as to why various entertainment properties like Dave & Buster's use them for their virtual reality experiences. There are three main accessories HTC offers with the Vive Pro 2, including full-body trackers that are $129 apiece, a $129 Vive Facial Tracker for capturing full mouth movements and a wireless adapter kit that provides 3164 x 1632 resolution at 90Hz refresh rate for $349. Individuals who want to stretch the Vive Pro 2's gaming, simulation and productivity capabilities will have a lot to enjoy if they have the funds.
Despite being built with SteamVR in mind, Viveport is still a great client for opening various VR apps. Vive Pro 2 owners get two months free of Viveport Infinity, which works a lot like Microsoft's Xbox Game Pass platform. For $12.99 per month, users get access to some popular VR titles such as Arizona Sunshine, Moss and Myst, with an $8.99 annual commitment level that gives access to even more games. The cool thing about Viveport Infinity is that it also works for other headsets, including Meta Quest 2 and Valve Index. Similar to the Valve Index, using Revive for Oculus games worked well — so those who are upgrading from the Rift or Rift S shouldn't have any issues. The Vive Pro 2 is compatible with the Steam knuckle controllers as well, which is fantastic because the Vive Controllers leave much to be desired.
What we didn't like about it
The Vive Controllers are behind the times
Though many features of the Vive Pro 2 are standard-setting, the Vive Controllers themselves feel a bit outdated. On the face of the controller is an overlay and pause button in addition to a big rockable trackpad. On the sides are two grip buttons and an analog trigger that pushes into a button on the rear. The placement of the side grip buttons just feels off, as it can be sometimes difficult to execute grabs during gameplay.
Meanwhile, the giant trackpad isn't very intuitive at all. Attempting to move around and execute inputs on Cooking Simulator VR was unintentionally difficult. It just wasn't fun to use outside of simpler games like Beat Saber. Playing more complicated games like Half-Life: Alyx, Asgard's Wrath or Medal of Honor: Above and Beyond might be a frustrating experience with the Vive Controllers.
On a positive note, the Vive Controllers are rechargeable via Micro USB and feature haptic feedback that was fairly strong in games that used it. Also, the input might be a bit wonky in terms of button placement, but the tracking was really accurate. Simply put, if you're willing to spend a lot on the Vive Pro 2, it's best to also invest in the Valve Index Controllers, which retail for $279.
Setup is complicated
If this is your first VR headset, setting up the Vive Pro 2 is going to be a complicated exercise for both hardware and software. Fortunately, the Vive Pro 2 packaging features numbered compartments to make setup as easy as possible — something you won't see on competing headsets. Once the trackers are set up opposite one another, users hook up the headset wire to the processor box, which connects to the power outlet, USB-A and DisplayPort.
That process may take a good 15 to 20 minutes in making sure the trackers are set up properly alongside hooking up the Vive Pro 2 to the PC. Be mindful that in order to utilize the Vive Pro 2, users are going to need a decent gaming PC with an Intel i5 or AMD Ryzen 1500 equivalent CPU, an Nvidia GeForce GTX 1060 or AMD Radeon RX 480 equivalent graphics card and at least 8GB of RAM.
Once that's finished, software can be set up through either SteamVR or Viveport. For those new to VR, Viveport may be a bit more user-friendly in setting up the headset and controllers. SteamVR is a bit of a cumbersome experience between building guardian walls (the virtual boundary you create for your real-life play space) and setting height settings, among other things.
If you're making an upgrade from the Valve Index, setting up the Vive Pro 2 is fairly simple, as it uses the same trackers and previous settings. Even switching to the Valve Index controllers is a simple process. While the system works well, a VR headset that still uses trackers seems a bit dated these days compared to the Meta Quest 2, which has great tracking and positioning without any external hardware
The highest price of any consumer VR headset
The Vive Pro 2 by itself costs the same as a Valve Index starter kit at $999. Those new to VR and looking to dive into the platform's waters will see their banking account set back $1,399 (though it's currently discounted to $1,299 on Amazon at the time of this writing) for all the gear needed to operate it. This kit comes with the Vive Pro 2 headset, Vive Controllers and two Basestation trackers. And if you don't enjoy the Vive Controllers and decide to opt for Valve's Index Controllers, you'll be paying an additional $279.
That doesn't even count the cost of other add-ons like body tracking, facial tracking and wireless capabilities. Fully loaded with everything, the Vive Pro 2 can easily cost well over $2,000. By all means, potential buyers who ball without a budget should definitely keep the Vive Pro 2 in mind for their home VR experience.
But unless having the highest resolution and customization options are paramount, it's probably best to stick with less expensive tethered headsets like the Valve Index or HP Reverb G2. If the entire pricing and complicated setup is a complete turn-off, the fully stand-alone $299 Meta Quest 2 is a nice option and doubles as a solid PC-based headset if you purchase a Quest Link cable.
Bottom line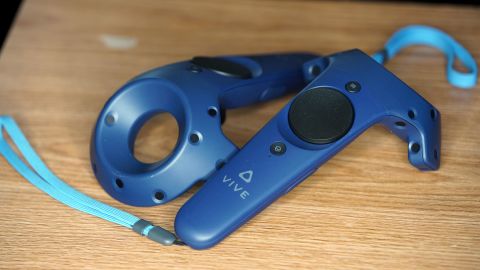 Everything about the HTC Vive Pro 2 feels as premium as its price point. The headset's comfort is unmatched, and its high-resolution screen and posable headphone speakers allow for levels of immersion you won't always find on other rival headsets. The Viveport Infinity subscription is a great way for those new to VR to taste various types of games without the feeling of getting duped if they don't like them.
Potential buyers new to VR may want to ask themselves if they lean toward the high resolution of the Vive Pro 2 or the higher refresh rate and superior knuckle controllers of the Valve Index. When it comes to the best bang for your buck, we definitely favor the Valve Index.
Keep in mind that the Vive Pro has the same complicated setup process as the Valve Index and is even more expensive. That high price gets higher if buyers are looking to replace the Vive Controllers, which are nowhere near as good as rival input devices. But if none of those factors turn you off, the Vive Pro 2 is one of the best VR headsets for serious VR enthusiasts.
How the HTC Vive Pro 2 compares to other models we tested
| | | | | |
| --- | --- | --- | --- | --- |
| Required system | PC (Nvidia GTX 1060/AMD RX 480 or better) | PC (Nvidia GTX 970 or AMD RX 480 or better) | None (optional PC compatibility via Quest Link) | PC (Nvidia GTX 1080 or AMD RX 5700 or better) |
| Connection type | Wired or wireless (via optional adapter) | Wired | Fully wireless | Wired |
| Weight | 1.87 pounds | 1.78 pounds | 1.1 pounds | 1.21 pounds |
| Resolution | 2448 x 2448 per eye | 1440 x 1600 per eye | 1832 x 1920 per eye | 2160 x 2160 per eye |
| Refresh rate | Up to 120Hz | Up to 144Hz | Up to 120Hz | Up to 90Hz |
| Price | $1,249 | $999 | $299 | $564 |