At a quick glance, there's nothing overtly exciting about the new Mac Mini M2. It's the same small square of a computer that Apple's been releasing for years, designed to sit inconspicuously under your monitor while you focus on work and play. But thanks to a big power boost under the hood — and a notable price cut — this unassuming update is actually one of the best PC values in years.
Powered by Apple's speedy M2 chip, the new Mac Mini blazes through typical productivity tasks, and has enough muscle for some light gaming and video editing. Despite getting more powerful, the new Mac Mini is actually $100 cheaper than before, with a new $599 starting price that makes it great for first-time buyers or long-overdue upgraders. And if you do want to go all out, there's a $1,299 M2 Pro configuration that gets you more muscle for demanding visual work as well as enough ports to finally support up to three displays for serious multitasking.
Wondering if the new Mac Mini is for you? Here's what it's like to live with Apple's latest bite-size computer for the better part of a week.
The ultimate entry-level Mac
If you're buying your first Mac desktop or upgrading from an aging Intel model, the Mac Mini M2's zippy performance and attainable price makes it the new entry-level Mac to get.
What we liked about it
Same tiny footprint, now with more configurations
The new Mac Mini is virtually unchanged on the outside, and for the most part, that's not a bad thing. Apple's tiny silver square is still about the sleekest computer you can buy, and I love how unassuming its 7.75-inch frame looks sitting under my monitor. If you're short on desk space — or just want an extra-minimalist work setup — this remains the desktop to get.
My Apple M2 unit also sports ports nearly identical to the previous generation, packing two Thunderbolt 4 USB-C ports, two USB-A ports, an HDMI port for TVs and legacy displays and an Ethernet port for wired internet. I still find this setup sufficient — the combination of Thunderbolt 4 and HDMI allowed me to easily connect to an Apple Studio Display and a Sony Inzone M9 monitor at the same time, and I always appreciate having USB-A connections handy for my older peripherals.
If you want more connectivity, the M2 Pro-powered Mac Mini starts at $1,299. In addition to being the first Mac Mini model to support a total of three displays (up to two 6K monitors via Thunderbolt and up to one 4K screen via HDMI), this configuration doubles the amount of Thunderbolt 4 ports for a total of four. This setup may be ideal for power users working with lots of monitors and accessories, but it is also a decent step-up option for serious multitaskers.
Fantastic performance for a $599 desktop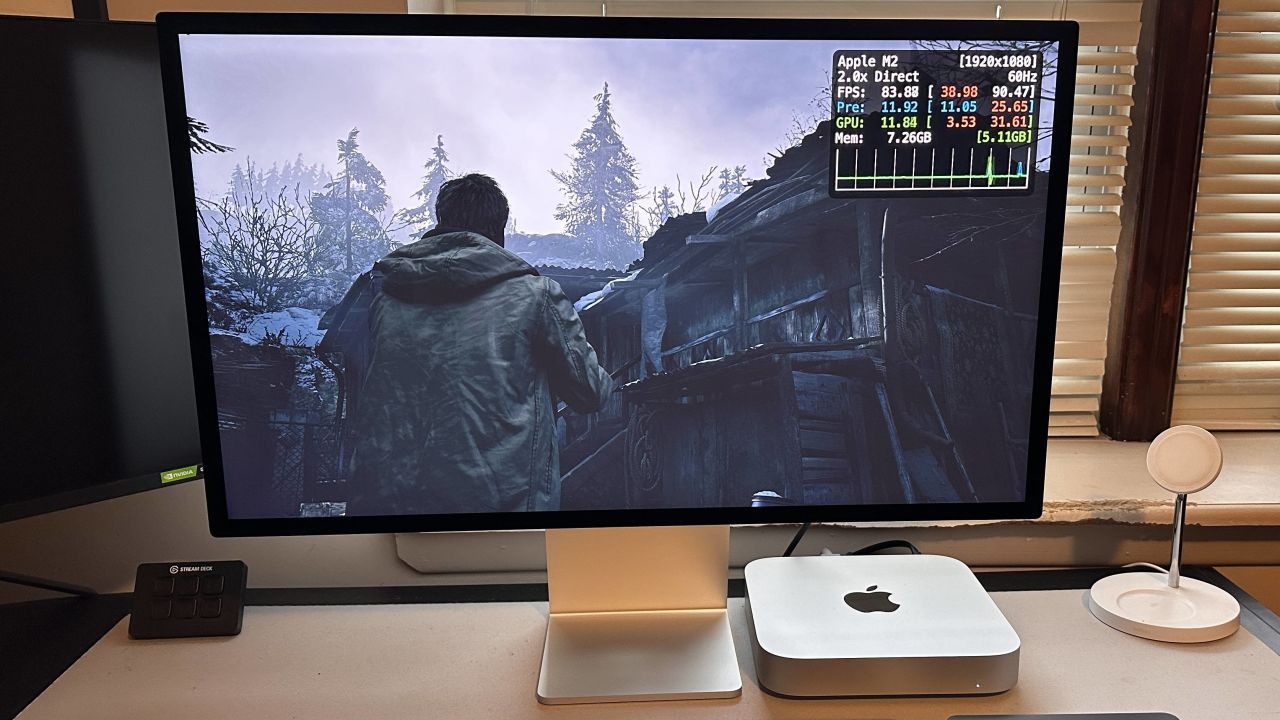 Despite retaining the same miniscule frame, the new Mac Mini uses Apple's latest M2 chip to go even bigger on power. Yes, this is the same one that wowed us on last year's MacBook Air and MacBook Pro — and this compact desktop breezed through every activity I threw at it while showing off some seriously impressive gains on our performance tests.
Using the Mac Mini as my main work computer was a delight, as I could smoothly hop between my usual plethora of apps — including Slack, Outlook, Discord, Messages and well over 30 Chrome tabs — across two monitors without a hint of slowdown or distracting fan noise (the machine did get slightly warm under this load, but not concerningly so). The desktop booted up instantly and never buckled, even as I loaded up and edited 10 high-res photos in Photopea. Most Macs are similarly speedy these days, but after checking our benchmark results, it would be tough to find a more powerful computer for just $599.
On the Geekbench 5 multi-core test, which we run to gauge overall multitasking performance, the Mac Mini M2 outpaced the M1-powered iMac 24-inch by a good margin while trailing the full-size Dell XPS Desktop and the much more expensive Mac Studio — but not by much. Even more impressive, the Mac Mini's single-core scores (a good indicator of how well a system can carry out more basic tasks) beat out the high-end M1 Pro and M1 Max chips found in 2021's MacBook Pros. It's worth noting that we tested a $799 version of the Mac Mini M2 that ups the storage from 256GB to 512GB, but you'll get the same fast M2 chip on the starting $599 model.
| | Mac Mini (M2) | iMac 24-inch (M1) | Mac Studio (M1 Max) | Dell XPS Desktop (12th Gen Intel Core i5, Nvidia RTX 3060 Ti) |
| --- | --- | --- | --- | --- |
| Geekbench 5 (single-core) | 1,962 | 1,731 | 1,787 | 1,828 |
| Geekbench 5 (multi-core) | 9,037 | 7,681 | 12,792 | 10,861 |
| Shadow of the Tomb Raider (1080p, max settings) | 30 fps | N/A | 88 fps | 143 fps |
The Mac Mini also proved to be a capable little gaming machine, allowing me to enjoy the cinematic spooks of Resident Evil Village at 40 to 60 frames per second (fps) with the graphics set to "balanced" (we consider 60 fps ideal for smooth gameplay). There were some noticeable moments of slowdown during combat, but not enough to completely take me out of the action. The game's performance improved considerably when I turned on MetalFX upscaling (a new feature that optimizes games for Apple's own hardware), providing frame rates as high as 80 fps and remaining smooth and steady even as I was swarmed by terrifying werewolves.
On our more intensive Shadow of the Tomb Raider benchmark (which cycles through the visually rich action game at 1080p with all graphics settings cranked up), the Mac Mini M2 turned in a solid 30 fps — the minimum frame rate that we consider playable. That's only a fraction of the 88 fps we saw on the Mac Studio, but it's a notch higher than what we got out of the M2-powered MacBook Air and Pro — and a perfectly acceptable level of performance that you can easily boost by toning down a few settings.
I still wouldn't recommend buying a Mac solely for gaming, as the library of big-name (and Mac-optimized) titles is a fraction of what you'll get on PC. MetalFX provides an impressive performance boost, but it's currently exclusive to Resident Evil Village, with just a handful of upcoming titles such as No Man's Sky and Grid Legends set to take advantage of it. But if you want to explore the Apple Arcade library or dive into the occasional game of The Sims or Civilization — and don't mind keeping your graphics on the modest side — you'll have a good time doing so on the new Mac Mini.
What we didn't like about it
It's more of the same
While it's fine that the Mac Mini retains the same slick, compact design as before, I wish it would have adopted some of the modern perks of Apple's other recent desktops. The Mini's lack of front-facing ports isn't a huge problem, but now that the Mac Studio has them, I was bummed to go back to a Mac desktop that didn't have a super-quick way to plug things in. Sure, this helps keep the Mini looking clean and minimalist up front — and the system is easy enough to pick up and rotate when you need to add accessories — but it was still an inconvenience.
Also, where are the colors? The Mac Mini has been sold in a lone silver variation ever since 2020's M1 model (even the darker Space Gray option from the Intel days is gone), and while its no-frills look makes a nice complement to my Studio Display and Magic Keyboard, I'd love to see multiple color options for folks with varying setups. The latest 24-inch iMac proved that desktops can be cool and colorful, so I'm not sure why the company hasn't offered those same options to the company's smallest, most versatile computer.
No user upgradability
Another thing that hasn't changed from the M1 Mac Mini is the lack of user upgradability. Unlike the Mac Minis of old, you won't be able to open up this little machine to swap out or add memory, something that can be useful once your machine starts slowing down. The new Mac Mini can be configured with up to 24GB of RAM and 2TB of storage on the M2 model, and up to 32GB of memory and 8TB of storage on the M2 Pro version, but this means you'll be stuck with whatever amount you choose upfront. Power users may want to consider investing in a few upgrades when they configure their unit.
How it compares
| | | | |
| --- | --- | --- | --- |
| Processor | Apple M2 or M2 Pro | Apple M1 Max or M1 Ultra | Intel Core i5 / i7 / i9 |
| Memory | Up to 24GB (M2); Up to 32GB (M2 Pro) | Up to 128GB | Up to 128GB |
| Storage | Up to 2TB (M2); Up to 8TB (M2 Pro) | Up to 8TB | Up to 2TB SSD, up to 2TB hard drive |
| Graphics | Apple M2 or M2 Pro | Apple M1 Max or M1 Ultra | Up to Nvidia GeForce RTX 3090 or AMD Radeon RX 6900 XT |
| Dimensions | 7.75 x 7.75 x 1.31 inches | 7.7 x 7.7 x 3.7 inches | 15.4 x 14.7 x 6.81 inches |
| Weight | 2.6 pounds (M2); 2.8 pounds (M2 Pro) | 7.9 pounds | 16.36 pounds |
| User-upgradable | No | No | Yes |
| Disc drive | No | No | Yes (DVD-RW) |
| Price | From $599 | From $1,999 | From $920 |
Bottom line
The Mac Mini M2 is the new entry-level desktop to beat, whether you're buying your first Mac or upgrading from an Intel model that's starting to show its age. The base M2 model's speedy performance is just about the fastest you'll find on a $599 computer, and perfect for everyday WFH multitasking as well as some light gaming and video production. And if you need even more power (and ports) for heavier workloads, the $1,299 M2 Pro configuration provides a nice middle ground between the base Mini and the pricier $1,999 Mac Studio. Best of all, this upgraded speed is packed into the same tiny, tried-and-true design that will fit comfortably into any setup — provided you don't mind supplying your own mouse, keyboard and monitor.
If you want an all-in-one solution that gives you everything you need for working and playing right out of the box, the latest 24-inch iMac remains a compelling choice. And if you're a true power user working with complex 3D rendering programs or 8K video files, the Mac Studio may be better for your needs. But for anyone who just needs a reliably fast and conveniently small  computer, the latest Mac Mini is as good as it gets.