The 2021 MacBook Pro marked a return to form for Apple's highest-end laptop, ditching the stuff we didn't like (see ya, Touch Bar), bringing back the stuff we did (ports! A MagSafe charger!) and loading it up with the best performance we'd ever seen on a Mac laptop. As such, it's no surprise Apple didn't bother adding any new features to its new 14-inch and 16-inch MacBook Pros for 2023 — the company just made them even more ridiculously powerful.
Powered by your choice of Apple's new M2 Pro or M2 Max processor, the new MacBook Pro is the fastest laptop we've ever tested by almost every metric, toppling nearly all competitors on our benchmark tests while making light work of heavy real-world workloads and graphically demanding games. It's an even better version of our upgrade pick for best laptop, and an easy recommendation for power users willing to invest in the best Apple has to offer.
But is it the right upgrade for you? After many, many hours of working, video calling and gaming on a 14-inch M2 Pro model, here's who I think should — and shouldn't — buy one.
The best high-end laptop
If you're a creative professional or a hardcore power user, or you simply feel like splurging on the best that Apple has to offer, the 14-inch MacBook Pro is the laptop to get. It's an especially great upgrade for first-time Pro buyers, or anyone coming from an old Intel model.
What we liked about it
The best design you can find on a MacBook
The latest 14-inch MacBook Pro is physically identical to the model that launched in 2021, which is to say that it's the best-designed Mac you can currently buy. What I said about the 2021 MacBook Pro still applies here — it offers the best display, keyboard and ports of any Apple laptop. I've tested tons of notebooks in the year-plus since the previous 14-inch MacBook Pro arrived, and getting my hands on the new model was a reminder that none of them feel quite as good to use.
I was delighted to get my fingers back on the MacBook Pro's excellent Magic Keyboard, which thankfully ditches the gimmicky Touch Bar for big, satisfying function keys and has a reliable Touch ID power button for quick fingerprint logins. The Pro's 14.2-inch Liquid Retina XDR display remains one of the best I've ever used on a laptop, with rich colors that made watching movies a joy and a smooth 120Hz refresh rate that allowed me to glide around webpages much more fluidly than I can on Apple's lower-end Macs. Yes, there's still a notch up top that allows for the thin bezel, and yes, I'm personally still fine with it. The new MacBook Pro's booming six-speaker setup filled my entire living room with the sounds of Boygenius' intricate vocal harmonies, and the laptop's 1080p webcam once again captured my face with much better clarity than most of Apple's rivals. Unfortunately, there's still no Face ID on MacBooks like you'll get on iPads, which would be a nice touch for logging in even faster.
You still get a much better port selection than Apple's 13-inch MacBooks, with three Thunderbolt 4 ports, HDMI, an SDXC card slot, a headphone jack with high-impedance support and a convenient snap-on MagSafe charger that will keep your laptop from going flying if someone trips on the wire. New for the 2023 models is support for up to four monitors on an M2 Max model (up from three on the previous gen) as well as multichannel audio output when connected to an HDMI display. This is truly the ultimate MacBook, and we haven't even talked about performance yet.
It's the fastest laptop we've ever tested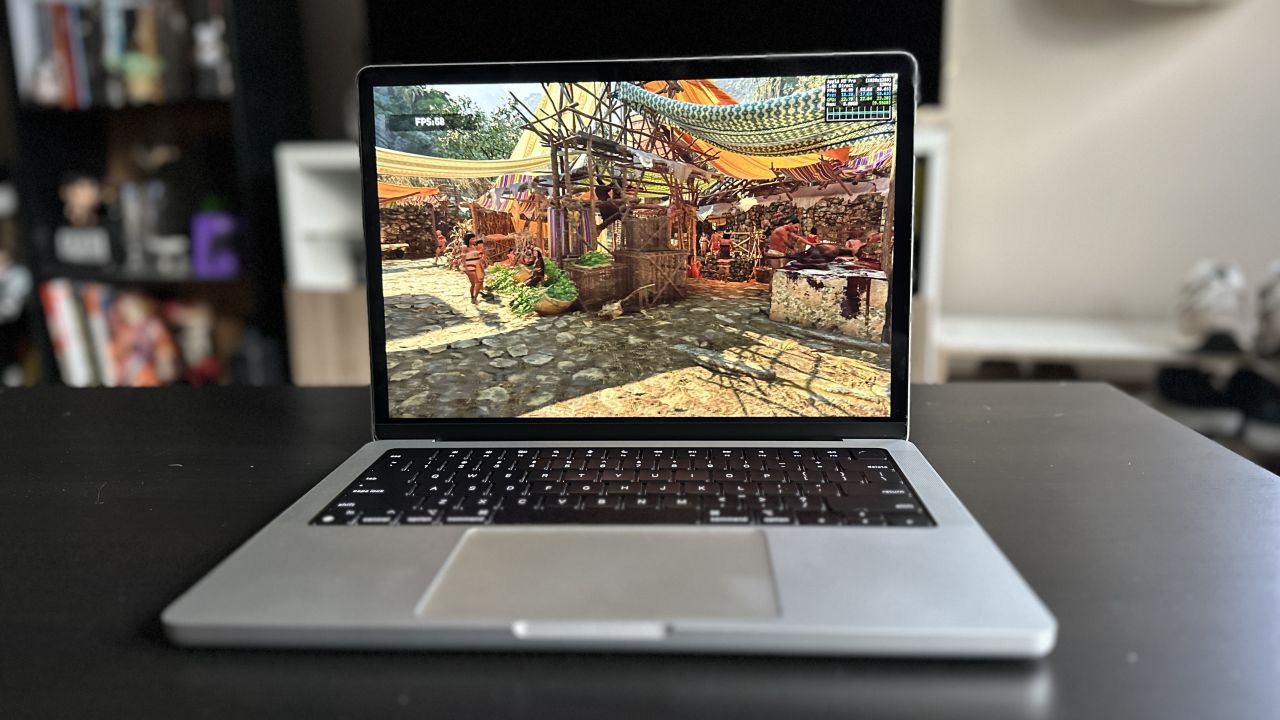 The M1 Pro-powered MacBook Pro delivered record-breaking speeds when we tested it back in 2021, and Apple has managed to outdo itself by a significant margin on our M2 Pro model. This is the fastest laptop I've ever used, delivering a blazingly responsive experience for everyday tasks while trouncing all of the competition on our demanding performance tests.
Unsurprisingly, the latest MacBook Pro didn't break a sweat under my usual workload of Slack, Outlook, Discord, Zoom and way too many Chrome tabs, staying cool, quiet and free of any nasty slowdown while I multitasked. But our benchmark results tell the real story of just how powerful this thing is.
On the Geekbench 5 multi-core test (which gauges overall multitasking performance), the new MacBook Pro scored a whopping 15,302 — that's nearly double what we got from the M2 MacBook Air, triple the results of the Surface Laptop Studio (a comparable Windows laptop) and an impressive 37% gain over the already speedy 2021 model.
The latest MacBook Pro was similarly dominant on our graphics tests, rendering the visually demanding action of Shadow of the Tomb Raider — in 1080p with all settings cranked up — at a smooth and highly playable 55 frames per second (fps). That's a notable improvement over the 47 fps we got from the M1 Pro model as well as the Surface Laptop Studio (the latter of which has dedicated Nvidia graphics), and nearly double the subpar frame rates we got from the latest M2-powered MacBooks.
| | MacBook Pro 14-Inch (M2 Pro) | MacBook Pro 14-Inch (M1 Pro) | MacBook Pro 13-Inch (M2) | Surface Laptop Studio (Intel Core i7, GeForce RTX 3050 Ti) |
| --- | --- | --- | --- | --- |
| Geekbench 5 (multi-core) | 15,032 | 12,463 | 8,904 | 5,108 |
| Shadow of the Tomb Raider (1080p, max settings) | 55 fps | 47 fps | 29 fps | 47 fps |
| Battery test (4K video playback) | 7 hours, 50 minutes | 6 hours, 36 minutes | 6 hours, 4 minutes | 8 hours, 14 minutes |
The spooky cinematic horror of Resident Evil Village ran like a dream on the new MacBook Pro, as I frantically fought my way through hordes of disturbingly detailed werewolves at a silky 80 to 100 fps — and that was with "prioritize graphics" mode on. The frame rate got a small boost from Apple's new MetalFX upscaling tech, which optimizes games for Mac hardware on the fly and is set to also come to upcoming releases like No Man's Sky and Grid Legends. This is the best triple-A gaming experience I've had on a Mac so far, and while MacOS still can't compete with the massive selection of titles available on Windows gaming laptops, the M2 Pro's spectacular performance has me hopeful for the future. It's worth noting that while Apple's laptop stayed impressively quiet for most activities, the fans did audibly whir up during my more intensive Tomb Raider and Resident Evil sessions.
From juggling a workday's worth of tasks to tearing through the latest blockbuster titles, the new MacBook Pro's performance is in a class of its own. And here's the scary part — the M2 Pro model we tested isn't even the most powerful option out there.
The 14-inch and 16-inch MacBook Pros can be outfitted with Apple's even faster M2 Max chips (starting at $2,899), which promise up to 30% better graphics performance than the previous generation and offer significantly more memory bandwidth. We've yet to test the M2 Max for ourselves, but on the last-gen Macs, we saw a 39% increase in GPU performance from M1 Pro to M1 Max. Those who have a truly grueling workload — whether it be editing 8K video or working with complex 3D graphics — may want to consider the Max, but most creatives should be set for a while even if they opt for the base M2 Pro chip.
Dependable battery life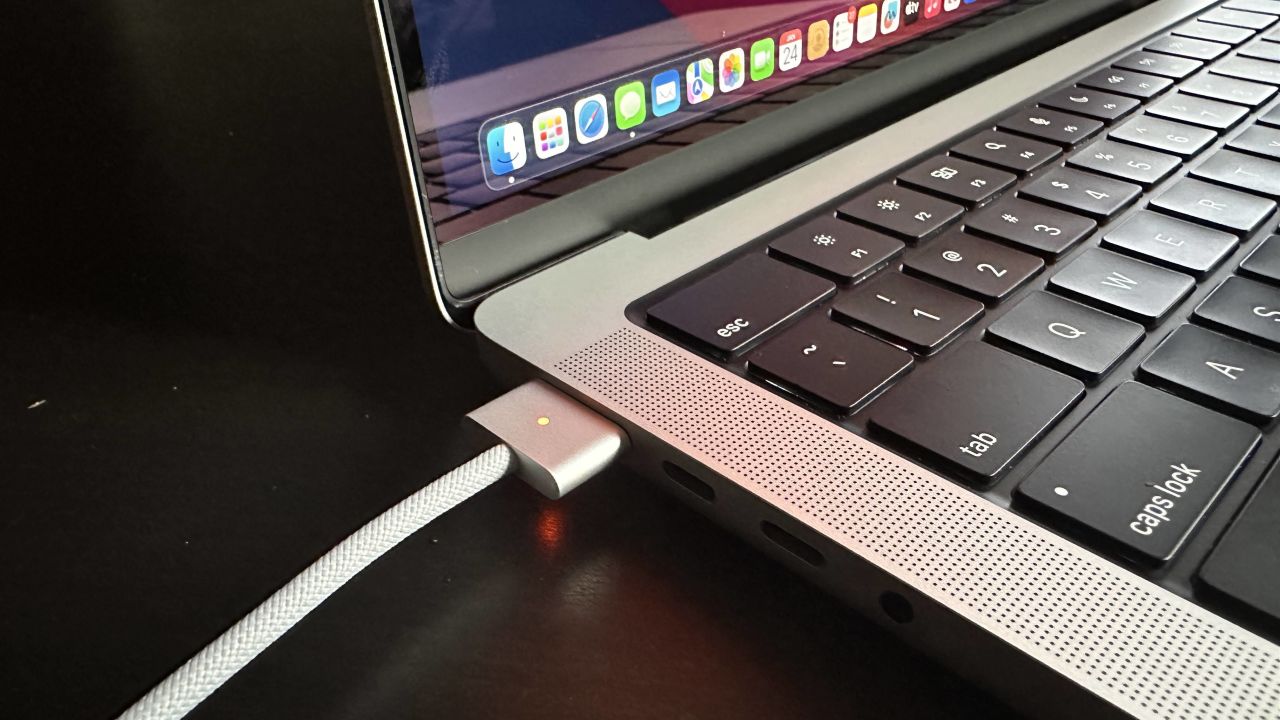 The new MacBook Pro should get most people through an average workday on the road, but you'll still want to keep your charger handy. Apple's notebook lasted a solid seven hours and 50 minutes on our battery test, which consists of continuous 4K video playback. That's more than an hour longer than the previous 14-inch model (6:36), and much better than the roughly six hours we got from the latest 13-inch MacBook Pro. However, we got slightly better results from Microsoft's Surface Laptop 5 and Laptop Studio, both of which clocked in at a little over eight hours.
It's also worth noting that while our usual day-to-day multitasking didn't make much of a dent in the MacBook Pro's battery, activities like video calls — and especially a few hours of Resident Evil Village — proved to be a significant drain. As such, make sure to pack that power brick accordingly.
Fortunately, once our MacBook Pro did tap out, the included 67W power adapter did a good job juicing it back up quickly. Apple's notebook is billed as being able to get a 50% charge in just 30 minutes, which is largely in line with my testing.
What we didn't like about it
It's pricey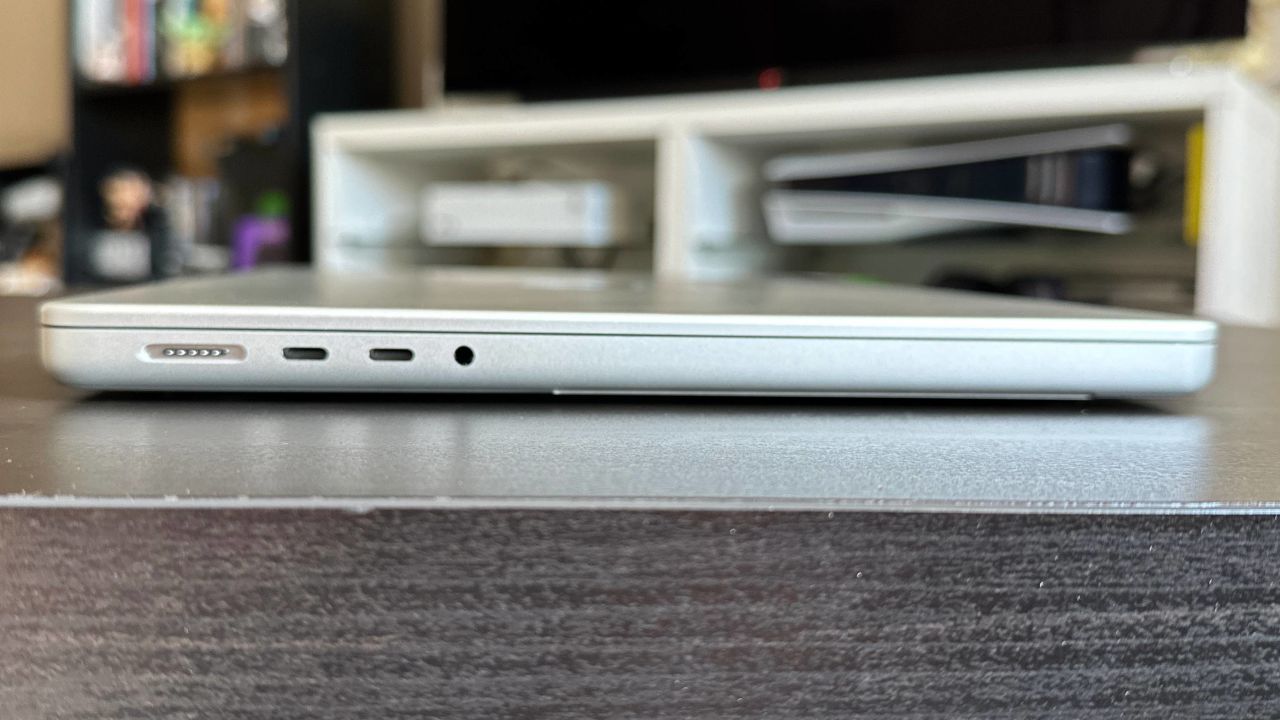 It should go without saying, but the latest MacBook Pros are an investment — especially if you plan on upgrading them with better processors, memory and storage.
The 14-inch model starts at $1,999, which gets you an Apple M2 Pro chip with a 10-core CPU and 16-core GPU (more cores = better performance) in addition to 16GB of memory, 512GB of SSD storage and a 67W power adapter. We tested an upgraded model with a 12-core CPU/19-core GPU, 32GB of RAM and 2TB of storage, which brought the total cost to a whopping $3,299. And that's far from a fully kitted-out unit — once you toss in the highest-end M2 Max chip, 96GB of RAM and 8TB of storage, you're looking at a laptop that can run you as much as $6,299.
To put that price in perspective, you can currently get Microsoft's Surface Laptop Studio with an Intel Core i7 processor, Nvidia GeForce RTX 3050 Ti graphics and the same starting RAM and storage as the MacBook Pro for a slightly cheaper $1,800. You won't get the same fast processing speeds as the M2 Pro, but you will get dedicated graphics for comparable gaming and rendering performance as well as a more flexible 2-in-1 design with a touchscreen and stylus support. The Studio maxes out at 32GB RAM and 2TB of storage for $2,800 — that's plenty for most people, but it also means you can't go quite as wild with configurations as you can on the MacBook Pro.
Granted, many of the MacBook Pro's upgrades will be overkill for many, and I'd argue that you get your money's worth in terms of performance on any of these configurations. But just be ready to pay up if you want lots of storage or the best possible processor.
Limited color options
Apple didn't need to fix what isn't broken on the 14-inch MacBook Pro, but for those who already own the 2021 model, there's nothing new here. That includes the same silver and Space Gray color options, which look fine but are also a bit dull compared to the more snazzy Starlight (gold) and Midnight (bluish-black) available on the latest MacBook Air. Why can't power users have some fun too?
How it compares
| | | | | |
| --- | --- | --- | --- | --- |
| Processor | Apple M2 Pro or M2 Max | Apple M2 | Apple M2 | 11th Gen Intel Core i5 / Intel Core i7 with Intel Iris X or Nvidia RTX 3050 Ti graphics |
| Memory | 16GB / 32GB / 64GB / 96GB | 8GB / 16GB / 24GB | 8GB / 16GB / 24GB | 16GB / 32GB |
| Storage | 512GB / 1TB / 2TB / 4TB / 8TB SSD | 256GB / 512GB / 1TB / 2TB SSD | 256GB / 512GB / 1TB / 2TB SSD | 256GB / 512GB / 1TB / 2TB SSD |
| Display | 14.2-inch, 3024 x 1964 Liquid Retina XDR display | 13.3-inch, 2560 x 1600 Retina display | 13.6-inch, 2560 x 1664 Liquid Retina display | 14.4-inch, 2400 x 1600 PixelSense display with touch and pen support |
| Camera | 1080p FaceTime HD camera | 720p FaceTime HD camera | 1080p FaceTime HD camera | 1080p webcam |
| Speakers | Six-speaker sound system with Spatial Audio support | Stereo speakers with Spatial Audio support | Four-speaker sound system with Spatial Audio support | Quad speakers with Dolby Atmos |
| Ports | Thunderbolt 4 USB-C (3), SDXC card slot, HDMI port, headphone jack, MagSafe charging port | Thunderbolt 4 USB-C (2), headphone jack | Thunderbolt 4 USB-C (2), MagSafe charging port, headphone jack | Thunderbolt 4 USB-C (2), Surface Connect, headphone jack |
| Battery life (rated) | Up to 18 hours | Up to 20 hours | Up to 18 hours | Up to 19 hours |
| Size and weight | 12.31 x 8.71 x 0.61 inches, 3.5 pounds | 11.97 x 8.36 x 0.61 inches, 3 pounds | 11.97 x 8.46 x 0.44 inches, 2.7 pounds | 12.72 x. 8.98 x 0.75 inches, 3.83 pounds |
| Price | From $1,999 | From $1,299 | From $1,199 | From $1,300 |
Bottom line
If you're a creative professional or a hardcore power user, or you simply feel like splurging on the best that Apple has to offer, the 14-inch MacBook Pro is the laptop to get. It's faster than anything else you'll find for the money, has all the ports you need for transferring multimedia or working with multiple monitors and packs the best display and keyboard of any MacBook.
For those getting their first MacBook Pro or upgrading from an old Intel-powered model, the new 14-inch and 16-inch options will prove to be a massive step up in every way — from sheer performance to everyday ease of use. And if you already find yourself hitting a ceiling on your 13-inch MacBook Pro M1, you'll see some truly significant gains on this model.
Those who own a 2021 MacBook Pro have no reason to upgrade here, and the much more affordable $1,199 MacBook Air M2 — our overall top pick —  is still more than enough laptop for most people (and can handle light photo and video editing). But if you truly need the extra muscle and are willing to invest in the ultimate MacBook, the latest 14-inch and 16-inch Pros are worth their premium price.