Master & Dynamic has established itself as a premium player in the consumer headphone space, offering headphones that, while expensive, offer excellent audio quality and a unique, classic design. The original MH40 headphones were a perfect example of this, and now the company is refreshing some of its most loved headphones with a second generation.
The new model offers a number of upgrades over the last generation, including new drivers for better audio quality, customizable sound in an accompanying app and more. Plus, they retain the classic design that makes Master & Dynamic headphones stand out.
But they're also still expensive. Very expensive.
A good audiophile option
If you're willing to splurge on a stylish pair of headphones with true audiophile-grade sound (and can live without features like active noise cancellation), the Master & Dynamic MH40 are worth the investment.
What we liked about them
Design is still cool
Master & Dynamic hasn't really changed its design language over the past five years or so, and I'm glad. The MH40 still offer a distinguished design that screams class, and while I'm sure the company will one day evolve the overall look, I hope it treads very carefully when it does.
The headphones are mostly built from premium materials too. You'll get super-soft lambskin leather on the ear cups and headband, plush padding for a comfortable fit and a metal frame that ensures the headphones won't break easily. Despite the use of metal, the headphones remain lightweight, which definitely plays into how comfortable they are.
I really like the color schemes on offer as well. We're reviewing the silver and brown model, and it looks great — but if you want a more scaled-back look, you can also get a black-on-black model, or you could go for the black and gunmetal, silver and navy, and silvery and gray.
The controls are easy to use too. There's a power button that doubles as a Bluetooth button, along with volume and playback controls. The controls are separated and defined enough to make it easy to use them by feel when you're wearing the headphones, which is always nice.
An improved app
Master & Dynamic has been working on its app, and while it's not as impressive as what Sony offers, it's still a step in the right direction.
The basic features of the app are the ability to keep track of your headphones' battery and tweak the EQ, from four different presets. Those presets include "Bass Boost," "Bass Cut," "Podcast" and "Audiophile." Some of the presets are self-explanatory, but Podcast is built to help make voices sound fuller, while Audiophile is there to offer a flat frequency response.
There's also a Sidetone toggle, which basically allows you to hear your own voice in your headphones when you're on the phone — similar to the Sidetone feature on PlayStation.
These are pretty much all the features you'll need for these headphones, but I do wish there were a custom EQ option that allowed you to make cuts and boosts to get your audio exactly how you like it. Headphone manufacturers often want to retain some level of control over the audio experience, and that could be why a custom EQ isn't present here. Regardless, giving users a little more control is always helpful, especially when users don't have to dive into custom EQ settings if they don't want to or don't know how to use an EQ.
Excellent audio quality
The MH40 headphones feature improved 40mm titanium drivers that offer a better audio experience than before. That's not to say the audio on the original was bad — far from it — but this is an upgrade from an already great set of headphones.
The audio signature is designed to be warm and comfortable, and it's perfectly balanced. The bass is heavy and satisfying, the mids are nice and present and the highs aren't too shrill. Everything comes together remarkably well, making for a pleasing listening experience no matter what genre of music you're listening to.
On AC/DC's "Back in Black," cymbals offered a nice shimmer, while guitars had plenty of bite, and kick drums and bass got a bass response that many headphones fail to produce. In Kendrick Lamar's "Alright," Lamar's voice got a cut in the high mids and highs, which contrasted nicely with the deep bass synth that gives the track so much body. The frequency response is overall better than you'll get on the Sony WH-1000XM5 or the AirPods Max headphones, by a solid amount. A good example of that is at the extremities — these headphones are able to accurately produce deeper bass and higher highs than the other options out there.
The excellent audio quality is aided by up-to-date codec support. Through Bluetooth 5.2, you'll get AAC, SBC and aptX Adaptive support, which means you can stream at up to 24-bit/96kHz. For the uninitiated, CD quality, which is often hailed as the standard in modern audio quality, has a bitrate of 44.1kHz. Safe to say, if you have access to high-quality audio streams, you'll be able to take advantage of them with these headphones.
Of course, the audio quality is improved even further by the fact that it's customizable through the in-app EQ. As someone with a background in audio production, I prefer a flat frequency curve — but some prefer more bass, and others more detail in the high end. I do wish there were a custom EQ option, but the presets are a good start. Generally, I preferred the way the headphones sounded without one of the presets engaged, but it is worth experimenting a little to see if there's something you like.
You can listen from multiple sources too. As we would expect from a modern pair of headphones in this price range, you'll get Bluetooth Multipoint so you can connect to two devices at a time, and have the headphones switch between them easily.
Good battery life
The battery life on the original MH40 headphones was fine, sitting in at 18 hours. The second-generation headphones, on the other hand, step things up from "fine" to "good," at 30 hours. For comparison, the Sony WH-1000XM5 headphones also offer 30 hours with noise cancellation enabled, or an even better 40 hours with it disabled. The AirPods Max offer a claimed battery life of up to 20 hours, though anecdotally I don't think I've ever actually reached that with the AirPods Max that I use regularly.
With almost double the battery, most casual listeners will go at least a week or two before having to charge. When you do have to charge, you won't have to wait long — the headphones will get six hours of playtime in only 15 minutes of charging.
What we didn't like about them
No noise cancellation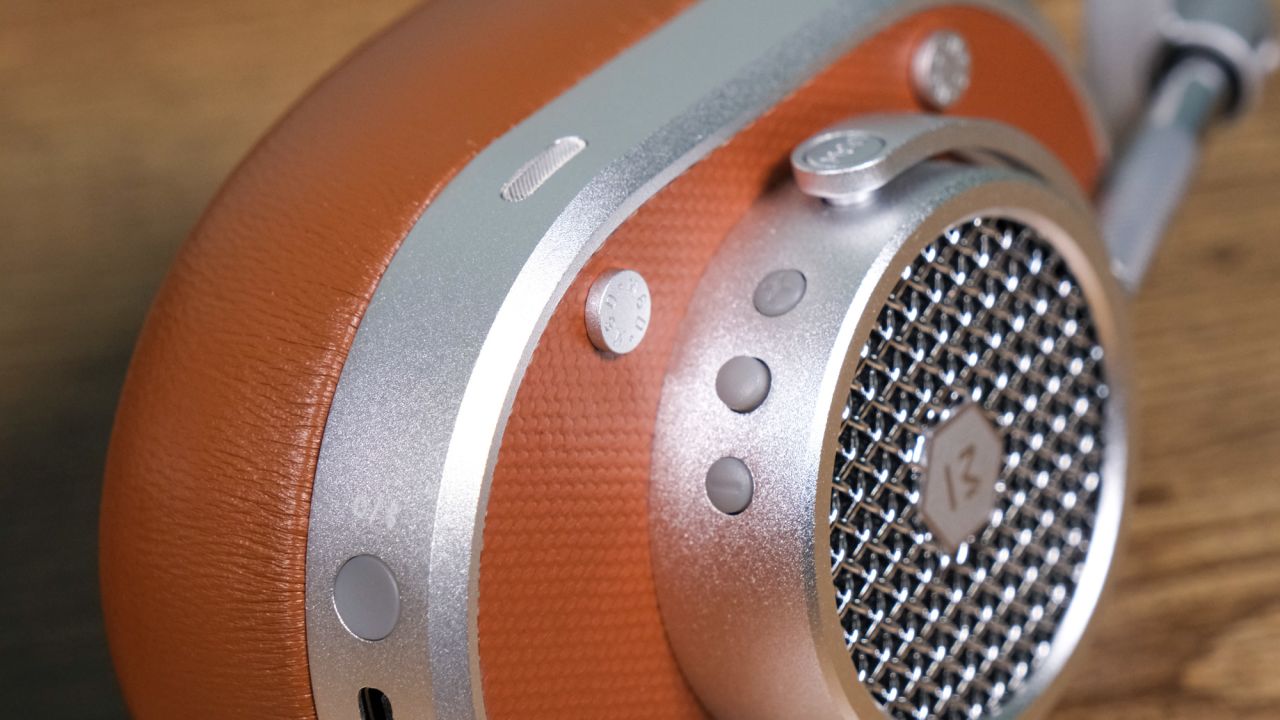 These are expensive headphones, and frankly, they should include noise cancellation. Master & Dynamic has other headphones with noise cancellation, like the $600 MW75. But from no one else do you have to pay that much for a commodity feature like ANC these days.
If the lack of noise cancellation is a deal breaker for you (which would be totally understandable at this price), it's worth considering the Sony WH-1000XM5 headphones, which come at $400 and are our overall pick for best over-ear headphones right now. The AirPods Max are also worth considering for those with other Apple devices, as they offer among the best noise cancellation right now, still for a lower price than the Master & Dynamic MW75 headphones.
They're expensive
Premium headphones are getting more expensive, and while there are plenty of other options at $400, it's still a lot of money for a pair of headphones. Not to beat a dead horse, but that's especially true given the lack of noise cancellation.
If you are willing to spend this much and prioritize audio quality, then the headphones are still a great option. But that doesn't make them any less expensive overall.
A bit small for big-headed people
The headphones offer a generally comfortable fit, but they are slightly small for those with big heads like me. I used them with the arms fully extended and would have liked to extend them a little more.
It wasn't necessarily a deal breaker for me, though. With the arms fully extended, the headphones were still relatively comfortable, thanks in large part to the lightweight design and the plush memory foam padding in the ear cups and under the headband. After long periods of listening, they did get slightly uncomfortable on the top of the head, but that's common.
How they compare
| | | | |
| --- | --- | --- | --- |
| Active noise cancellation | No | Yes | Yes |
| Transparency mode | No | Yes | Yes |
| Battery life (rated) | Up to 30 hours | Up to 30 hours | Up to 20 hours |
| Wired support | Yes | Yes | No |
| Colors | Silver Metal/Brown Leather, Black Metal/Black Leather, Silver Metal/Grey Leather, Silver Metal/Navy Leather, Gunmetal/Black Leather | Black, white | Space Gray, silver, green, pink, sky blue |
| Software support | iOS, Android | iOS, Android | iOS |
| Weight | 0.6 pounds | 0.55 pounds | 0.85 pounds |
| Price | $399 | $398 | $480 |
Bottom line
The Master & Dynamic MH40 headphones are built for those who want excellent audio quality and can live without the features that are standard on the likes of the AirPods Max and Sony WH-1000XM5 headphones. Don't expect location-based profiles, noise cancellation and fancy transparency modes. These headphones may be wireless, and may have an app, but stop short of anything more high-tech than that.
What they do have, however, is an audio quality that beats that competition handily. Listeners with a keen ear will love the level of detail that these headphones are able to produce. Bass and high-end extension is excellent here, and Master & Dynamic's audio pedigree seriously stands out.