With a mouthful of a name, the Samsung Galaxy Book 3 Pro 360 also happens to be a whole lot of laptop. Not only does this versatile 2-in-1 offer fast performance and plenty of ports but also a huge 16-inch display that looks beautiful whether you're watching movies or using it as a giant drawing tablet with the included S Pen. Oh, and it lasts pretty long on a charge too.
However, despite all it has going for it, the Galaxy Book 3 Pro 360's awkward design and messy software experience hold it back from earning a place amongst our best laptop picks. After using Samsung's latest convertible as my main laptop for a week, here's why I ultimately came away disappointed.
A powerful but flawed convertible
If you want a powerful 2-in-1 laptop with a big, beautiful screen, an included stylus and plenty of integration with your other Samsung gadgets, the Book 3 Pro 360 may be for you. However, there are better all-around convertibles and touch-enabled laptops for the money.
What we liked about it
A sleek, versatile design with lots of ports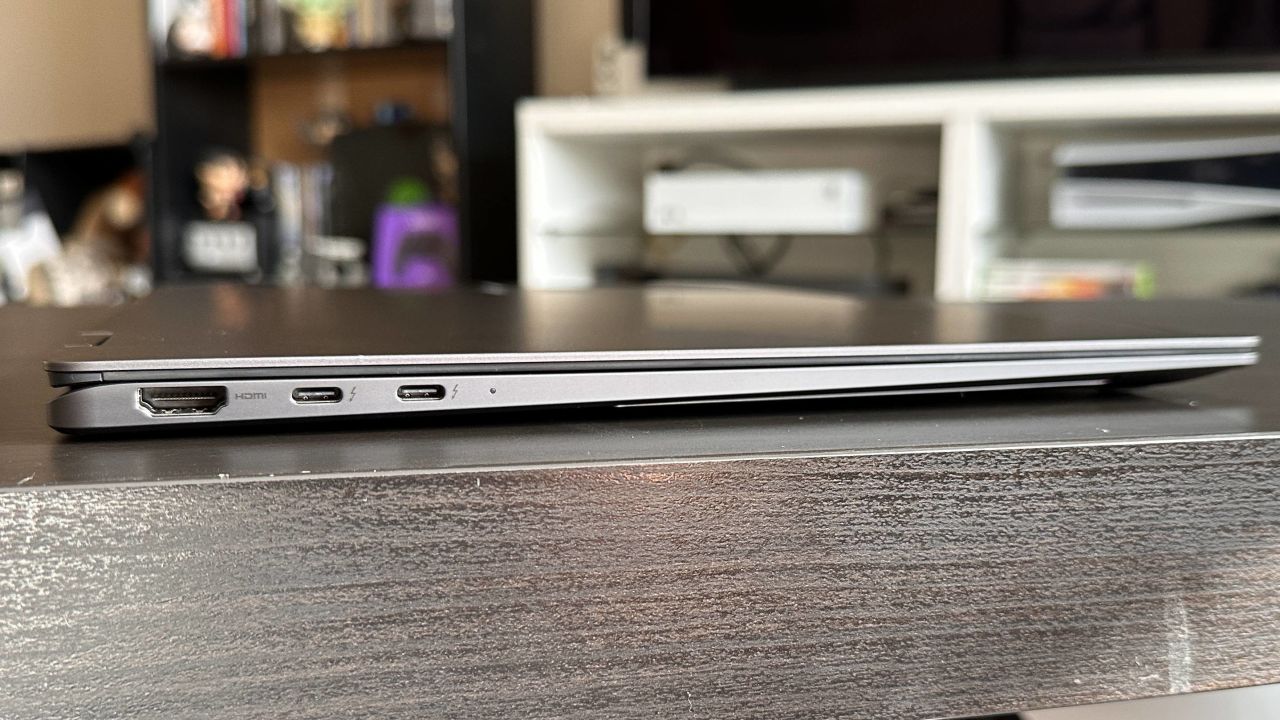 As the long-winded name suggests, the Galaxy Book 3 Pro 360 is the convertible member of Samsung's laptop lineup. Its rotating hinge allows you to use it as a traditional laptop, prop it up as a stand-alone display for watching movies or fold it up into a giant tablet that you can sketch on with the included S Pen. Morphing Samsung's laptop to suit my needs always felt smooth and intuitive, and while there are plenty of other 2-in-1 notebooks that do the same thing, they're rarely this sleek — especially for a 16-inch machine.
The Book 3 Pro 360 is an impressive 0.5 inches thin and feels very light at 3.7 pounds; despite its wide frame, I had no issues carrying it from room to room as I went about my day. My review unit looked nice enough in grayish Graphite (there's also a more alluring Beige model), but be warned — this thing is a fingerprint magnet.
While you may want to keep a cloth handy when taking this thing on the road, you can at least leave your adapters at home. At a time when most modern laptop makers are happy to slap on two USB-C ports and call it a day, the Samsung Galaxy Book 3 Pro 360 is refreshingly generous when it comes to connectivity. On top of the usual Thunderbolt 4 USB-C ports (for most modern accessories, chargers and displays), you get a microSD card slot, an HDMI 1.4 port for TVs and older monitors, a headphone jack and a USB-A port — the latter of which was missing from last year's Book 2 Pro 360. I always appreciate when a laptop includes a USB-A connection for my older peripherals, and I give Samsung props for cramming one into a notebook this slim.
Samsung products are known for having great screens, and the Book 3 Pro 360 is no exception. The laptop's 16-inch, 2880 x 1880 AMOLED display was a treat to look at for hours on end, making everything from basic website text to an 8K nature documentary pop with vivid detail and bold color. Its new 16:10 aspect ratio makes it taller than last year's model, and gives you more overall real estate for scrolling around. And as with most Samsung displays, the Book 3's 120Hz refresh rate made everything feel delightfully fluid, whether I was swiping through webpages by touch or effortlessly gliding the mouse cursor around while multitasking.
Good performance and battery life
Armed with the latest 13th Gen Intel Core i7 processor and 16GB of RAM, the Galaxy Book 3 Pro 360 got me through my usual workload just fine. I never ran into any major moments of slowdown, nor did I notice the laptop get hot or loud — even as I juggled more than a dozen apps and even more memory-hungry Chrome tabs.
The Galaxy Book's strong everyday speeds are all the more impressive when you see how it stacks up on our benchmark tests. On Geekbench 5, which we run to gauge overall performance, Samsung's laptop turned in a strong multi-core score of 9,485 — that's one of the best results we've seen on this test, toppling other Windows laptops like the Surface Laptop 5, Dell XPS 13 and even the MacBook Air M2 while falling only to the higher-end MacBook Pro 14-inch and its beastly M2 Pro processor.
Samsung's 2-in-1 laptop may not be made for gaming, but you can get some modern titles running after tweaking some settings. The Book 3 Pro 360's integrated Intel Iris X graphics couldn't handle our standard Shadow of the Tomb Raider benchmark (which loops the game at 1080p with all settings maxed out), delivering a stuttery 18 frames per second (fps). However, we were able to achieve a playable 31 fps after turning the graphics settings down to Lowest. If you just plan on playing a bit of Minecraft or The Sims (or don't mind keeping your visual settings low), you'll be just fine. Same goes for basic photo and video editing.
This laptop comes ready for a full day on the road, enduring exactly eight hours on our intensive 4K video playback test and lasting much longer during casual on-and-off use. The Galaxy Book's run time falls right in line with the latest 14-inch MacBook Pro and Surface Laptop 5, though we got much longer endurance (but also much worse performance) out of the latest Surface Pro 9 5G edition, which lasted a whopping 11 hours and 43 minutes.
The Book 3 Pro 360's 1080p webcam isn't the best I've used (that title goes to the MacBook Air M2), but I found it to be reliable for my usual video calls. As an extra perk, there's a Studio Mode toolbar that pops up every time your camera is active, letting you do things like blur your background, apply various effects to your face and enable Auto Framing so you always stay in the shot. These features mostly worked fine, though Auto Framing isn't quite as smooth as Apple's similar Center Stage tech, and the app's HDR filter didn't seem to do anything to enhance how I looked.
Included S Pen and plenty of Samsung perks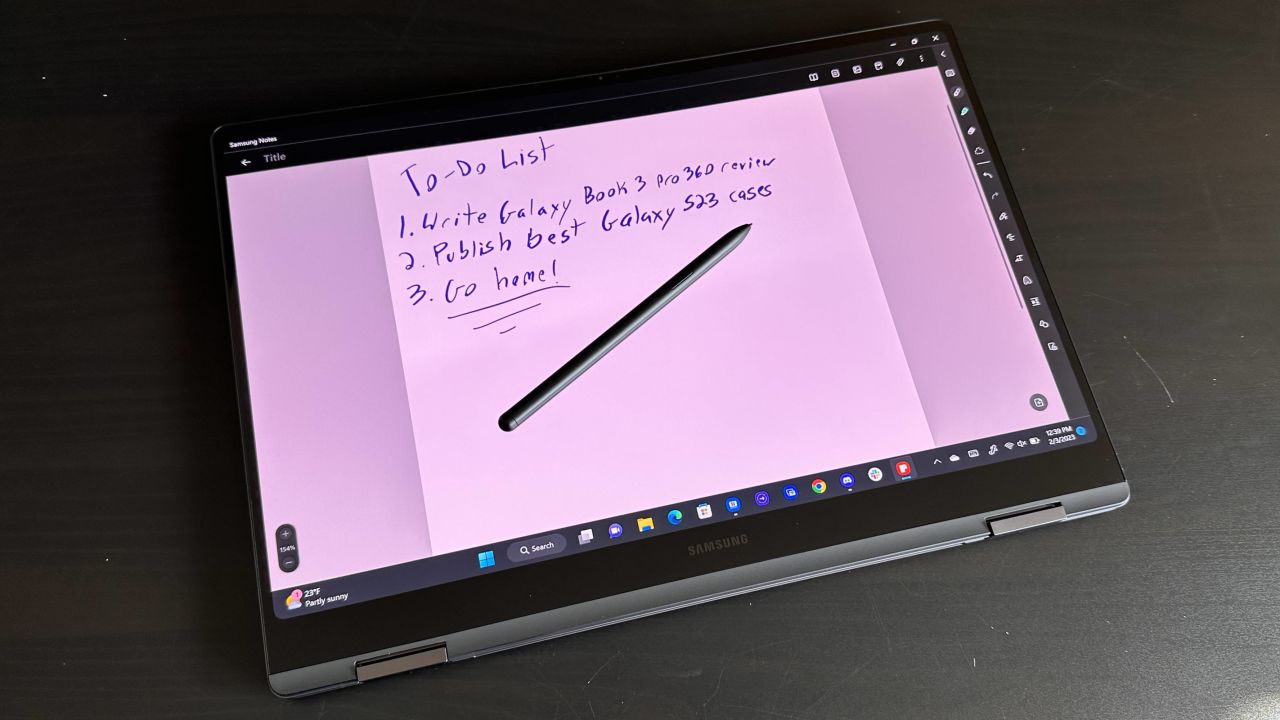 Unlike competing 2-in-1s like the Microsoft Surface Pro 9 and HP Elite Dragonfly, the Galaxy Book 3 Pro 360 actually comes with a stylus right out of the box — and it works pretty great. Using the S Pen to jot down notes on the 360's huge 16-inch canvas felt fluid and natural, and the pen's onboard front button made it easy to switch to an eraser whenever I made an error. I missed the advanced haptics of Microsoft's Surface Slim Pen 2 — which can simulate the feel of different pens and brushes via vibrations — but that stylus will run you at least an extra $93, and the more basic Surface Pen still costs $75 these days. The Book 3 Pro 360 isn't a cheap laptop, but the fact that you don't have to spring extra for a pen is a big perk.
Much like a MacBook plays nice with other Apple products, the Galaxy Book 3 Pro 360 will work best for folks who are deep in the Samsung ecosystem. There are no fewer than 14 preinstalled Samsung apps on this machine, which is a nice benefit if you're already using tons of Samsung Galaxy devices, and a bunch of bloatware for everyone else.
The swath of Samsung software on the 360 has its pros and cons, but there's plenty of good stuff here for those in Galaxy land. Pairing my Galaxy Buds 2 Pro to the Galaxy Book was effortless — I simply opened the case and was prompted to connect them, complete with an onscreen pop-up that let me know how much battery life I have left. There's a SmartThings app for monitoring and controlling any supported Samsung smart home products in your household, a handy Samsung Notes app that can sync with your other devices and a Phone Link feature that allowed me to view my Galaxy S22+'s photo library, send text messages and even flip through my phone's home screen right from the laptop.
If you own a recent Galaxy Tab tablet, you can take advantage of Multi Control (which lets you navigate your laptop and tablet from the same trackpad and keyboard) as well as Second Screen, which turns your tablet into a secondary monitor for your PC. I got to test out the former when I first got my hands on the Galaxy Book 3 last month, and while there was a bit of lag when navigating the Galaxy Tab S8's screen, I found it perfectly usable — and handy for, say, having separate webpages open on different screens while working.
What we didn't like about it
It's not always comfortable to use
Despite its attractive looks, versatile design and great display, the Galaxy Book 3 Pro 360 doesn't always feel great to use as a regular old laptop. The keyboard was serviceable for my daily Google Docs work but felt shallow and cramped compared to the latest MacBook Pros and Microsoft Surface laptops. Part of this is due to the fact that the keyboard packs a full number pad on the right — this could be useful for folks who work with lots of numbers and spreadsheets, but I personally would have taken larger keys. And while the touchpad (which is 39% larger than that of last year's model) provides plenty of real estate for scrolling, zooming and clicking, its awkward off-center placement took a while for me to get used to.
The Galaxy Book's razor-like edges also became a detriment in day-to-day use. I often found my wrists pressing up against the laptop's sharp edges while typing, which is a far less enjoyable experience than what I've had on other big-screen notebooks like the Dell XPS 17. This is largely a matter of personal preference, but the Book 3 Pro 360's keyboard, touchpad and overall size made it hard for me to work comfortably for long stretches of time.
There's nowhere to store the S Pen
I'll give the Book 3 Pro 360 props for being one of the few 2-in-1 laptops to include a stylus. There's just one problem: There's no secure place to store it. The S Pen can attach magnetically to the laptop's lid, which is fine for when it's sitting on your desk but less than ideal for when you're on the go and don't want the stylus to suddenly fall off in your bag (or onto the floor of a crowded café). The Surface Pro 9 requires you to buy a keyboard and stylus separately, but Microsoft's Signature Keyboard comes with a nook for securely storing your Surface Pen when everything's folded up.
Lots of bloatware (and a few bugs)
Despite its fast raw performance and plethora of software, using the Book 3 Pro 360 for my daily needs wasn't always smooth sailing. Basic programs like Zoom and Samsung's own Live Wallpaper app crashed multiple times, often forcing me to restart to get things working (for what it's worth, I noticed less issues after updating Windows). But the bugs I ran into weren't terribly frequent — I was much more let down by just how messy Samsung's preloaded software is.
As previously mentioned, there are more than a dozen preinstalled Samsung apps, and using them often results in a glut of disparate windows clogging up your screen. The Galaxy Book Experience software serves as a central hub for all of Samsung's offerings, but once you click on a feature — such as SmartThings or Samsung Flow — you're taken to a page that prompts you to open a new window just to use it. And while Samsung's laptop paired instantly to my Galaxy Buds, I had to install what was basically an emulated version of the Android Galaxy Buds app to adjust things like active noise cancellation and sound profile. Quick Share let me beam photos from my Galaxy phone to my Galaxy Book, but it took longer than, say, AirDropping content between Apple devices.
It all feels very disjointed and sloppy, and while the perks are there for Samsung users, the implementation is a far cry from the tight, seamless integration you'll enjoy as an iPhone user on a MacBook.
How it compares
| | | | |
| --- | --- | --- | --- |
| Display | 16-inch Dynamic AMOLED 2880 x 1800 display at 120Hz | 13-inch, 2880 x 1920 PixelSense display at 120Hz | 14.2-inch, 3024 x 1964 Liquid Retina XDR display at 120Hz |
| Processor | 13th Gen Intel Core i5 or Core i7 | 12th Gen Intel Core i5 / i7 or Microsoft SQ3 | Apple M2 Pro or M2 Max |
| Memory | 8GB / 16GB / 32GB | 8GB / 16GB | 16GB / 32GB / 64GB / 96GB |
| Storage | 256GB / 512GB / 1TB | 128GB / 256GB / 512GB | 512GB / 1TB / 2TB / 4TB / 8TB SSD |
| Ports | Thunderbolt 4 (2), USB Type-A (1), HDMI 1.4, microSD, headphone jack, nano SIM (optional) | Thunderbolt 4 USB-C (2), Surface Connect | Thunderbolt 4 USB-C (3), SDXC card slot, HDMI port, headphone jack, MagSafe charging port |
| Size and weight | 13.2 x 9.9 x 0.5 inches, 3.7 pounds | 11.3 x 8.2 x 0.37 inches, 1.94 pounds | 12.31 x 8.71 x 0.61 inches, 3.5 pounds |
| Colors | Graphite, Beige | Sapphire, Forest, Silver, Graphite | Silver, Space Gray |
| Included stylus | Yes | No | N/A |
| Price | From $1,700 | From $1,000 | From $1,999 |
Bottom line
There's a lot to love about Samsung's Galaxy Book 3 Pro 360, but I have a hard time giving it a full recommendation. It has one of the biggest and best displays that I've tested on a laptop, which, combined with the included S Pen, could make it worth it for creatives who want a notebook that doubles as a large canvas for sketching and taking notes. It pumps out some of the best performance we've seen at this price, and lasts long enough to get through the average workday. And while it's not cheap at its current promotional price of $1,700, it's also not a bad value — a Microsoft Surface Pro 9 with similar specs and a keyboard and pen (not to mention an older processor and smaller screen) will run you about $1,900.
However, if you want a great 2-in-1 Windows laptop, I'd still point most people toward the Pro 9 for its detachable design, superior stylus and cleaner software experience that's not bogged down by a mess of preinstalled apps. And if having a big screen is a priority, the 15-inch version of the excellent Surface Laptop 5 — which is touch- and pen-friendly — will better suit your needs. The Galaxy Book 3 Pro 360's huge, vibrant display and wealth of (albeit messy) Samsung integrations make it a worthy consideration for artists and Galaxy lovers, but even folks that fall into those camps should try before they buy.