I'm almost always wearing headphones of some kind. At home, I'm usually wearing a pair of over-ear headphones. On the go, I'll usually have a pair of one of the best wireless earbuds. And when I travel, I take both.
But having access to different kinds of headphones for different situations can run up a bill, and as such, getting a decent pair of earbuds on the cheap can seriously come in handy. I've been using the Skullcandy Dime 2 earbuds, and they fit the bill pretty well and sound better than you would expect for the price.
If you're looking to spend less than $25 on a pair of wireless earbuds, the Skullcandy Dime 2's good sound quality, attractive design and handy Tile compatibility make them well worth it.
How I found the Skullcandy Dime 2 wireless earbuds
As mentioned, I'm constantly wearing headphones, for listening to music, the dozens of podcasts I subscribe to and the audiobooks that I've replaced physical books with. Because listening to content is such a huge part of my life, I'm always looking for ways to improve on the experience — so when our tech editor here asked if I'd be interested in taking a look at the Skullcandy Dime 2 earbuds, which cost only $23 right now, I jumped at the chance.
Of course, the low price is particularly interesting. Only a few short years ago, truly wireless earbuds were only available for a few hundred dollars — and anything less than that made for a pretty poor experience. These days, wireless earbuds are available at much lower prices, but that doesn't necessarily mean they're worth buying. After all, features are often as important as audio quality when it comes to wireless earbuds, and at this price, you won't get things like noise cancellation and multi-point Bluetooth connectivity.
But what you will get is a no-frills experience for those who want something cheap and accessible. At under $30, and routinely less when on sale, the Skullcandy Dime 2 look, on paper, like an absolute steal.
Why they're a score
The first thing I appreciated about the Skullcandy Dime 2 earbuds is the fact that they're in a compact and portable case. Often, in an attempt to offer a longer battery life, companies include a huge charging case, but that wasn't the case here. They're also available in fun colors, which is neat in a world of black and white tech. I'm reviewing the Light Gray/Blue model, but they're also available in Dark Blue/Green, Multicolor, True Black, Chill Gray, Golden Orange, Golden Red and Green/Black.
In total, you'll only get 12 hours of battery life, including 3.5 hours of constant listening. That's a bit low, but those who listen in shorter bursts and charge frequently shouldn't have an issue with it.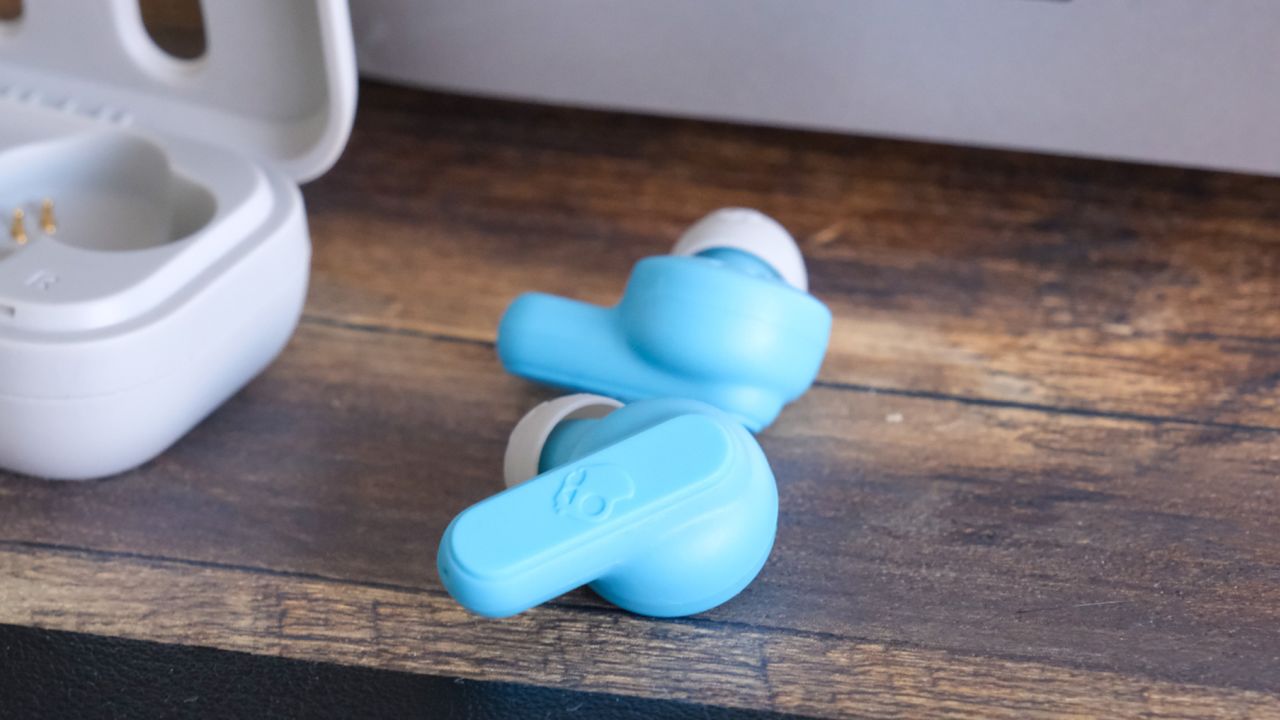 While these earbuds don't have things like noise cancellation and Bluetooth multi-point, they do have a feature that isn't very common: Tile support. That means that you can add these to the Tile app, and use the app to locate them if they're lost. Headphones four times the price often don't include features like that.
Related: The best headphones for working out
The earbuds are also quite comfortable. They offer a stem design made famous by Apple's AirPods, making them easy to put in and take out. And, when they're in your ears, they punch way above their class in audio quality. Sure, they won't compete with much more expensive earbuds, but for casual listening the audio is great, with enough bass for most and pretty good response in the high end.
At this price, it's really hard to beat these budget earbuds. There are other options out there, like the JLab Audio Go Air Pop, which don't sound quite as good, and the Tozo A3 headphones, which aren't as comfortable or as great-sounding. But while the Dime 2 aren't the most technically advanced earbuds out there, they get the basics right, and at this price that's what matters most.