While off-the-rack headphones get better and better all the time, you'll notice that the pros — think performing artists and audio engineers — tend to wear custom-made in-ear monitors when it counts. There's no beating them for secure fit, total isolation or sound quality, and if you're going to spend real money on improving your headphone experience, it makes sense to spend that money on something that's definitely going to fit.
The downside is that getting custom in-ears has usually meant visiting an audiologist who'll take a 3D digital scan (or if they're old-school, pour pink goo into your ears) to make a cast, from which a mold is made for the headphones themselves. Then — since you can't really experience them in advance, you peruse reviews, send off your money (it can be a lot of money, by the way) and wait for the manufacturer to send your headphones.
Is there a better way? Logitech's Ultimate Ears (UE) division, with many years of experience making traditional custom in-ears, promises to make things simpler and cheaper with the UE Drops, which walk you through the process of making your own ear impressions at home using the company's FitKit ultraviolet system, and adds modern conveniences like a true wireless connection to the finished product — all at a surprisingly low price. So we checked out a pair to see how they stack up.
The most convenient, full-featured custom true wireless headphone
If you've ever considered custom headphones, know that the UE Drops take most of the annoyance out of the process. Our test pair sounds great, fits comfortably and securely and delivers a lot of the modern earbud features you know and love. There's no ANC, though, and they are pricey.
How the UE Drops FitKit system works
If you've ever considered custom headphones before but have been put off by the inconvenience, the UE Drops fitting process is a whole lot easier than the traditional method of visiting the audiologist, and if you've been careful, the results are not so far off from what you'd get from a professional. The in-app directions make the whole thing pretty simple (though we recommend reading through the directions to get a sense of what's coming, step by step, before you actually take the impression).
After you order your pair of UE Drops, you'll get a fitting kit (it's called, appropriately enough, the "FitKit"). Building on the "Lightform" tech Logitech introduced with the simpler UE Fits, which used a built-in UV lamp to cure a supplied soft eartip for a semi-custom fit, the Drops process has you produce a similar soft tip as an intermediate step (akin to the cast you'd have an audiologist make).
The kit comes with two pairs of moldable ear tips (in large and small sizes) plus a self-contained earbud-and-headphone-amplifier combo unit that contains the ultraviolet molding mechanism. They come in three colors, black, sapphire or rose.
You simply pair the unit to the UE Drops app via Bluetooth; once you choose the appropriate size (you can just try both and see which one turns out best), you attach them to the earpieces and run the process, which takes a few minutes as the device illuminates (and warms) the eartips and molds them to your ears.
Don't worry, if you mess it up you can get more ear tips from Logitech if need be, and there's a 30-day guarantee with a no-questions-asked return if you don't like the fit. Once you're satisfied, you then send the molded tips in to Logitech UE using the prepaid label in the kit, where their lab uses them to make a mold for the final made-to-measure hard plastic shell for your custom headphones.
Turnaround time is quick; in our case, we got the finished headphones within two weeks. Then we got to listening.
What we liked about it
You're looking first and foremost for a great fit with custom headphones, and the finished pair of UE Drops we received fit wonderfully. They don't seat as deeply into the ear canal or quite as perfectly as my own audiologist-molded high-end models, but the fit is noticeably more secure than the semi-custom UE Fits and much better than any interchangeable-eartip headphone. They stay put and give you consistent seal and isolation, no matter how you move.
The Drops fit well enough, even without wings or other fit assist elements, that I used them for road and trail running and quickly put aside any worry about slippage or loss — they stay put as securely as any workout-specific headphone we've tested. And while the transparency mode isn't adjustable as on some other models, it's perfectly adequate for maintaining situational awareness in the outdoors.
They sound good, too — the single dynamic driver does a solid job, delivering plenty of defined bass (helped along by the tight custom seal) as well as midrange clarity. While options for tailoring the tone of the Drops via the app are fairly basic (bass boost, along with a few optimized modes for podcasts and such), they're an enjoyable listen. There's no exotic streaming on tap (no aptX or LDAC, for instance) so you'll be using plain-vanilla Bluetooth, which is perfectly adequate for most material. Call quality is good too, even without noise cancelation or other digital enhancement.
The Drops (again courtesy of their good fit) can easily get very loud, by the way, so you'll likely want to start with the levels a little lower than you'd be accustomed to with AirPods Pro or similar models. It's worth protecting your hearing, so take care!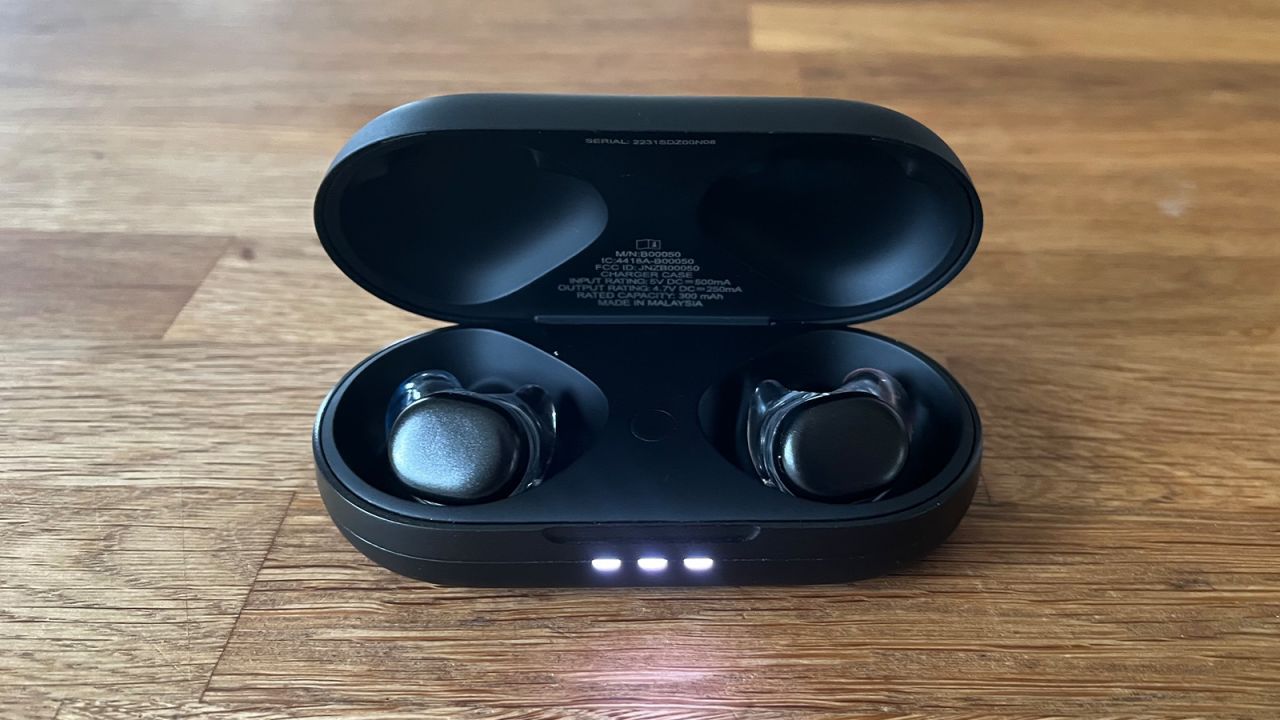 The Drops let you set up eight device connections, with multipoint pairing to your two main devices for automatic source-switching. There's no noise cancellation (more on that below); the Drops depend on a tight seal to block out external sounds. It works well, but it isn't the same.
Battery life is respectable — we got more than a full workday out of the Drops on a regular basis, and a five-minute charge gives you an extra hour. The super-sized charging case (which supports wireless or USB-C charging) gives you full two charges on top of that.
And lastly, at around $400, they're cheaper than all but the most basic custom-molded passive in-ears.
What we didn't like about it
The UE Drops don't seat as far into the ear canal as traditional custom in-ear monitors, and the additional hardware (Bluetooth transceiver, microphones, amplifiers, on-device controls) means they are bigger and heavier and project further out of the ear — more like regular earbuds than custom pieces. This means that compared to passive custom models, the Drops are a little more tiring to wear for long periods. They're also more visible (save for the lack of a wire).
One thing you won't find here is active noise cancellation. While the tight seal of a custom in-ear gives you better passive isolation than most traditional models, it isn't quite the same thing. While they do a good job of quieting transient sounds, it's more like wearing earplugs, and they don't do much if you're using the ambient transparency mode. The Drops aren't as effective at banishing steady state noise like the air conditioning unit and kitchen exhaust fan. When we took the Drops out for a run, we missed the ability of our daily drivers, the Jaybird Vista 2, to take the edge off of wind noise using ANC even while using the ambient mode for situational awareness..
The Drops' charging case is downright enormous, compared to an AirPods Pro case — so large that it isn't really pocketable, unless we're talking about a pack or jacket pocket. It does hold at least two full charges,
The Drops app is a little thin on options compared to much of the true-wireless competition. You can choose between a few sound profiles (bass boost, a "loudness" control, a flat "balanced" setting and a mid-forward "podcast" setting). No noise reduction. Isolation is great, but no wind filtering, etc. Also, the Bluetooth audio connection is via the standard SBC codec, so there's no attempt at any sort of hi-fi streaming (which potential purchasers of a custom product would likely be interested in).
It's worth pointing out that as with any custom, the Drops useful lifespan is limited. Most professionals suggest replacing (or remolding) custom in-ears every five years or so, since the shape of your ear changes as you age. While this may not really matter in practice for those used to upgrading their tech every couple of years, $400 isn't exactly cheap, so it's worth thinking about this if you're inclined to buy for the long term.
Bottom line
The UE Drops are an intriguing outlier among custom models, offering more convenience features than almost anything else out there, and at a cheaper price too. Having custom true-wireless headphones with most of the modern conveniences — tailored eq curves for various listening situations, an ambient awareness transparency mode, call mics, multipoint pairing and on-ear controls — is great, and a refreshing change from the relatively limited feature set of most wired custom models (though they aren't as full-featured as many of today's other flagship true-wireless models).
At around $400, the UE Drops are not cheap, but compared to similar custom models — even from Ultimate Ears — they're a relative bargain. At $549, the UE 5 CSX, the entry-level model in the company's higher-end custom line, uses the same FitKit system, though you get a pair of balanced armature drivers in place of the single unit used in the Drops, as well as the ability to swap between an included Bluetooth cable or a wired connection. And if you want a deeper, more secure fit, the wired-only UE 5 Pro cost about the same ($549) though the Bluetooth module is extra, and fitting requires an audiologist's impression or 3D scan, which will also cost extra.
Considered in that context, the UE Drops are a relative bargain. If you're curious about custom headphones but you're loath to give up the convenience of modern true-wireless earbuds, the UE Drops might be worth your money. For most people, they're still going to seem pricey, especially given the lack of noise cancelation and relatively limited EQ options.
If you don't feel that custom molding is worth the price of admission, or you really want active noise cancellation (we get it, it's a great feature) and you're just looking for great sound and the full suite of features, you can certainly get something great — any of our recommendations for the best true wireless headphones for substantially less.