CNN Underscored reviews financial products such as credit cards and bank accounts based on their overall value, but does not review all financial companies or all available financial offers. We may receive compensation for sending traffic to partner sites, such as CreditCards.com, and this compensation may impact how and where links appear on this site. Terms apply to American Express benefits and offers. Enrollment may be required for select American Express benefits and offers. Visit americanexpress.com to learn more.
A vacation to any one of Orlando, Florida's theme parks can cost as much — if not more — than a vacation to the Caribbean or Europe. According to sample calculations from vacation planning site Orlando Informer, the average family of four drops between $2,200 and $4,500 on a four-night Universal Orlando vacation, excluding airfare.
The cost can be prohibitive or necessitate saving for years, but if you can make travel rewards part of your payment strategy — as my wife and I did for our October 2021 visit to Universal for its annual Halloween Horror Nights festival — you can cover a good chunk of the expenses. Here's how we saved more than $1,500 on our vacation — and how you can do it too.
How we saved on our flights
Orlando (MCO) is perennially one of the most popular domestic destinations from our home airport of Philadelphia (PHL). Competition between several airlines that fly this route and the robust supply of daily flights keep round-trip prices relatively reasonable throughout most of the year.
On the dates we were looking to travel, American Airlines was pricing flights at $225 for a round-trip ticket from Philadelphia to Orlando. While I would normally save my American miles and pay cash for a relatively inexpensive ticket like this, in the context of a trip with many extra costs, I chose to redeem 22,000 American Airlines AAdvantage miles, plus $11.20 in taxes and fees per ticket, to make the flights almost free. In total, we paid $22.40 out of pocket rather than $450 for the same flights.
If you don't have a stash of American miles, that's not a problem. American Airlines offers quite a few credit cards that can help you earn miles quickly. For example, with the Citi® / AAdvantage® Executive World Elite Mastercard®, you can earn 80,000 bonus miles once you spend $5,500 on the card in the first three months. In addition to the 80,000 bonus miles you'll get for meeting the minimum spending requirement, you'll also get additional benefits like an Admirals Club lounge membership, priority check-in and boarding and a free checked bag for holding the card.
For our flights, we elected to pay just $22.40 in taxes and fees after redeeming 44,000 American Airlines AAdvantage miles. This, as opposed to paying $450 for the same flights. When saving cash is the goal like it was for us, this 95% savings was a great opportunity.
How we saved on our hotel stay
When visiting Universal (or Disney World), staying on property will often make your vacation more pleasant and convenient. Yes, these hotels are generally more expensive — sometimes much more so — than staying off property, but factoring in added benefits and time saved, it could be worth it to pay a bit extra. And, if you can use travel rewards to bring the expense down, even better.
Universal Orlando operates eight on-property hotels across its value, prime value, preferred and premier tiers. For our trip, we looked at the preferred and premier tiers, which include the top resorts that are minutes by foot or boat to the park gates and come with extras. But they can also run $500 per night or more. We ended up booking at the Loews Sapphire Falls Resort, a 1,000-room property splashed with an island surfing motif, for $278 per night.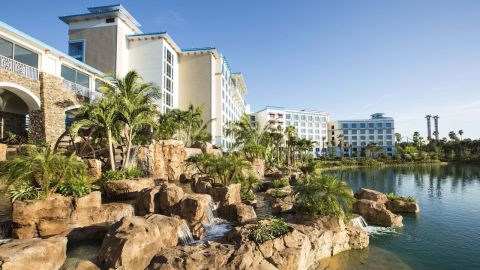 So, where did the savings come into play? I booked our stay through American Express' The Hotel Collection, which I get access to thanks to my Platinum Card® from American Express. Although this card comes with a high $695 annual fee (see rates and fees), it also comes with a long list of benefits that can help travelers save big on their trips. In fact, the benefits and savings to be had from the card can more than offset the fee.
For example, the Amex Platinum comes with an annual $200 credit on prepaid stays of at least two nights at properties in The Hotel Collection or Fine Hotels + Resorts, which can be booked through Amex Travel. Within days after booking the Loews Sapphire Falls for our trip, the full $200 credit was applied to my Amex Platinum account, dropping the total cost from $578 to $378. By booking through The Hotel Collection, the reservation also included a complimentary room upgrade and a $100 resort credit, which we used on breakfast, coffee and snacks during our stay. That credit effectively brought the hotel cost down another $100, making our $578 stay at Universal's second-best resort tier 50% off.
Compared to the $578 we were originally set to owe, we ended up paying just $278 (taking into account the $100 saved in hotel credits). In total, we were able to save about 52% on our stay — a big win to make our vacation more affordable.
How we saved on our park tickets
Park tickets are likely the largest expense on an Orlando theme park vacation. Universal operates two parks: Universal Studios and Islands of Adventure, plus a water park. Park ticket prices vary based on dates and discounts for multi-day bundles. Over our dates, a two-park ticket (one park per day with no park hopping) cost $274.50 per person — $549 for two. The Halloween Horror Nights event required a separate admission ticket that cost $80 per person — $160 for two. Plus, we decided to purchase skip-the-line passes for $170 per person — $340 for two. In total, tickets were set to cost us $1,049, the largest expense of our trip.
Since the Horror Nights admission was the least expensive of the three tickets we wanted to purchase, I paid outright for them and looked to two travel rewards programs to cover the other costs. For the base two-day park tickets, I booked directly through the Chase Ultimate Rewards travel portal. Using my Ultimate Rewards points through the portal, I paid about 44,000 points to cover the cost of the two tickets. This price will vary depending on the cash price of tickets.
The Chase Sapphire Preferred® Card, which has just a $95 annual fee and is one of our favorite cards for those new to travel rewards, is currently offering an 60,000-point sign-up bonus after spending $4,000 in the first three months. So, just from this sign-up bonus, you'd have more than enough points to cover the cost of two Universal tickets at the same rate we were charged.
For the cost of the express passes, I used my American Express Membership Rewards points to erase the $340 charge with about 56,000 points. The Platinum Card currently comes with a welcome bonus offer of 80,000 Membership Rewards points after spending $6,000 in the first six months of holding the card. While redeeming Amex Membership Rewards points to wipe costs off your statement isn't the best value use of your points (you'll get far better value by transferring them to travel partners), it can be a good option. For us, it made sense to redeem Membership Rewards points this way in order to make our Universal trip more affordable — and more enjoyable.
If we were to have paid for our entire ticket package (base tickets, Horror Nights admission and express passes), it would have cost $1,049 for two. However, by using travel rewards that I was able to earn from a range of travel credit cards, we were able to redeem points to help us cover the cost of our trip. We ended up paying just $160 out of pocket, representing about an 85% savings on the cash cost of the tickets for our trip.
The final calculation — and how you can do it too
Without travel rewards, the total price tag for this trip would have been a whopping $2,077 for my wife and me. Instead, we paid just $460.40 out of pocket — a savings of $1,616.60, or roughly 78%.
That's huge, especially with Orlando vacations only becoming more and more expensive and in demand as travel rebounds. Thankfully, our savings are easy to re-create if you're looking to plan a trip of your own this summer — or for 2022 Halloween Horror Nights at Universal.
When it comes to point currencies like Chase Ultimate Rewards and American Express Membership Rewards, you'll typically get the most value out of transferring them to airline and hotel partners. However, that's not your only option. If you're looking to save on your next Orlando theme park vacation, you can redeem your points to wipe charges off your statement or purchase tickets through travel portals. When it comes to travel rewards, your options are practically endless.
Click here for rates and fees of the Amex Platinum card.
Looking for a travel credit card? Find out which cards CNN Underscored chose as our best travel credit cards of 2022.