March 6, 2023 - Russia-Ukraine news
12:03 a.m. ET, March 7, 2023
Our live coverage of Russia's war in Ukraine has moved here.
12:27 a.m. ET, March 7, 2023
China's foreign minister equates possible supply of weapons to Russia with US military support for Taiwan
From CNN's Beijing bureau
China's foreign minister on Tuesday equated any possible future military support from Beijing for Russia's war in Ukraine with US weapons sales to the self-ruled island of Taiwan.
"Why does the US ask China not to provide weapons to Russia while it keeps selling arms to Taiwan?" Foreign Minister Qin Gang asked during a news conference.
Qin said it was "absurd" for "senior US officials" to be interjecting in the issue of Taiwan, which he said is a "matter for the Chinese people."
"No other country has the right to interfere in it," he said.
China's ruling Communist Party sees democratic Taiwan as part of its territory, despite never having controlled it, and Chinese leader Xi Jinping has repeatedly refused to rule out the use of force in "reunifying" it with the Chinese mainland.
Qin reiterated Beijing's long held stance on Tuesday, refusing to rule out the use of force to bring Taiwan under its control.
"We will continue to work with the greatest sincerity and utmost efforts to pursue peaceful reunification," he said. "Meanwhile, we reserve the option of taking all necessary measures."
In terms of the Russia-Ukraine conflict, Qin said Tuesday that "China did not create the crisis, it is not a party to the crisis and has not provided weapons to either side."
"China always makes its own judgment and decides on this position independently based on the merit of the issue," Qin said." Between war and peace, we have chosen peace; between sanctions and dialogue, we have chosen dialogue; between fanning the flames and lowering the temperature, we have chosen the latter."
Some context: Beijing's efforts to present itself as peacemaker in the Ukraine war have been severely undermined by its refusal to acknowledge the nature of the conflict — it has so far avoided calling it an "invasion" — and its diplomatic and economic support for Moscow.
10:42 p.m. ET, March 6, 2023
Russia-China relations are "imperative" in an unstable world, China's foreign minister says
From CNN's Beijing bureau
Good relations between Beijing and Moscow are essential in this unstable world, China's foreign minister said Tuesday.
"The more unstable the world becomes, the more imperative it is for China and Russia to steadily advance their relations," Qin Gang said.
The minister was speaking during a news conference outlining China's foreign policy on the sidelines of the country's 14th National People's Congress. 
"China and Russia is based on no alliance and no confrontation and is not targeted at any third party. It is not a threat to any country," he added.
Later in the news conference, Qin said "the process of peace talks should begin as soon as possible" to resolve the conflict in Ukraine, and that "sanctions and pressure will not solve the problem."
"The Ukraine crisis has come to a critical juncture," he said. "Either hostilities stop and peace is restored and the process of political settlement begins, or more fuel is added to the flames and the crisis further expands and spirals out of control."
Some context: US officials have warned in recent weeks that intelligence suggests China is considering sending lethal aid to Russia, which Beijing has denied.
US Secretary of State Antony Blinken last week cautioned that arming Moscow's forces would cause China serious problems around the world.
"China can't have it both ways when it comes to … the Russian aggression in Ukraine. It can't be putting forward peace proposals on the one hand, while actually feeding the flames of the fire that Russia has started with the other hand," Blinken said.
This post has been updated with additional comments from Qin on the Ukraine war.
10:07 p.m. ET, March 6, 2023
Moscow court prolongs pre-trial detention of opposition politician Kara-Murza
From CNN's Zahra Ullah, Josh Pennington and Jonny Hallam
A Moscow court on Monday prolonged the pre-trial detention of jailed Russian opposition figure Vladimir Kara-Murza who stands accused of spreading "fake" information about the Russian military.
Kara-Murza was charged with high treason, the court's press service told the Russian state news agency TASS. The hearing was conducted behind closed doors as it contained confidential materials, the news agency said.   
In a short video released by the court, a judge can be heard off-camera informing the defendant, "The court decided to reserve the measure of preventative detention for the accused Kara-Murza, which has been extended until August 27, 2023."
The next hearing has been scheduled for March 15, TASS reported. Kara-Murza faces up to 20 years in prison. 
His, wife, Evgenia Kara-Murza, said his attorney believes a trial will likely take place within 2 weeks.
"I do not believe that the court will somehow decide that my husband is innocent — although he of course is — because there is no justice system left in Russia, no independent justice system left in Russia. And courts in Russia are a sham," she told CNN's Erin Burnett on Monday.
In addition, some of the symptoms suffered by the activist after he was twice poisoned are coming back due to conditions in prison, particularly after he was placed in solitary confinement, she said.
Some background: Kara-Murza has been incredibly critical of President Vladimir Putin and Russia's war in Ukraine, and he continues to speak out even as he is detained.
In March 2022, Kara-Murza addressed the Arizona House of Representatives and spoke out against the war. In an April 2022 interview with CNN, he called Putin's government "a regime of murderers." He was arrested shortly thereafter for "failing to obey the orders of law enforcement," according to his wife.
On Friday, the US imposed sanctions on a number of Russian individuals connected to Kara-Murza's detention.
8:51 p.m. ET, March 6, 2023
Ukraine says it won't concede Bakhmut to Russian forces. Here's the latest on the war
From CNN staff
Ukrainian leaders doubled down Monday on the defense of Bakhmut, saying they won't concede the eastern city to Russia, despite the grinding and brutal warfare that has raged for months.
Russian forces have made gradual gains — but at a huge cost in terms of casualties, according to a NATO estimate – but President Volodymyr Zelensky said that on the advice of his commanders, he was sending reinforcements to support the city's defense.
"I told the chief of staff to find the appropriate forces to help the guys in Bakhmut. There is no such part of Ukraine that can be abandoned," he said.
He also pledged to find those responsible for the killing of an unarmed soldier that was caught in a widely circulated video. CNN has not been able to independently verify the identity of the executed prisoner, where he was shot, and who shot him.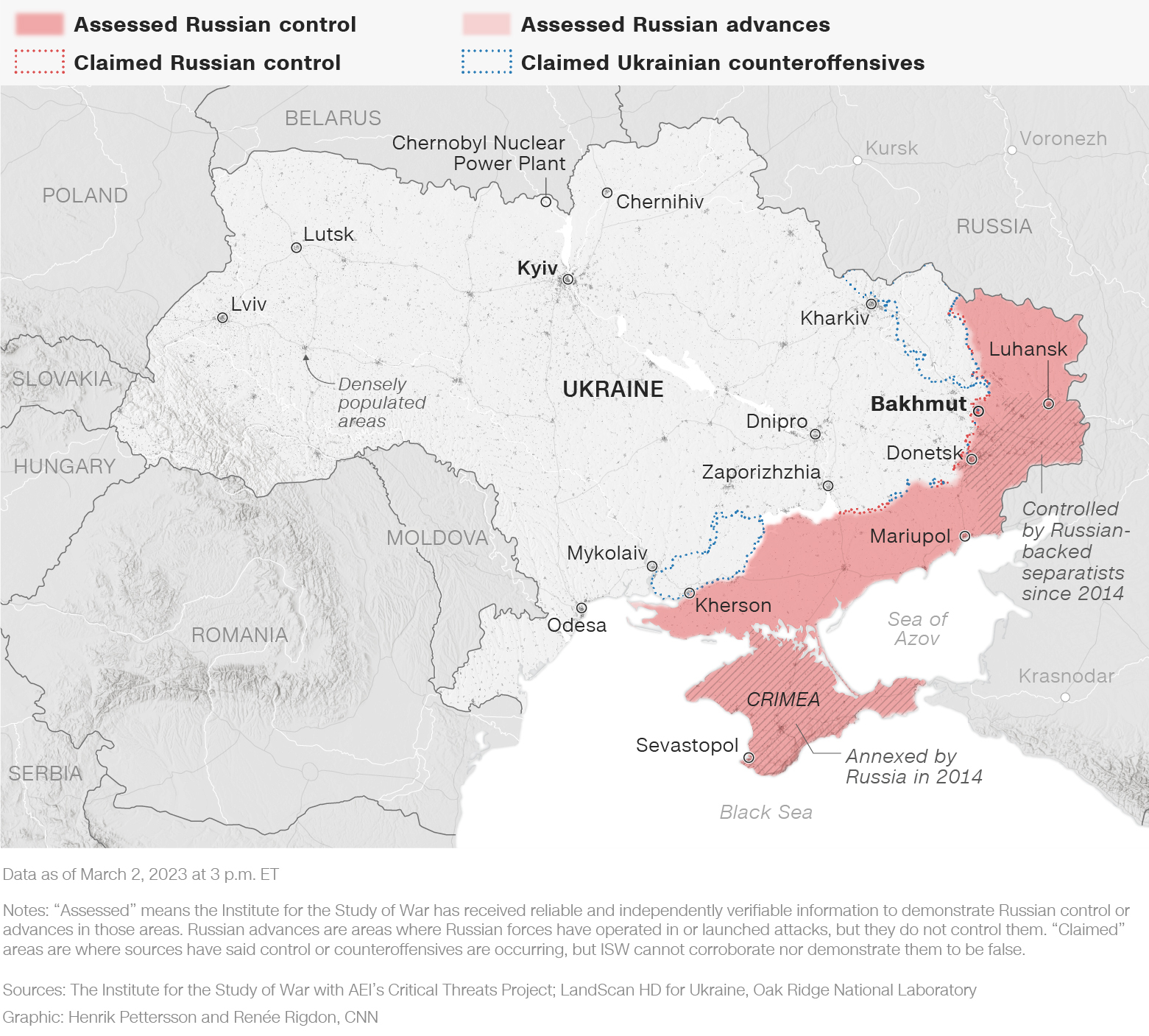 Here are the top headlines to know:
5:51 p.m. ET, March 6, 2023
US and Lithuania commit to support Kyiv "until Ukraine prevails" while calling on other allies to do the same
From CNN's Jennifer Hansler
The United States and Lithuania on Monday committed their continued support to Kyiv "until Ukraine prevails" and called on other allies to do the same — a seemingly tacit message to leaders that may seek to look for off-ramps as the war continues with no signs of abating.
In a joint statement following their meeting in Washington, DC, Secretary of State Antony Blinken and Foreign Minister Gabrielius Landsbergis said their countries will keep helping Ukraine "to alleviate the suffering of its people and to defend its sovereignty and territorial integrity within its internationally recognized borders."
The leaders also reiterated calls for Russia to end the war and withdraw all of its troops and equipment, the statement said.
They also "committed to continue imposing strong economic costs on Russia through sanctions and pursuing accountability for those responsible for Russia's attacks." 
Officials from Lithuania, a Baltic state that will host this year's NATO heads of state summit in its capital city of Vilnius, have been some of the most hawkish about the war and the need for Ukraine's victory. 
4:58 p.m. ET, March 6, 2023
Arizona Air National Guard conducting evaluation of Ukrainian pilots for possible F-16 training, officials say
From CNN's Oren Liebermann and Natasha Bertrand
A group of Ukrainian pilots are in the United States for evaluations being conducted by the Arizona Air National Guard, according to two United States officials.
The 162nd Fighter Wing, which flies F-16 fighter jets, is based at Tucson International Airport and trains international aircrews on the fourth-generation aircraft, according to the officials. The Wing's website said it has trained pilots from 25 countries that currently operate the F-16.
One of the officials said 10 more Ukrainian pilots may come to the US for the same evaluation and assessment. 
Some background: The pilots are in the US for a "familiarization event" and "a routine activity" between the US Air Force and the Ukrainian pilots, a US military official said over the weekend. However, the official said "there are no updates to provide regarding F-16's to Ukraine" and there are no immediate plans to increase the number of Ukrainian pilots in the US. 
"This event allows us to better help Ukrainian pilots become more effective pilots and better advise them on how to develop their own capabilities," the official said in the statement. 
Top Ukrainian officials have been asking for fighter jets from the US, arguing they need them urgently to defend against Russian missile and drone attacks. But that push is being met with skepticism by US and allied officials who say the jets would be impractical, both because they require considerable training and because Russia has extensive anti-aircraft systems that could easily shoot them down.
CNN's Aaron Pellish and Chloe Liu contributed to this report.
6:43 p.m. ET, March 6, 2023
Zelensky orders reinforcement of Bakhmut, saying that no part of Ukraine can be abandoned
From CNN's Vasco Cotovio and Yulia Kesaieva
President Volodymyr Zelensky said Monday he ordered the reinforcement of positions inside the city of Bakhmut, explaining that there was no part of Ukraine that could be abandoned.
The president said he took the decision after consulting with the military leadership.
"I told the chief of staff to find the appropriate forces to help the guys in Bakhmut. There is no such part of Ukraine that can be abandoned," Zelensky said. "There is no Ukrainian trench in which the resilience and heroism of our soldiers would not be valuable."
Zelensky also seemed to address rumors of a Ukrainian withdrawal from the eastern city, referring to those as "disinformation messages," coming from those who didn't have access to the confidential decision-making briefings where such a decision would have to be taken.
Zelensky said that Ukraine would defend every inch of its country.
"We are defending and will continue to defend every part of Ukraine," he said. "When the time comes, we will liberate every city and village in our country. And we will make the occupier answer for every shot against Ukraine, for every vile act against Ukrainians."
4:20 p.m. ET, March 6, 2023
"We will find the murderers," Zelensky vows in response to video showing killing of unarmed Ukrainian soldier
From CNN's Yulia Kesaieva, Victoria Butenko and Vasco Cotovio
President Volodymyr Zelensky promised Ukraine would find those responsible for killing an unarmed Ukrainian soldier.
His comments Monday were in response to a video showing an unarmed soldier in Ukrainian combat fatigues smoking a cigarette near what appears to be a fighting position. The man is then shown pulling the cigarette from his mouth, blowing out the smoke and can be heard saying "Slava Ukraini" (Glory to Ukraine), before fighters off camera fire several shots at him. 
"Today, a video has been released showing how the occupiers brutally killed a warrior who bravely said to their faces: "Glory to Ukraine!," Zelensky said in his nightly address. "I want us all to respond to his words in unity: "Glory to the hero! Glory to heroes! Glory to Ukraine!"
"We will find the murderers," he added.
Zelensky added Ukraine would never forget those who had died for their country and thanked those currently on the battlefield.
Some background: Ukrainian Foreign Minister Dmytro Kuleba blamed Russia and said it was additional proof that Moscow's invasion was "genocidal." The Ukrainian Parliament Commissioner for Human Rights Dmytro Lubinets, among several others, said he has shared the video with international partners as "evidence of yet another Russian war crime."
CNN has not been able to independently verify the identity of the executed POW, where he was shot, and who shot him. CNN has reached out to the Ukrainian Ministry of Defense to get further details. 
CNN has also reached out to the Russian Ministry of Defense but has yet to hear back. Russia has consistently denied accusations that it or its soldiers have committed war crimes during what it calls a "special military operation" in Ukraine, despite overwhelming evidence to the contrary.