September 15, 2023 Russia-Ukraine news
9:27 p.m. ET, September 15, 2023
Our live coverage for the day has ended. Follow the latest Ukraine news here or read through the updates below.
9:29 p.m. ET, September 15, 2023
Liberating village of Andriivka was essential toward advancing around Bakhmut, Ukrainian commander says
From CNN's Mariya Knight 
The liberation of Andriivka village in the fiercely contested areas around the city of Bakhmut in eastern Ukraine was essential for "further advancement," a top commander said Friday. 
"The task of Ukrainian forces in this area is to surround Bakhmut, and without Andriivka it is impossible to achieve this," Maksym Zhorin, deputy commander of the 3rd Assault Brigade, said on Telegram.
Zhorin also noted that liberating Andriivka means "full control over the railroad, which is a stronghold for further offensive." 
Ukrainian President Volodymyr Zelensky congratulated the 3rd Assault Brigade and all involved in retaking Andriivka in his nightly address Friday, calling it "a significant and much-needed result." Active battles continue around the villages of Klishchiivka and Kurdiumivka near Bakhmut, he said.
Ukraine's military leadership, in an update Friday, said its forces were partially successful around Klishchiivka. 
Some context: Ukraine's recapture of Andriivka, a village south of Bakhmut, marked a symbolic and strategic victory for Kyiv's forces. 
Bakhmut sits toward the northeast of the Donetsk region, about 13 miles from the Luhansk region, and has long been a target for Russian forces.
Russian forces claimed control in May following a months-long slog in the city where soldiers had to grind for every inch of territory. The Russian advance was bolstered by members of the Wagner mercenary group, which incurred heavy losses in the fierce fighting.
9:27 p.m. ET, September 15, 2023
EU cancels restrictive measures against Ukraine's agricultural exports
From CNN's Mariya Knight
Ukrainian President Volodymyr Zelensky welcomed the European Commission's decision to cancel restrictive measures against Ukraine's agricultural exports on Friday. 
"Restrictive measures against our agricultural exports by the European Union have been cancelled," Zelensky said in his nightly address. "Now, it is important that European unity works on a bilateral level – with the neighbors," he said.  
The European Commission wrote in a statement Friday that "Ukraine has agreed to introduce any legal measures (including, for example, an export licensing system) within 30 days to avoid grain surges."
Until then, Ukraine must put in place effective export control measures to "prevent any market distortions in neighboring member states." Kyiv must submit "an Action Plan" to the European Commission's Coordination Platform no later than September 18, according to the commission.
"The European Commission will refrain from imposing any restrictions as long as the effective measures by Ukraine are in place and fully working," the statement read.  
On May 2, the EU adopted a temporary measure that banned wheat, maize, rapeseed and sunflower seed originating in Ukraine from being exported to Bulgaria, Hungary, Poland, Romania and Slovakia, after those countries raised concerns over local farmers being undercut by cheap Ukrainian grain.  
9:06 p.m. ET, September 15, 2023
Kim Jong Un "deeply impressed" by Russian aircraft manufacturing industry, state media reports
From CNN's Yoonjung Seo in Seoul 
North Korean leader Kim Jong Un was "deeply impressed by the rich independent potential and modernity of the Russian aircraft manufacturing industry" at the Komsomolsk-on-Amur Yuri Gagarin Aviation Plant he visited on Friday, North Korean state media KCNA reported Saturday.
Kim toured a designing institute, a fighter jet fuselage assembly shop, a wing production shop, a painting shop and an airliner assembly shop, according to KCNA. 
Kim met test pilots and got on a Su-57 to hear a detailed explanation and flight performance of the fifth-generation fighter jet, KCNA said, adding that he watched the test flight of the fighter jet.
The North Korean leader "expressed sincere regard for Russia's aviation technology undergoing rapid development, outpacing the outside potential threats, and wished the plant success in its future development," KCNA reported. 
After the tour and a luncheon, Kim left a message in the visitor's book saying:
"Witnessing the rapid development of Russia's aviation technology and its gigantic potential 2023. 9. 15 Kim Jong Un" and left for his next destination, without revealing the destination, according to KCNA.
Some context: This was Kim's fourth day in Russia and followed a lengthy meeting with President Vladimir Putin on Wednesday.
The two leaders did not sign any agreements during their summit, a Kremlin spokesperson said Friday
However, ahead of the meeting, the US government had warned that Russia and North Korea were "actively advancing" their negotiations over a potential arms deal that could see Pyongyang provide weapons for Moscow to use in its invasion of Ukraine in exchange for sanctioned ballistic missile technology.
6:56 p.m. ET, September 15, 2023
World leader meetups, destroyed vessels and other headlines you should know
From CNN staff
President Vladimir Putin met with Belarusian President Alexander Lukashenko on Friday in the southwestern city of Sochi where the two leaders discussed the state of their economies, as well as recent talks between Moscow and Pyongyang, according to the Russian leader.
The meeting comes just days after the European Parliament labeled Lukashenko "an accomplice" in the war crimes committed by Russia in Ukraine, and labeled Belarus "a satellite state of Russia."
Here are other headlines you should know: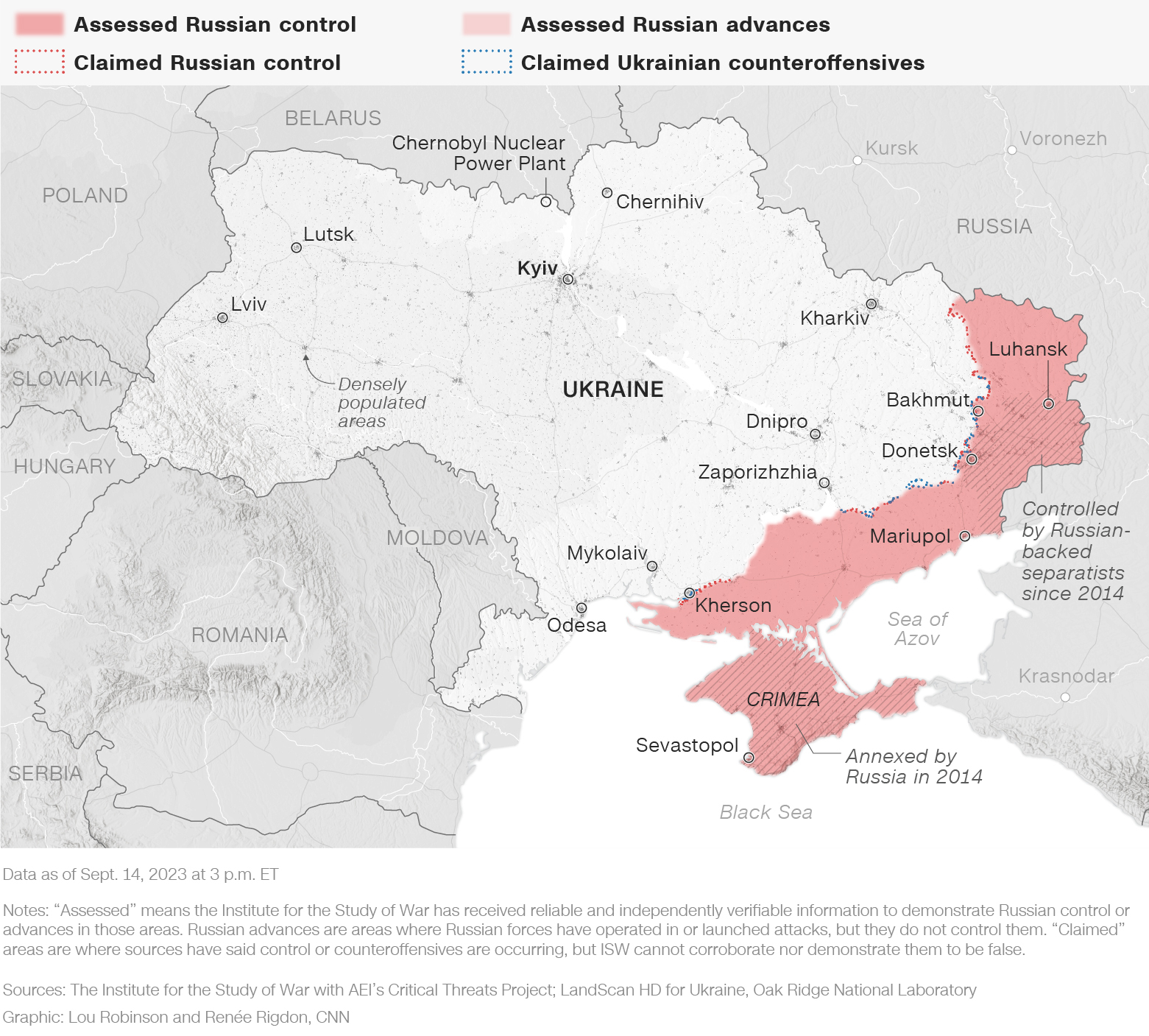 4:09 p.m. ET, September 15, 2023
Sullivan says he senses bipartisan support from congressional leaders for additional aid for Ukraine
From CNN's Donald Judd
National Security Adviser Jake Sullivan met with Senate leadership last week and House leadership Thursday to discuss support for Ukraine.
He told reporters on Friday that he got the sense there was backing for bipartisan support for Ukraine from leaders on both sides of the aisle even as some House Republicans have signaled they may block additional aid.
"I've got to say, in those conversations, I felt the basic vibe, so to speak, the idea that the United States needs to come together on a bipartisan basis to support Ukraine felt as strong as it did a year ago, on both sides of the aisle," he said.
Last week, CNN reported the White House was ramping up pressure on House Speaker Kevin McCarthy to approve its request to tie aid for Ukraine with increased disaster relief funding ahead of a government funding showdown.
But tension among Republicans in Congress is mounting as lawmakers face an end-of-month deadline to avoid a government shutdown. The White House has called on Congress to pass a short-term spending bill to keep the government running while congressional leaders hash out major differences.
Though Sullivan expressed optimism that there was an appetite for a bipartisan aid package, he admitted the dynamics have changed since Republicans took control of the House last year.
"I acknowledge that there's a difference between this Congress in the last Congress, and we'll have to contend with that as we go through the discussions that will continue in the days ahead on how to get Ukraine the resources it needs," he said.
Still, he pointed to Ukrainian President Volodymyr Zelensky's visit to Washington — and Capitol Hill — next week as a sign there might be progress on Ukraine aid soon.
4:09 p.m. ET, September 15, 2023
US national security adviser says G20 declaration was "powerful" despite stopping short of condemning Russia
From CNN's Donald Judd
US national security adviser Jake Sullivan defended the final declaration from last week's Group of 20 summit, which stopped short of explicitly condemning Russia's invasion of Ukraine.
Sullivan hasn't received "any kind of formal — or really, informal — reaction from Ukraine with respect to the G20 communique," he said at a briefing Friday.
Rather, the national security adviser said, Ukraine remains focused on engaging with other countries at peace summits — like the ones held this summer in Denmark and Saudi Arabia — where leaders can "find a way forward toward a common understanding of the principles upon which the just peace should be based."
Sullivan said the conversations at those two summits actually "bear a strong resemblance" to the propositions laid out in the G20 communique.
He listed the declaration's four key tenets in regard to Ukraine: "First, the paramount centrality of territorial integrity and sovereignty; second, the statement that it is totally unacceptable for any country to use force to violate the territorial integrity of another country; third, that attacking grain infrastructure and civilian infrastructure should be totally off limits; and fourth, the threat or use of nuclear weapons in a conflict like this should be inadmissible."
Sullivan pushed back against the idea that the communique was "tepid" in its support for Ukraine, saying those four propositions are "powerful."
Rather than statements of neutrality, he argued, they "really say to Russia, 'What you are doing is not acceptable.'"
4:08 p.m. ET, September 15, 2023
Biden will meet with Zelensky at the White House next week
From CNN's Donald Judd
US President Joe Biden will host Ukrainian President Volodymyr Zelensky at the White House on Thursday.
This will be Zelensky's third White House meeting, National Security Advisor Jake Sullivan told reporters during Friday's press briefing. 
It "certainly comes at a critical time, as Russia desperately seeks help from countries like North Korea for its brutal war in Ukraine, as Ukrainian forces continue to make progress in their counteroffensive," Sullivan said.
"President Biden looks forward to hearing President Zelensky's perspective on all of this, and to reaffirm for the world, and for the United States, for the American people his commitment to continuing to lead the world in supporting Ukraine as it defends its independence, its sovereignty and its territorial integrity," he added. 
Zelensky's visit to Washington comes at a crucial time as some House Republicans have signaled displeasure at additional funding for Ukraine.
"I think he's looking forward to the opportunity, not just to see President Biden here at the White House, but also to see congressional leaders from both parties, to make the case that the United States has been a great friend and partner to Ukraine throughout this entire brutal war and that the United States should continue to do that," Sullivan said.
CNN reported yesterday that Zelensky would also visit Capitol Hill during the trip.
1:34 p.m. ET, September 15, 2023
Ukraine claims ships hit in Sevastopol attack represent "irreparable loss" to Russia
From CNN's Yulia Kesaieva, Andrew Carey, Mariya Knight and Jessie Yeung
Ukraine identified the ships hit in its attack against a Russian naval base in occupied Crimea, claiming the vessels are beyond repair.
The attack early Wednesday morning in Sevastopol, the largest city in Crimea, marks Ukraine's most ambitious strike on the port since the war began and comes as Kyiv steps up missile and drone strikes on the peninsula.
On Wednesday, Andrii Yusov, a representative of the Defense Intelligence of Ukraine, said the landing ship Minsk and the submarine Rostov-on-Don had been destroyed in the attack. Both had been undergoing repairs at the time.
Speaking to Ukrainian media, Yusov called the destruction of the landing ship an "irreparable loss" to the Russian sea fleet, because, as he claimed, Russians do not produce such ships any longer. He added that the Defense Intelligence doesn't want to get into the details of what weapon was used to hit the shipyard, but that the demilitarization of occupied Ukrainian territories is underway. 
CNN cannot independently verify Ukraine's claims.
Some context: In recent weeks Ukraine has focused its efforts on Crimea, which was illegally annexed by Russia in 2014, and is a strategically vital logistics hub for Russia's war effort due to its location on the Black Sea.
Kyiv insists its strikes on naval bases and vessels in Crimea are an integral part of their counteroffensive strategy, intended to isolate the peninsula and make it more difficult for Russia to sustain its military operations on the Ukrainian mainland, a Ukrainian source familiar with the strategy told CNN.
Read more here.