Editor's Note: This article was originally published in June 2019.
When bids for Leonardo da Vinci's "Salvator Mundi" hit $200 million there was an audible gasp in the auction room. At the $300 million mark, onlookers broke into applause.
By the time the painting sold for $450.3 million, Christie's in New York had witnessed one of the most dramatic moments in recent art history. Once dismissed as a copy and sold for just £45 ($57) in the 1950s, this mysterious depiction of Christ had become – by some considerable margin – the most expensive artwork ever to appear at auction.
And the drama didn't stop there.
"Salvator Mundi" hasn't been seen in public since that evening in November 2017. Its whereabouts have become the source of intense speculation after the Louvre Abu Dhabi, which had previously announced it would display the painting, last year postponed the grand unveiling without explanation.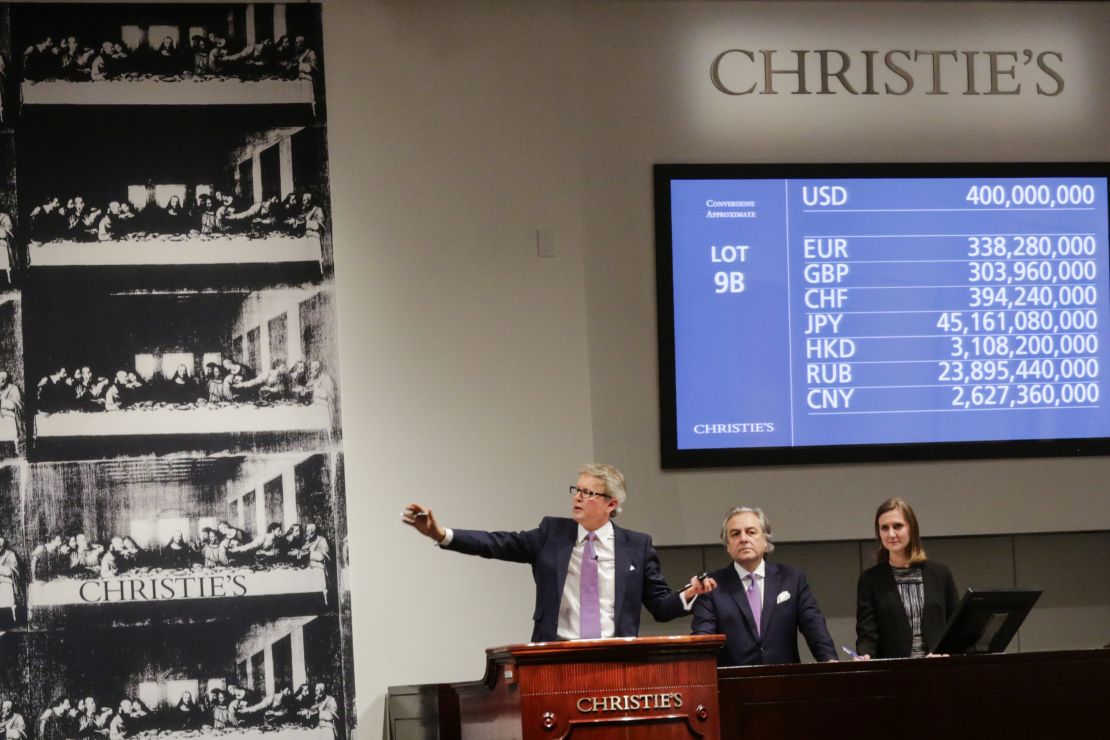 The most common theory is that the 500-year-old artwork is sitting in storage in Switzerland – specifically in Geneva, where, according to The New York Times, more than a million works of art are kept in secretive tax-free warehouses by collectors and galleries. But last week, another theory emerged in an opinion piece by art dealer Kenny Schachter published on Artnet: that the last known privately-held Leonardo is on a luxury yacht owned by Saudi Arabia's Crown Prince Mohammad Bin Salman.
It is widely thought that the record-breaking bid was made on behalf of bin Salman by his friend, ally and fellow Saudi prince, Badr bin Abdullah bin Mohammed bin Farhan al-Saud. Shortly after the allegation emerged in 2017, the Saudi Embassy in Washington published a statement claiming that Prince Badr had, in fact, been asked to act as an intermediary for the Abu Dhabi Department of Culture and Tourism, not the crown prince. But bin Salman, often known as MBS, has himself never publicly confirmed or denied his role in the purchase.
Art world mystery
The yacht story may not be as farfetched as it seems, according to Ben Lewis, author of "The Last Leonardo," a book detailing the mystery and controversy surrounding the painting.
"It's either on the yacht or in a Geneva lock-up, and I'm slowly coming to the conclusion that the yacht is really quite plausible," he said in a phone interview, adding: "But I would suggest that it may not be the safest environment in which to hang up this picture."
Lewis' growing conviction centers on an account by Dianne Modestini, the conservator responsible for restoring the "Salvator Mundi" ahead of the $450 million sale. She told CNN that, about a year after the auction, she was contacted by a Swiss restorer looking for advice on how to safely transport the fragile painting to France, with the suggestion it was headed for the Louvre in Paris.
Yet, the painting appear