Editor's Note: In Snap, we look at the power of a single photograph, chronicling stories about how both modern and historical images have been made.
A group of men lie at the foot of a sofa, their naked bodies peeking out through a carpet of rose petals. Some look toward the photograph's protagonist, an Asian woman in a lime green dress laying across the cushioned loveseat. Others gaze away, seemingly indifferent, as if caught in some sort of hazy spell.
Despite Chinese photographer Yushi Li's gentle staging, her title for the photograph, "The Smothering Dream," suggests something more sinister is at play. Referencing Dutch painter Lawrence Alma-Tadema's 1888 work "The Roses of Heliogabalus," in which a Roman emperor watches on as unsuspecting banquet guests slowly suffocate in flowers, Li's modern take — shot on a set awash with pastel colors and delicate furniture — is equally deceptive at first glance.
Li, is not only the photographer, but also the muse at the center of the image. "I made this very pink and kitsch dream," she said, describing the London living room set in a phone interview. "But underneath it, there is, like, some kind of violence. It's a fantasy of love and eroticism… smothering these men I desire."
Shot in 2022, "The Smothering Dream" was recently on show at Photofairs Shanghai as part of a group exhibition called "A Quiet Gaze." It was a fitting title to showcase the work of an artist for whom an examination of the male and female gazes has been a recurring theme.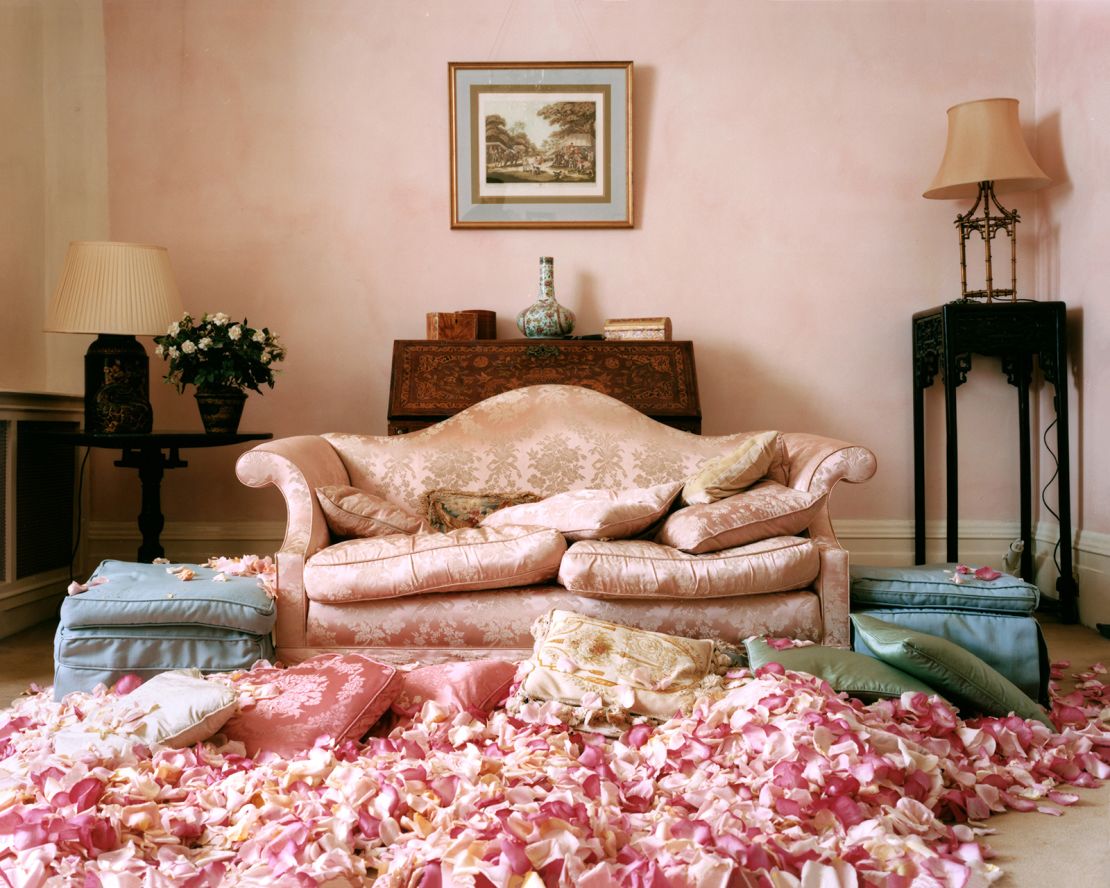 Li's wider portfolio of subversive images include softly-lit nude portraits of strangers she scouted through a dating app (a series titled "My Tinder Boys"). Stripped of their clothes and therefore their character, she said, the men lounge around their homes doing banal tasks: one scoops out of a fresh watermelon, while another casually balances a plate of spaghetti over his private parts.
The series is partly a response to erotic images objectifying women that are historically ubiquitous in art, advertisements and photography. Although a canon of male nudes does exist, it largely comprises images shot by gay male photographers. When Li began the series in 2017, she noticed a lack of images depicting naked men as objects of desire from a woman's perspective.
After some mistook her work as being shot by a male photographer, she began inserting herself into the photos — fully clothed alongside naked counterparts, and often the only person looking directly at the camera.
"Instead of being a passive, 'looked-at' thing, I want to be the one who is in control, who is creating the story, who is expressing my fantasy," said Li.
Her images have also pushed back against the longstanding fetishization of Asian women, often by Western men, something Li said she has experienced first-hand: "I'm a small person, and come across as quiet, so I kind of fit the stereotype." Li, who was born in China's Hunan province and now lives in the UK.
She said she feels flattered when women reach out to her online to say they feel empowered by her photographs. "As a woman, especially as an Asian or Chinese woman, you (should be able to) feel that you can also express your erotic desire."
Who's in power?
Li has been fascinated with how the idea of the gaze has, today, become "less binary." She has also been examining and playing with the way classical paintings depict power dynamics, portrayals of desire and representations of the body.
She brings these ideas into "Paintings, Dreams and Love," an ongoing project to which "The Smothering Dream" belongs. (A second photo from the same shoot, entitled "After the Dream," hints at what has just taken place, with satin cushions and wilted petals strewn about the scene).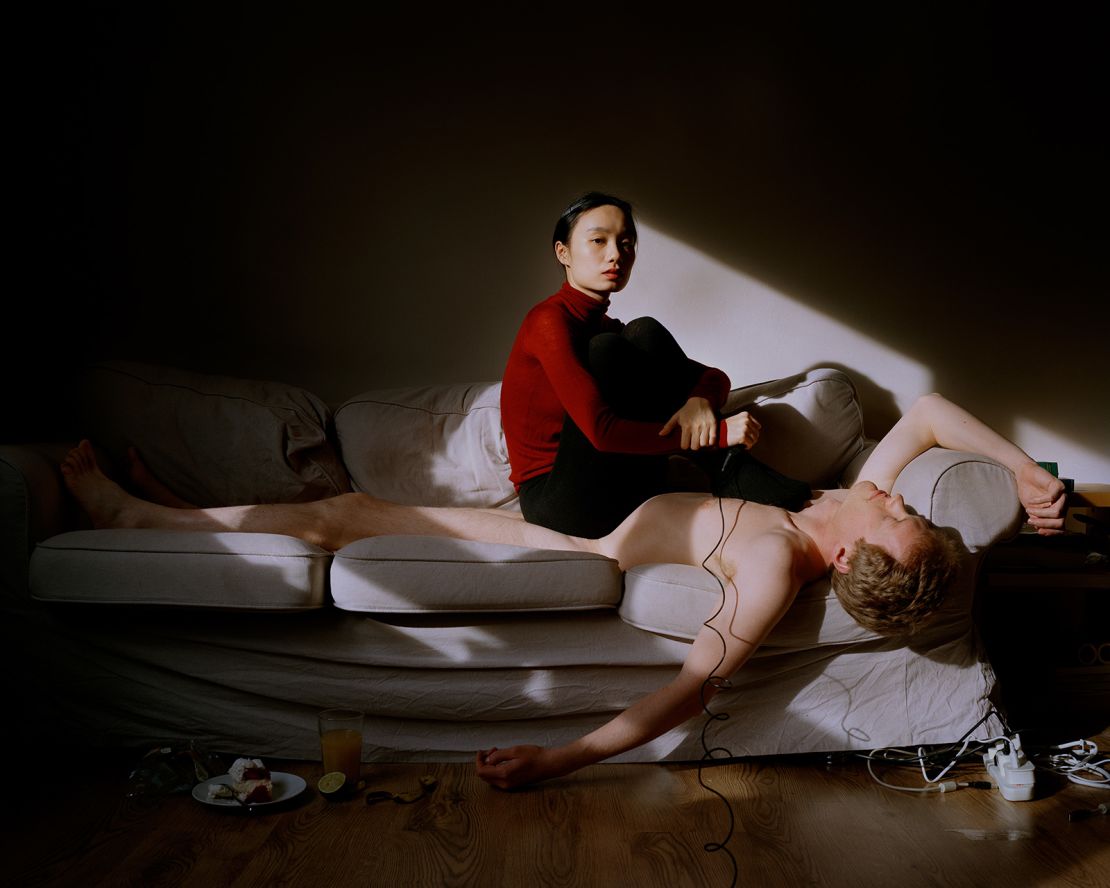 Other sources of inspiration include Swiss painter Henry Fuseli's 1781 "The Nightmare," showing an incubus crouching menacingly atop a sleeping woman, and "The Death of Actaeon," Renaissance painter Titian's 16th-century oil painting of the Romans' goddess of the hunt, Diana, transforming the Theban hero into a stag that is then killed by his own hounds.
In Li's reinterpretations, she is in full control. In the former, she wears a tight, red turtleneck as she casually sits on an unsuspecting male figure, thwarting the idea of seduction. In the latter, she strikes a calm, calculated pose, pointing a bow and arrow at a naked man in a window.
But control, Li says, is subjective in images where multiple gazes can co-exist. "Some of these men (in the photographs) also look at me, and the viewer also looks at all of us," she said. The internet age, she added, has only further complicated matters. "Now you can look at so many things like instantly, everywhere, or wherever, whenever you want… it's something very different, it's not (just) a physical thing, it's a digital thing.
"There's also the gaze from the algorithm, and the gaze from the screen that reflects yourself when you look at it… the internet (means) we're subjected to the gaze more, in a way."