San Pedro de Atacama, Chile
CNN
—
Northern Chile's Atacama Desert is the driest and, it's been argued, oldest desert in the world – characteristics that might lead travelers to believe it's an arid, windswept wasteland with little or nothing to see.
A few days spent exploring its vast expanse, however, reveal the opposite.
It turns out the Atacama, with its rust-colored rock canyons, snow-capped volcanoes, steaming, gurgling geysers and turquoise sinkhole lakes, is home to dozens of species of plants and animals and a wonderful array of geological features.
Seeing all that this otherworldly landscape has to offer requires some effort, but it more than pays off.
Lay of the land
To fully appreciate the Atacama is to understand its jaw-dropping dimensions.
The desert sprawls over more than 40,000 square miles in northern Chile, making it only slightly smaller than the Mojave in the southwestern United States. It's roughly 600 miles in length from north to south, spilling over Chile's borders into Peru, Bolivia and Argentina.
What earns the Atacama the title of world's driest desert is, in large part, its position between the Cordillera de la Costa mountain range to the west and the Andes to the east, with surrounding elevations ranging from 5,000 feet to 16,000 feet.
The mountains and other environmental factors prevent would-be precipitation from reaching the Atacama, creating a so-called rain shadow.
On average, the Atacama receives less than one millimeter of rainfall each year. Research shows that some of the Atacama's riverbeds have been dry for 120,000 years, and some pockets of the South American desert are said to have never seen rain at all.
Make your base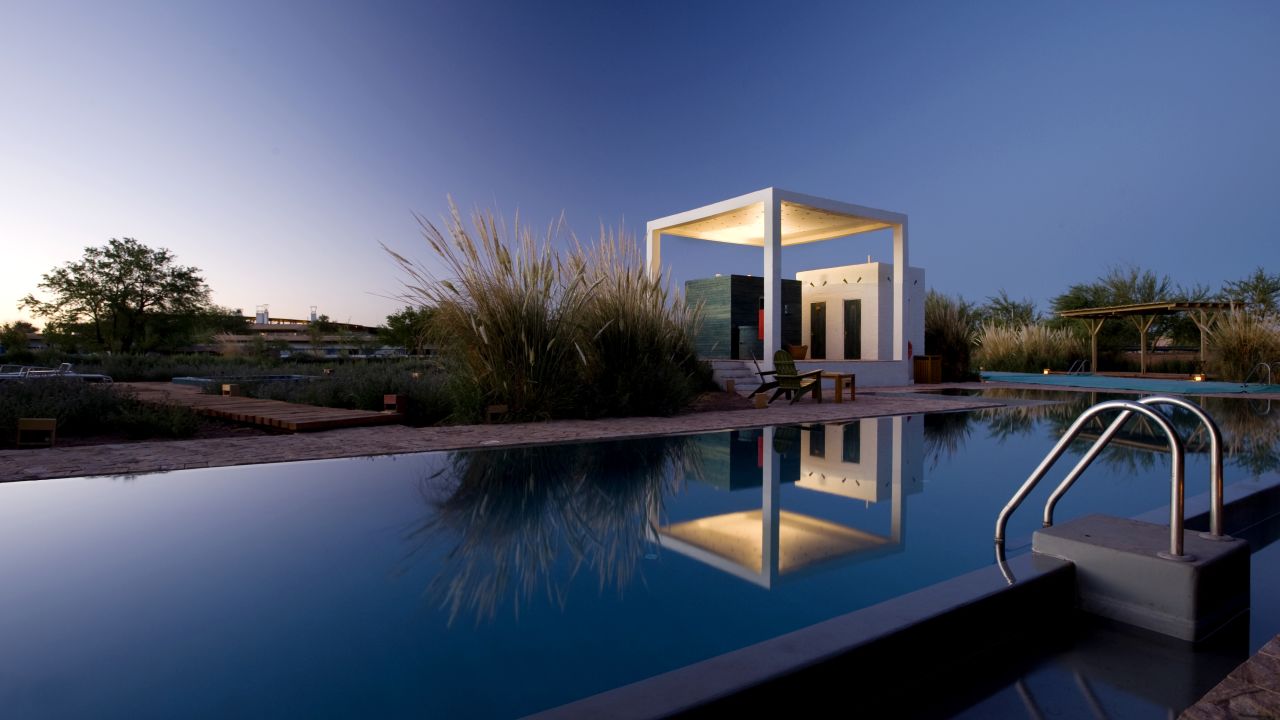 The best way to explore the Atacama is by making your base at a hotel or lodge located within its borders.
One such hotel is Explora Atacama, tucked discreetly on 17 hectares off a narrow, dusty road in San Pedro de Atacama, a desert town 2,500 meters above sea level.
Designed by Chilean architect Germán del Sol in 2000 and partially rebuilt in 2017 following a sweeping fire, the stylishly minimalist property is awash in white and was intended to blend seamlessly with its surroundings.
Founded in 1993, Explora, which has properties in Chile, Peru, Argentina and Bolivia, pioneered eco-tourism in the area by guiding guests on "explorations" into all reaches of the Atacama.
With its own spa, four outdoor swimming pools, horse stables, airy lounge areas, restaurant and bar, Explora Atacama is more accurately described as an adventure lodge than as simply a hotel.
Here, downtime is well spent sipping a glass of Chilean Sauvignon Blanc at the sleek Explorer's Bar, tucking into a plate of hearty pasta or flaky fish on the restaurant's wraparound veranda or simply savoring the tech-free silence of its delightfully simple rooms and suites.
A plus for fussy packers: Hiking boots and dust-covered walking gear are welcome on property practically anywhere, any time.
Go wild
Today, Explora's 40-plus explorations in the Atacama, each with its own name, are a half- or full-day in duration and completed on foot, bike or horseback. Those that take guests to the desert's higher elevations require anywhere from one to six nights' prior acclimatization.
But there's plenty for beginners to see.
The half-day Kari expedition, which requires no acclimatization, takes guests to the La Sal Mountains for a walk along the winding Kari ravine. The canyon was formed by water erosion; its high, sun-baked walls are composed of gypsum, clay and salt.
Kari tackles several types of terrain, from giant, sloping sand dunes to dry river beds and waterfalls crusted with salt.
Early evening, the moon's ghostly silhouette hangs high above the landscape, and a burnt-orange tint bleeds over the horizon. The scene is reminiscent of a movie set on Mars.
Guatín, an exploration that requires a single night's acclimatization, begins with a drive toward Guatín village, at the confluence of the Puritama and Purifica Rivers.
The two-and-a-half-hour hike requires careful climbing and watchful walking through a rocky cactus valley, following a cool, clear and shallow river along a deep canyon. Sky-high, flower-freckled cacti stand watch on either side.
For guests who are lucky, the Matancilla exploration – at times a tedious trek over sandy, stony trails near the Domeyko Mountains – yields up-close encounters with fuzzy, grazing guanacos, a camelid creature from which domesticated llamas descended.
Even if the guanacos are no-shows, panoramic views of the Arcoiris Valley's colorful, earthen walls make the trek – and a pit stop or two to pour sand from your shoes – worthwhile.
Arguably one of the most spectacular sights is the Tatio geysers, a geothermal field with 80-plus of the steaming, spewing springs. The trek takes guests to highlands of roughly 14,000 feet, where vicuña, foxes and flamingos make their home.
According to the Integrated Taxonomic Information System (ITIS), there are six species of flamingos in the world. Impressively, the Atacama is home to three.
Travelers would do well to end a stay at Explora with a trek along the Ruta del Agua. The sometimes harrowing expedition requires guests to scale deep, rock-strewn ravines and to traverse uneven, sun-bleached flats blanketed with spiny cacti and desert flora.
Keen eyes might spot a South American gray fox, the chinchilla-like viscacha or the endangered Andean mountain cat.
The adventure culminates with a hard-earned picnic lunch (Chilean wines – check) and a soak in the Puritama Hot Springs.
Shoot for the stars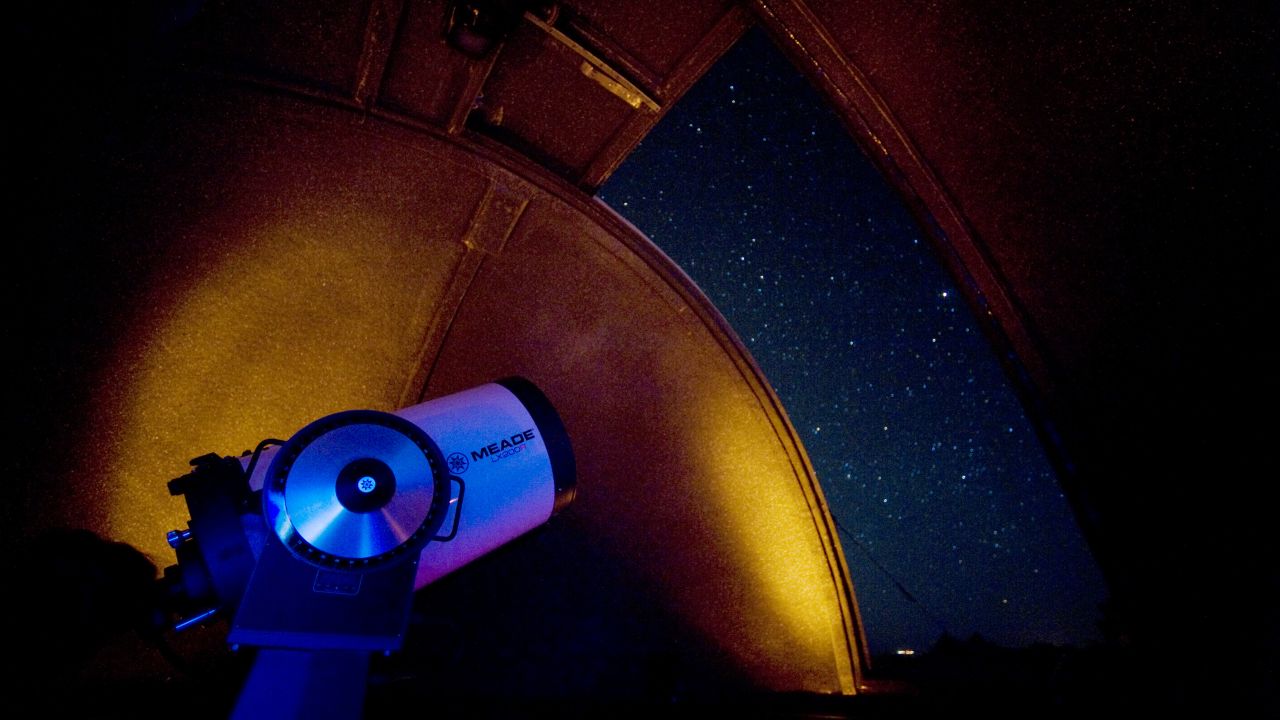 For all of its earthly attractions, some of the Atacama Desert's most stunning sights are not underfoot, but rather in the sky.
Thanks to its remoteness, high altitude and lack of rain and light pollution, the desert's night skies are some of the darkest and clearest on earth. As a result, the Atacama is one of the best places on the planet to study astronomy. Or, for the casual traveler, to go stargazing.
In 2008, Explora opened its own observatory where guests can peer through a powerful Meade 16-inch telescope into the night sky. Guided viewings are offered nightly, depending on weather conditions.
Serious stargazers will want to make the roughly 40-mile drive east from Explora to the site of the Atacama Large Millimeter/submillimeter Array (ALMA), the largest radio telescope in the world.
There, using a technique called interferometry, 66 antennae work collectively to gather and analyze signals from the universe and to determine their sources.
On Saturday and Sunday mornings, guests can visit the Operations Support Facility for free, including the control room, laboratories and other areas.
Underfoot and overhead, the wonders of this remote corner of the world are endless.
Lindsay Lambert Day is a freelance travel and lifestyle writer based in Atlanta.