Story highlights
From cranes to 'copters, here's where to eat and drink in Dubai for the best views
Tables with sweeping views command premium prices
It's home to the world's tallest building and the world's tallest hotel, so it's no surprise that the skyline of Dubai is also host to some of the world's best high-rise dining experiences.
This glistening city offers a host of luxurious sky-high venues where it's possible to eat and drink while enjoying epic panoramic views when you travel here.
In January 2017, things are getting even more extreme thanks to the launch of the crane-hoisted Dinner in the Sky.
This unique experience involves being strapped in a bucket seat while dangling over the city's International Marine Club.
That not high enough? It's also possible to charter a helicopter while nibbling dates for two. Here are some more of the top sky-high restaurants and bars Dubai has to offer.
Just be warned: The heights – and the accompanying prices – might be vertigo-inducing.
Dinner in the sky
Take a crane. Park it in one of Dubai's luxury hotels. Attach it to a specially made dining space and have it hoisted up. Welcome to Dining in the Sky.
This unique-meets-kitsch concept was launched in Belgium and Germany 10 years ago, and will be in the UAE from January. Diners are strapped into bucket seats while staff serve a high-end meal.
Dinner priced at about $190.
40 Kong - The H Hotel, Dubai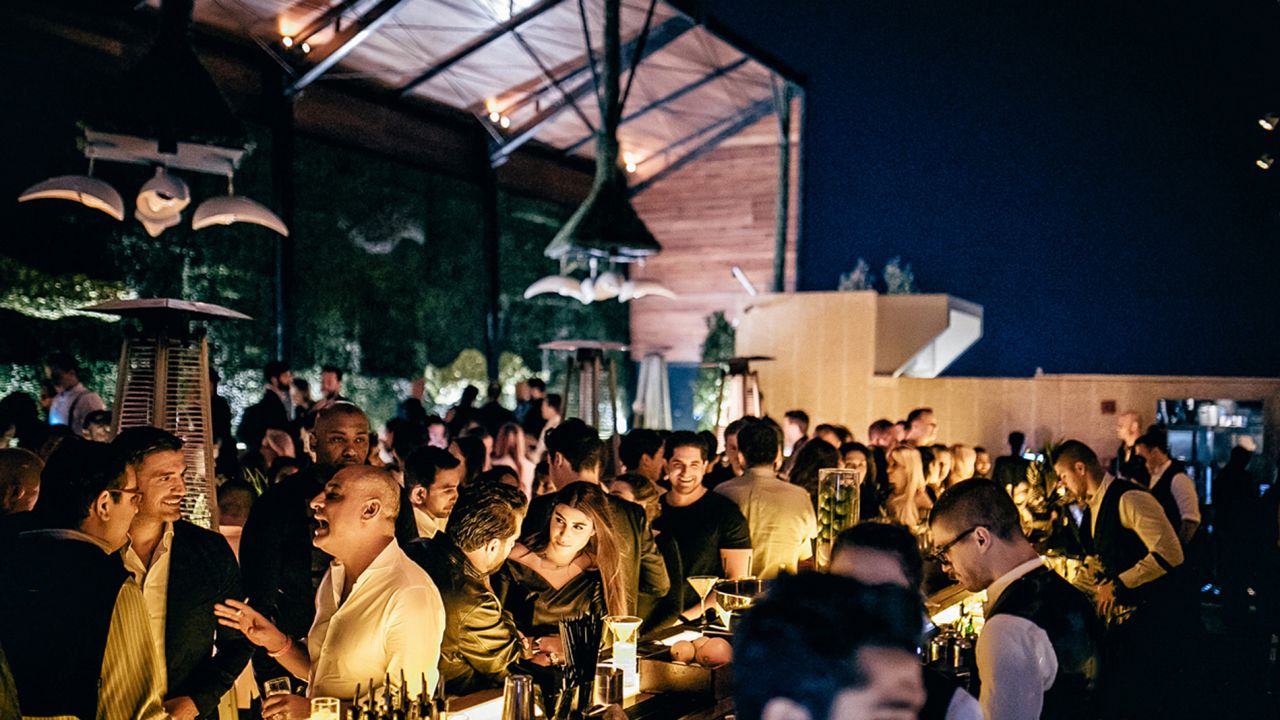 Located on the 40th floor of The H Hotel, this rooftop bar serves international cuisine with Asian flavors. It also has great views of downtown Dubai.
A chic crowd populates the bar's palm tree-lined tables, sipping cocktails until it closes at 3 a.m. This late-night venue was awarded "best lounge bar" in 2015 by Time Out Dubai.
Mains from $30.
40 Kong, 40F, H Hotel, 1 Sheikh Zayed Road, Dubai; +971 4355 8896
Prime68 - JW Marriott Marquis
Floor-to-ceiling windows flood the glossy white interiors of Prime68 with natural light, but guests won't really notice: it's more the view that's on offer here.
Located on the 68th floor of the JW Marriott Marquis (the self-claimed "world's tallest hotel"), this swanky venue does meat well – or rare, depending. The 1920s Friday brunch, which serves endless drinks in teacups and a prohibition-themed menu, is particularly popular.
Brunch from $75.
Prime68, 68F, JW Marriott Marquis, Dubai; +971 4414 0000
At.Mosphere - Burj Khalifa
When it comes to sky-high dining, there's one place that, quite literally, stands above the rest: At.Mosphere at the Burj Khalifa.
This fine-dining venue on the 122nd floor of the world's tallest building offers red decor, high windows and even higher prices.
The connecting lounge offers a cheaper option (pricing varies according to table or bar booking) and fantastic evening views.
$185 per person minimum at restaurant for non-window table, $68 at the lounge.
At.Mosphere, 122F, The Armani Hotel Dubai, Burj Khalifa, Dubai; +971 4888 3828
Tomo - Raffles Dubai
In the grand scheme of Dubai dining, sky-high Tomo is pretty affordable.
This Japanese restaurant, perched at the top of the unmistakable pyramid-shaped Raffles hotel, provides views across Dubai Festival City and Sheikh Zayed Road.
Food comes served bento-style – and at manageable prices. Interiors are done in dark woods with minimalist lines, but it's the outdoor terrace that provides the best seats and sights.
Menu currently changing, but expect to pay about $80 a person.
Tomo, Raffles Hotel, Dubai; +971 4357 7888
Q43 - Media One Hotel
This bar and lounge, done in New York-inspired exposed concrete and leather, may not be the fanciest joint in town. But it's cheap, it's cool and, if you get there just before sunset, it has unbelievable views across Dubai's man-made Palm Islands.
On Tuesdays from 6 p.m. to 1 a.m., women get three free drinks, while a happy hour of "buy one, get one free" runs from 5 p.m. to 8 p.m., Sunday to Saturday. After 8 p.m., Q43 takes on a nightclub vibe complete with pulsing music.
Wine from $12.
Q43, 43F, Office Tower Media One Hotel, Media City, Dubai; +971 4443 5403
Mint Leaf Dubai - Emirates Financial Towers
Upmarket Indian food shines at this swanky 15th floor restaurant.
Located in Dubai's financial center, the London export has floor-to-ceiling windows facing the Burj Khalifa. In the evening, a DJ plays music while people gather around the oval-shaped bar. When the sun goes down, the outdoor terrace (decorated with fire and water features) provides views of a lit-up Dubai.
Expect to pay about $100 for a dinner for two.
Mint Leaf Dubai, 15F, Emirates Financial Towers, South Tower, Dubai International Finance Centre, Dubai; +971 4706 0900
The Observatory - Marriott Harbour Hotel
A casual 52 floors up, this intimate venue offers great views of Sheikh Zayed Road and the Dubai Marina. The vibe is all dark and romantic thanks to plenty of wood, candles and gold back-lighting.
Special Monday ladies' nights, Tuesday gentlemen's nights and happy hour discounts drop the price of drinks significantly.
On Tuesday, live jazz adds a romantic ambiance. Drinks from $10.
The Observatory, 52F, Marriott Harbour Hotel, King Salman Bin Abdulaziz Al Saud Street, Dubai Marina; +971 4319 4795
Alta Badia - Jumeirah Emirates Towers
With white linen, a subdued ambiance and a focus on luxurious Italian cuisine, this 50th-floor restaurant suits a special occasion.
During certain months, the venue runs a special truffle menu; the rest of the time this more-expensive-than-gold ingredient pops up on braised oxtail ravioli and rich pastas. Foie gras and lobster are also offered.
Mains from around $25.
Alta Badia, 50F, Jumeirah Emirates Tower, Dubai; +971 4432 3232
Namu - W Dubai
An array of Korean and Japanese food is served up at this 31st-floor hotel, which offers uninterrupted panoramic views of the city.
As one would expect from a W Hotel, the vibe is sexy and cool, with pulsing house beats and red accents. An open kitchen perches in the center, serving up small dishes made to share.
The result is that wagyu short rib steamed buns can be devoured beside Korea's popular bibimbap (here a mix of rice and vegetables with a thick, sticky sauce).
Prices vary but expect to pay around $70 per person.
Namu, 31F, W Dubai, Al Habtoor City Sheikh Zayed Road, Dubai; +971 4436 6688
La Môme - Nassima Royal Hotel
Newly opened La Môme has fine French food, 49th-floor views toward downtown Dubai, and a buzzing pre-dinner crowd. This homegrown restaurant takes inspiration from singer Edith Piaf and the 1950s.
Dangling vintage light bulbs create a warm Parisian atmosphere. The dinner menu is decidedly French, with snails, côte de bœuf, pigeon and plenty of cheeses playing a part.
Mains from $27.
La Môme, 49F, Nassima Royal Hotel, Dubai; +971 4308 0470
Private Jet Charter
And one to write home about …
In Dubai, the land where luxury knows no limit, there's one incredibly exclusive way to dine high in the sky: have a meal in a helicopter.
Lightfoot Travel, a luxury travel company, can organize trips with Abu Dhabi Aviation.
Guests are picked up from Dubai then are served dates and chocolate while flying over the UAE.
The quiet helicopter is rumored to feel like driving in a Mercedes. With Private Jet Charter, it's possible to feast on sandwiches and sodas while in the sky, served with a side of serious bragging rights.
From $3,600 for five people with Private Jet Charter.
Danae Mercer is a freelance travel journalist who lived in Dubai for over two years.