Dim sum menus can lead to utter confusion if you don't know your har grow from your cha siu bao.
Did we order too much, or not enough? Will this satisfy everybody's tastes?
But the dim sum dilemma could be a thing of the past with our handy guide.
Here is a list of the top five essentials to order at a Hong Kong dim sum restaurant.
Har gow
The shrimp dumpling, har gow, is arguably the king of dim sum. It is the dish against which a dim sum restaurant's worth is weighed.
Or it should be. These days, gimmicky new dim sum inventions distract the jaded diner. Why eat a har gow when you can have a lobster dumpling decked with gold foil and shaped like a swan?
But a classic is a classic and the har gow should always make it to the dim sum table.
The best kind should have a wrapper that has been folded at least seven times to demonstrate the dexterity of the chef. The wrapper should be translucent, showing the pink glow of shrimp inside it.
At the best tables, the filling is made with fresh, sweet shrimp mixed with finely chopped bamboo shoots for a crunchy dimension.
Dipping them into chili sauce is an option. Polite dim sumers will wait for everyone to have a piece before going for seconds.
Where to get har gow: Man Wah at the Mandarin Oriental in Central serves one of the most expensive har gow in Hong Kong.
Made from tiger prawns and bamboo shoots, each dumpling is folded 10 times by our count and is a benchmark for the flavor and feel of har gow across the city.
Man Wah, 25/F, Mandarin Oriental Hong Kong, 5 Connaught Road Central; +852 2825 4003
Siu mai
If har gow is the king, siu mai is the queen.
This is a crowd-pleasing dumpling, and one of the most versatile.
Tracing its roots to the Mongols, the siu mai is now interpreted in every province in China.
But it's the Cantonese siu mai that is world famous.
Essentially a meatball, it's made with pork, roughly chopped to give it texture, topped with shrimp and roe of some sort, all cupped in a wheat wrapper. It should be small, about two-bites sized.
It is so popular that locals buy it from street stalls for an on-the-go snack. These street siu mai are skewered like kebabs and doused in soy sauce and chili oil. They are usually made from fish paste and taste different from restaurant siu mai.
Where to eat siu mai: The "canteen of the tycoons," Fook Lam Moon next to the tram tracks on Johnston Road, where the food is always up to standard.
Tycoons, movie stars, mothers of tycoons and movie stars frequent the joint for the discreet service and top-notch kitchen.
Fook Lam Moon also serves a really popular quail's egg siu mai.
Fook Lam Moon, 35-45 Johnston Road, Wanchai; +852 2866 0663
Cha siu bao
The traditional cha siu bao made of white Chinese buns steamed in a bamboo basket appeals to the sweet tooth of every Cantonese and showcases the barbecue pork that Cantos are famous for.
It has modern variations. The baked cha siu bao has a yellowish bread casing and a sticky glaze, but with the same sweet barbecue pork filling.
The pastry cha siu bao, a saccharine cookie case is used to hold the pork.
If there was an official rulebook on dim sum eating, it would tell us to eat cha siu bao towards the end of the meal.
It's rather sweet, like dessert, and rather filling, so you may want to save it for after the dumplings.
Where to get cha siu bao: Tim Ho Wan makes the most famous pastry cha siu bao.
The Michelin-starred eatery is the best place to eat affordable but excellent dim sum by master chefs.
Tim Ho Wan, Shop 12A Hong Kong Station (Podium Level 1 IFC Mall) Central, Hong Kong; +852 2332 3078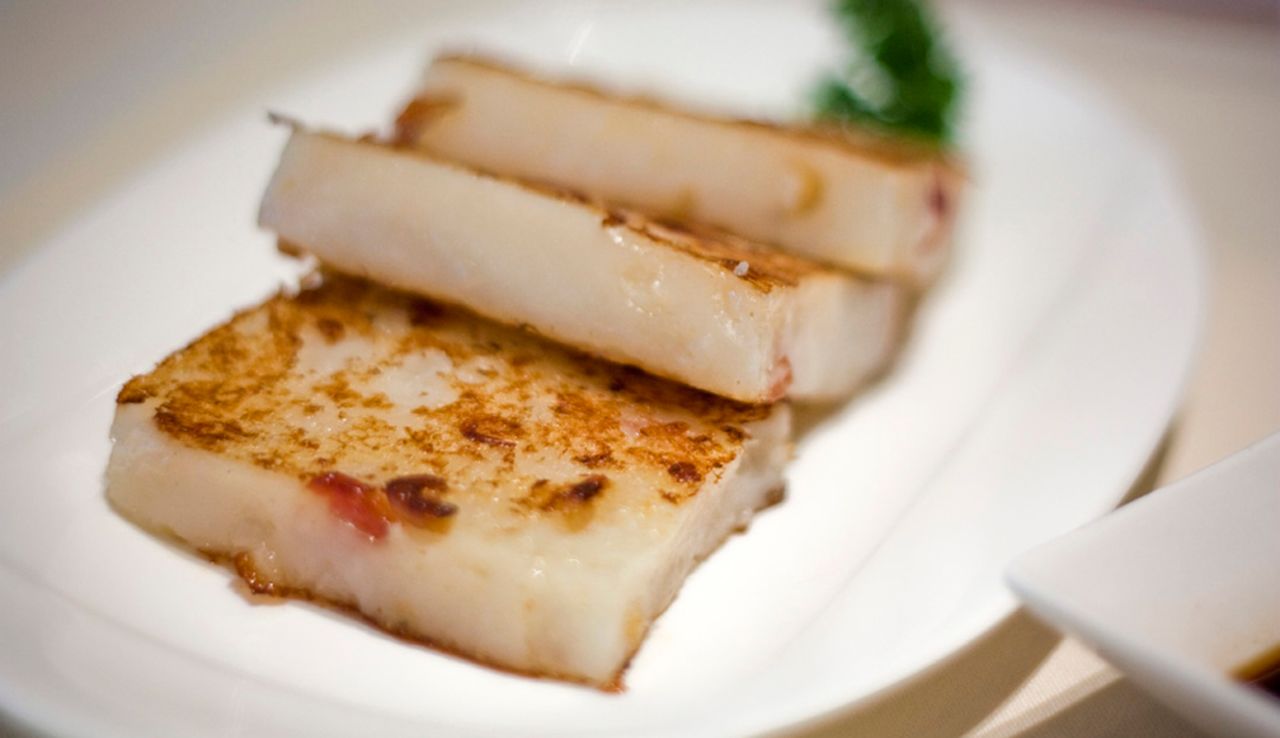 Phoenix talons
Hear me out – chicken feet really are an essential dim sum dish.
Euphemized as "phoenix talons," chicken feet have never gone out of style.
No family Sunday dim sum meal is complete without the sight of grandma carefully working her mouth muscles around a chicken foot, then lowering her head – but not her chopsticks – to spit out the miniscule bones.
Kids love it too, as the chicken feet are usually smothered in a strong-flavored sauce of black bean paste and sugar.
And for out-of-towners new to Cantonese food, a basket of phoenix talons are a great conversation starter and a challenge to their sense of adventure.
Our favorite is the abalone sauce chicken feet. These are slow-cooked and never deep-fried beforehand, unlike the traditional kind.
Where to get phoenix talons: Lei Gardens at the Elements mall serves a mean abalone sauce chicken feet dim sum.
The skin and cartilage are cooked until they melt in the mouth. Chewing is not necessary.
Lei Garden, 1/F, CNT Tower, 338 Hennessy Road, Wanchai , Hong Kong;+852 2892 0333
Cheung fun
To fully appreciate the wonders of rice, we just have to add some cheung fun.
These slippery morsels are made from thin sheets of steamed rice noodle.
Cheung fun is often served with meat or vegetables rolled up inside layers of rice sheets then doused in soy sauce, but the most basic kind is served plain, with some peanut and hoisin sauce and a generous sprinkle of sesame seeds.
These pearl-white tubes taste very mildly of rice – more like a memory of the rice that it once was.
But cheung fun are the perfect vehicle for sauce, and that is primarily the function of rice flavor, to serve as a canvas.
Where to eat cheung fun: Tai Wing Wah in Yuen Long does plain cheung fun properly.
It's Chinese name can be roughly translated to "cloth peeling cheung fun." It is made by spreading rice slurry on cloth, steaming it until firm, then deftly peeling it away.
Tai Wing Wah is also famous for its rustic walled-village cuisine, a distinct menu originating from the New Territories of Hong Kong.
Tai Wing Wah, 2/F, Koon Wong Mansion, 2-6 On Ning Road, Yuen Long, +852 2476 9888
Editor's note: This article was previously published in 2012. It was reformatted, updated and republished in 2017.