Seattle is a city on the edge. So much of Seattle's recent history is about pushing boundaries, from music to art to technology.
When award-winning architect Tom Kundig first visited in 1962, it was for the Seattle World's Fair. "That was a pretty special moment for Seattle. And even as a kid, you sort of recognize that this was a pretty fantastic place."
As a principal and owner of Olson Kundig, a design practice based in Seattle's historical Pioneer Square district, Kundig's 30 years as an architect have earned him renown in the United States and abroad as well as recognition in the forms of architectural awards, book and film projects, professorships and more. His buildings meld the mechanical with the natural, reflecting Seattle's position as an urban center in the midst of majestic natural beauty, from Puget Sound to Mount Rainier.
Born in Merced, California, in 1954 to Swiss parents, Kundig possesses a preternatural sense of adventure. Raised in Spokane, in the eastern part of Washington, Kundig attended college at the University of Washington in the mid-1970s. He moved around, spending time in the Swiss Alps and later, Alaska.
"I did my master's thesis in the Swiss Alps. With my mountain climbing and mountain skiing background, it was a pretty natural place. And then we moved up to Alaska for very much the same reasons."
Olson Kundig's latest renovation project is tied to one of Seattle's most recognizable icons: The Space Needle. Kundig's business parter, Alan Maskin, is leading that project.
"The original idea, of course, is you're in this unbelievable rotating saucer," Kundig says. With the renovation, Kundig speaks passionately about preservation and invisibility. "You're keeping the magic, keeping the spirit of the original idea and upgrading those things that need to be upgraded."
Kundig continues to work with clients all over the world, so he travels constantly. "I'm always reminded when I fly back into Seattle what a beautiful place and a lucky place I live."
He shares his favorite local spots (including a few of his own design) to contextualize an evolving urban and natural landscape:
The Space Needle (2.0)
Built for the 1962 World's Fair, the Space Needle is Seattle's most recognizable landmark. Fifty-five years later, with the original architect's blessing, the futuristic structure is getting an even more futuristic facelift, under the guidance of Olson Kundig.
The existing exterior caging on the observation deck will be replaced with a full glass facade, and the floor of the rotating restaurant will also become glass. The $100 million renovation will likely take years, but it will be done in stages, so it will not be shut down outright. The restaurant has already been closed, and will reopen sometime in 2018.
Olympic Sculpture Park
Operated by the Seattle Art Museum, the Olympic Sculpture Park was opened in 2007 along downtown shoreline that once was a toxic industrial site. The brainchild of former Microsoft President Jon Shirley and his now-late wife, Mary, the park houses 25 permanent sculptures by celebrated artists such as Ellsworth Kelly, Richard Serra and Louise Bourgeois.
Open year round, visitors may wander among native trees, plants and flowers, bike or walk along the Z-shaped path that zags through the park or dip their toes into the water.
"You get this unbelievably beautiful landscape opening up to our larger natural landscape. And then you also have it peppered with fantastic pieces of art," Kundig says of the public space. "You will see it becoming richer and richer over time. It could not be a more exciting moment."
Pioneer Square
The historical neighborhood where Olson Kundig's offices are located is one of Kundig's favorites. "Every city has their historical enclave, that's Pioneer Square."
He recommends popping into Peter Miller, an architectural and design-focused bookstore a few blocks away. "Quiet, classic, curated bookstore. You can't walk in there without finding a terrific design book."
For coffee, Kundig favors the original Caffee Umbria, which was founded in 1986 and modeled after an Italian coffee bar, where you'll find an expertly pulled espresso (and not a pumpkin-spice maple macchiato).
Also worth a visit is Seattle's first skyscraper, Smith Tower, built in 1914. "It's our neighbor and certainly important to the evolution and the maturing of a crazy city."
Chapel of St. Ignatius
On Seattle University's campus, the Chapel of St. Ignatius was designed by architect Steven Holl and opened in 1997. A place of Catholic worship for campus Jesuits, the abstract, modern chapel was built to be an instrument of shifting daylight, mirroring a spiritual journey, particularly the experience of a Catholic Mass.
"I was lucky enough to be the local working with Steven on that chapel. When you walk inside that space and you feel how the day lighting is drifting into that chapel, it's a very special moment. Seattle is very lucky to have something like that," Kundig says.
Georgetown
Georgetown is an industrial neighborhood and a food and drink magnet that feels like it's in the midst of a transition (it's hard not to use the G-word: gentrification). Kundig's firm has designed two of the area's coolest spots: Charles Smith Wines Jet City and Georgetown Brewing Company.
The former is a 32,000-square-foot space, with two tasting rooms and a production area in a former Dr Pepper bottling plant. The open plan, with insanely high ceilings and walls of windows facing Boeing Field across the street, this is an ideal spot to taste local wine. (Charles Smith is a rock band manager turned award-winning vintner in Walla Walla, about 270 miles southeast of Seattle.)
The latter, Georgetown Brewing Company, is in a similarly refurbished warehouse space, but couldn't feel more different. Its sliding steel door opens into a raucous room, with locals refilling growlers, buying six packs and tasting whatever they're serving on tap.
Brewmaster Manny Chao, who started the business in 2002 with his partner, Roger Bialous, is a local star: Manny's is Georgetown's best-selling beer. He's also a major "Point Break" fan (the original 1991 film), so you'll also find brews named after characters in the film, including the Bodhizafa IPA and Johnny Utah Pale Ale.
The Thompson Seattle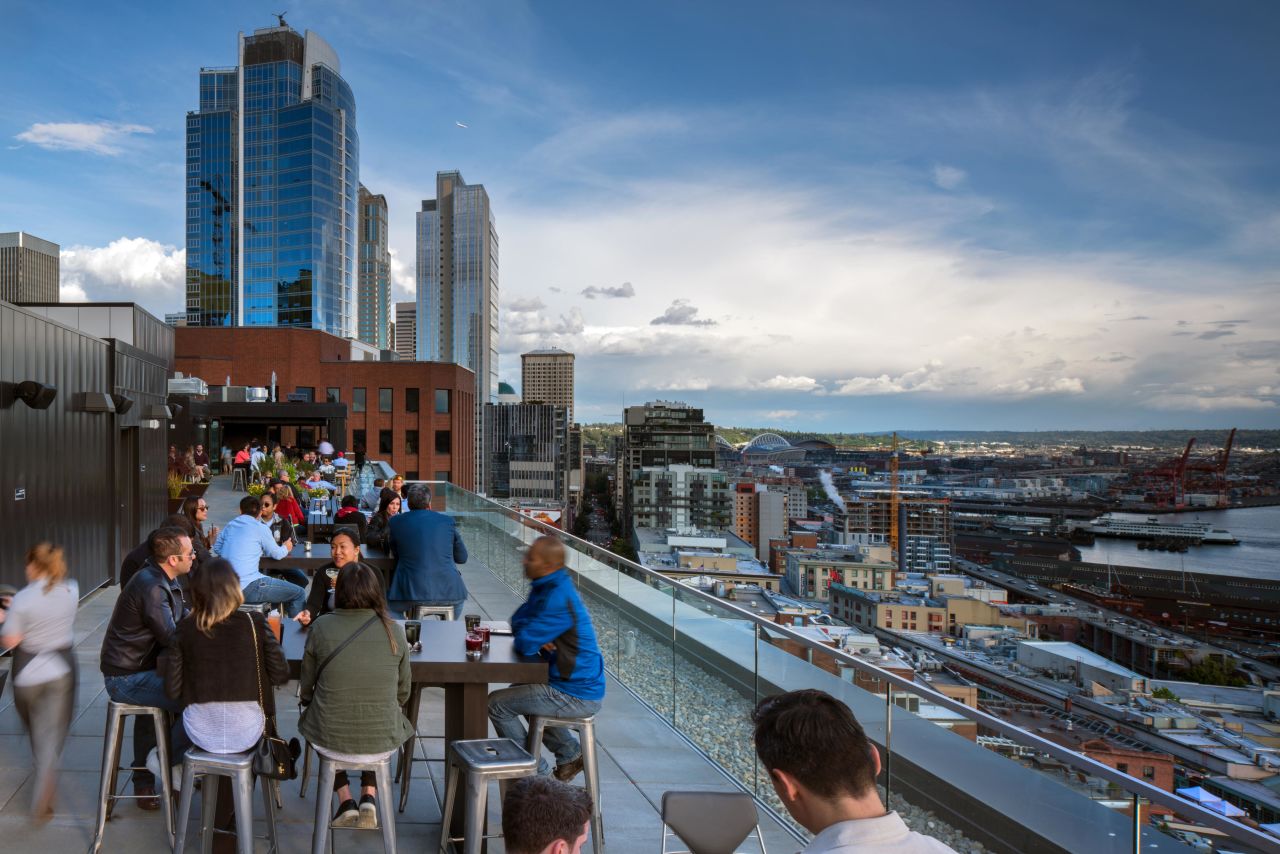 Kundig's most recent project is Seattle luxury hotel, The Thompson Seattle, situated on an ideal corner, overlooking Pike Place Market. The exterior is inspired by the "change in the street grid among neighborhoods," and evokes a sense of ordered motion.
The facade features floor-to-ceiling glass walls on each of its 12 floors, rising all the way to the hotel's rooftop bar, The Nest. This is where Seattle's young professionals sip $15 cocktails around fire pits while taking in the panoramic view of the Olympic Mountains, Puget Sound and Seattle's Great Wheel.
It's a sight to behold, Kundig says, "I think because we are on the edge of the continent and if you are in The Nest, you're looking at an infinite edge."