No-deal Brexit rejected in UK Parliament
7:38 a.m. ET, March 14, 2019
We'll be back tomorrow
In case you missed all the action, here's our coverage of this evening's vote, which saw British lawmakers decisively reject a no-deal Brexit, inflicting another heavy defeat on Prime Minister Theresa May.
We'll be back in the morning, London time, with live updates as MPs debate and then vote on whether Parliament wants an extension to the Brexit deadline. You can follow that here.
6:20 p.m. ET, March 13, 2019
A third meaningful vote?
After not one, but two failed attempts at getting parliament to agree upon her Brexit deal, Theresa May is pushing the prospect of a third vote on the deal within the next seven days.
Tomorrow, the House of Commons will vote on a motion that says the government will seek a "one-off extension" for the Brexit deadline from the EU—if Parliament agrees to a deal by March 20.
But in such a short time, what changes can May make to the deal, to win MPs' support?
6:14 p.m. ET, March 13, 2019
Reactions from Europe
German Foreign Minister Heiko Maas tweeted that tonight's no-deal vote is a "signal of reason" from London.
"The House of Commons has shown that the majority does not want a no-deal. A no-deal is in nobody's interest, we have made that clear again and again," Maas wrote.
Roberto Gualtieri, chairman of the European Parliament's economic and monetary affairs committee, said it was a "positive" move that British MPs rejected a no-deal Brexit, but reiterated that Europe needs to know what the UK "is in favor of."
He said that British Prime Minister Theresa May is "running out of options."
"Work with Labour for [a] closer EU-UK relationship or put [the] question back to the people," he suggested.
Gualtieri wasn't the only one suggesting May should work closer with the UK's main opposition party.
Udo Bullmann, a Member of the European Parliament from Germany, said it was time for May to "engage seriously" with Jeremy Corbyn, adding "there is no more time to waste."
5:54 p.m. ET, March 13, 2019
17 Conservative MPs defy the Prime Minister
A total of 17 Conservative MPs defied British Prime Minister Theresa May by voting for her motion to reject any possibility of a no-deal Brexit.
May had attempted to whip against her own motion, according to a government source, after it was worded more strongly than she had originally proposed.
The whipping failed after MPs voted for it 321 to 278.
Among those from May's party who voted to rule out a possible no-deal Brexit was work and pensions minister Sarah Newton. She resigned shortly after the vote, becoming the 15th minister from May's government to resign over Brexit.
It's worth remembering that tonight's vote can't actually change the UK's legal position, which is that without deal -- or unless the EU agrees to delay Brexit -- Britain will crash out of the bloc in just over two weeks. 
5:05 p.m. ET, March 13, 2019
No plans for PM to return to Brussels for negotiations, her spokesman says
British Prime Minister Theresa May has no plans to return to Brussels for more negotiations after lawmakers voted today to avoid a no-deal Brexit, her spokesman said according to Britain's Press Association.
The UK government also has no plans for indicative votes.
"What you have seen in Parliament in recent weeks is a series of plans being put before Parliament by opposition parties and they have all been rejected," the spokesman added.
4:57 p.m. ET, March 13, 2019
What happens next?
On Thursday, the UK Parliament will vote on another motion over whether to delay the divorce process beyond the March 29 deadline.
The government's motion will ask MPs to back an extension until June 30, in order to pass EU exit legislation. Any extension would need to be approved by the EU.
The motion also points out that any extension beyond June 30 "would require the United Kingdom to hold European Parliament elections in May."
4:38 p.m. ET, March 13, 2019
Theresa May whipped against her own motion, then lost
An interesting nugget from tonight's drama: after the amendment taking no deal off the table under any circumstances, the government whipped against voting for the main motion.
A government source explained to CNN that once the Spelman amendment passed, it made the motion unacceptable as it directly contradicted government policy.
So May tried to whip against her own motion and lost. You've got to feel sorry for the PM some days.
4:41 p.m. ET, March 13, 2019
A delay to Brexit is "now inevitable," opposition leader Jeremy Corbyn says
The leader of the UK's main opposition party has told MPs that an extension to Article 50 — which would delay the UK's exit from the EU — is "now inevitable."
Labour's Jeremy Corbyn said that Parliament now must "take control" of the Brexit process, adding that his party will hold cross-party meetings to "find a compromised solution that can command support in the House."
He said MPs needed to find a solution to "deal with the crisis" facing the UK and the "deep concerns" of the British public.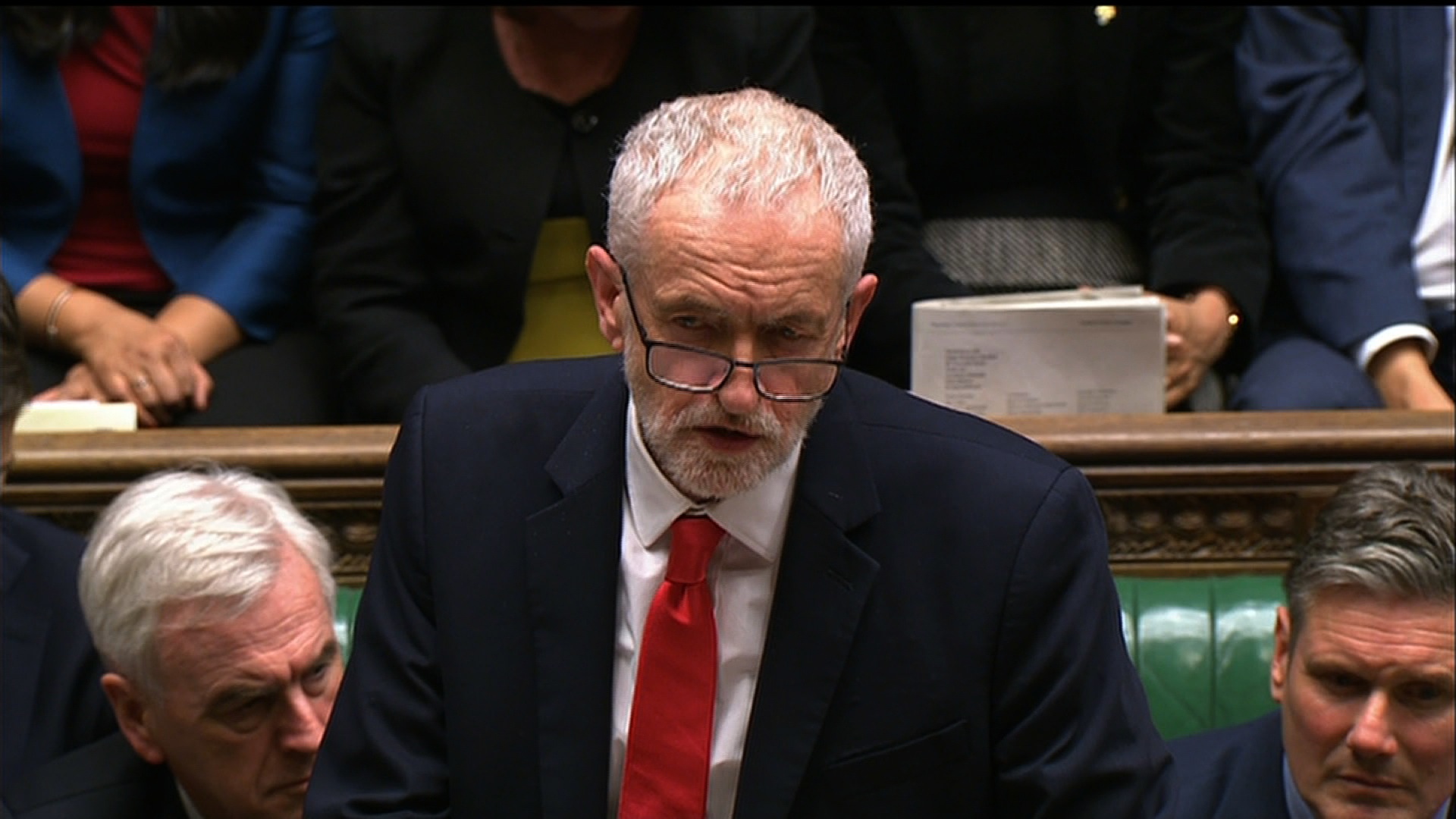 4:24 p.m. ET, March 13, 2019
It is not enough to vote against no deal, you have to agree to a deal: EU spokesperson
Reacting to tonight's vote in the House of Commons, an EU spokesperson has said: "There are only two ways to leave the EU: with or without a deal."
"To take no deal off the table, it is not enough to vote against no deal -- you have to agree to a deal," the spokesperson said.
"We have agreed a deal with the Prime Minister and the EU is ready to sign it."
The spokesperson added the EU is prepared for both a deal and no-deal Brexit.